National Social Security Fund (NSSF)
The government of Uganda thought it wise to maintain the welfare of its citizens when they retire from work. It was against this background that the NSSF was introduced to help Ugandans to live a better life even as they retire from work through their savings with this Fund.
The NSSF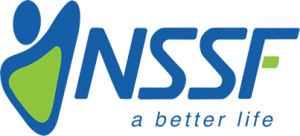 is a quasi-government agency responsible for the collection, safekeeping, responsible investment, and distribution of retirement funds from employees of the private sector in Uganda who are not covered by the Government Retirement Scheme. The participation for both employers and employees is compulsory.
The agency is a defined contribution scheme largely financed by contributions from employers and employees. The fund charges a total contribution of 15 percent of an employees' gross salary, while the employer contributes 10 percent and the employees 5 percent. There are 6 types of benefits that are paid out by the NSSF namely:
-Age benefit, paid to a member who has reached the retirement age of 55
– Withdrawal benefit, paid to a member who has reached the age of 50 and is out of regular employment for one year
-Exempted Employment, this is paid to members who join excepted employment categories that have their own social protection schemes e.g. public service, army, police, etc.
-Invalidity benefit, paid to a member who has become incapable of gainful employment
-Survivor's benefit, paid to the dependent survivor of a member
-Emigration grant, paid to a member who is leaving Uganda permanently
As of 30th June 2014, the NSSF total assets were valued at UGX: 4.4 trillion. By October 2017 the total assets were estimated at UGX: 7.9 trillion (approximately US$2.48 billion) and by June 2018, the assets had increased to UGX: 9.6 trillion ($2.5 billion)
NSSF Contact Information
Head Office
Plot 1 Pilkington Road, Workers House, 14th floor
P.O. Box 7140, Kampala, Uganda
Tel: +256 313 331 755/+256 417 331 999
Toll Free: 0800 286 773
Fax: +256 414 258 646/+256 414 341 137
Email: customerservice@nssfug.org
Website: www.nssf.org