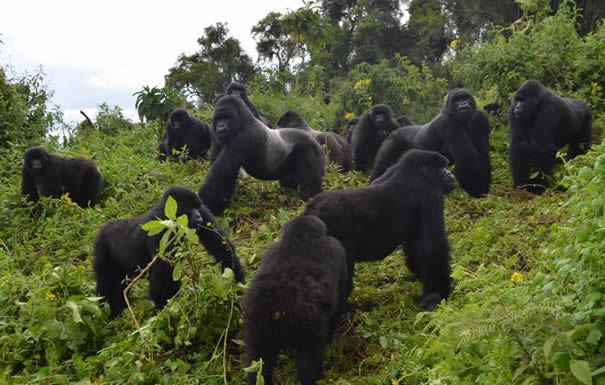 Uganda's Top Tourist Attractions
When Sir Winston Churchill dubbed Uganda the Pearl of Africa, eyebrows were raised about what exactly he was talking about. In brief, Churchill explained that he was simply referring to the uniqueness of the scenery, the vegetation, climate, people and the variety of wildlife found in this land. Uganda is the ideal perfect destination for travelers who want to relax, trek gorillas, adventure, do game drives, hike, cruise the waters and many more tour-related activities. The list of Uganda's spectacular tourist activities below explains it all as to why the land is referred to as the pearl of Africa.
Game drives
Uganda has got up to 10 national parks, 12 wildlife reserves and 14 wildlife sanctuaries where a variety of game and primates be viewed. Game driving is the most popular activity in Uganda's national parks and reserves. Some of the favorite parks for game drives in Uganda include Murchison Falls National Park in the Northwest, Queen Elizabeth National Park in the West and Kidepo Valley national park in the Northwest. There is a variety of game within these parks to be viewed including a full list of all the African "big five" that features lion, leopard, elephant, buffalo and rhino. Some of the species in the parks are so unique in nature for example the tree-climbing lions in the Ishasha sector of Queen Elizabeth national park. Other Ugandan parks where game can be viewed include Lake Mburo national park, Semuliki national park, Mount Rwenzori national park, Mount Elgon national park among others. Other game species that can be seen in these parks include hippos, crocks, antelopes, hartebeests, bushbucks, warthogs, zebras, giraffes and many more. Away from game drives, there are many other activities that you can embark on in these parks that include boat cruises, bird watching, water fall adventure in Murchison falls national park and at Sipi falls in Mount Elgon national park, among others.
Gorilla Trekking
Uganda is one of the only three countries which offer memorable gorilla watching safaris in the world. The other two countries include Rwanda and Democratic Republic of Congo (DRC). The experience of trekking mountain gorillas in the wild of Bwindi Impenetrable National park and Mgahinga gorilla national park in the Southwest of the country ranks on top of all other wildlife safaris. Today majority travellers in Uganda book for gorilla safaris as their favorite to track these gentle giants in their natural habitat. Today the estimated number of mountain gorillas in the world is about 1000 individuals and more than half of them are found in Uganda. Regardless of their uniqueness in behavior that tries to resemble that of humans, Mountain gorillas are considered to be highly endangered and everyone needs to visit and relate with them for a firsthand experience that cannot just be theoretically explained.
Chimpanzee Tracking
Chimpanzee trekking safaris are very incredible in Uganda with the country possessing thousands of chimps in her wild almost in all corners. The experience of tracking chimpanzees is close to that of trekking the gorillas. However, chimpanzees are much more in number compared to mountain gorillas that are limited. The best chimpanzee tracking spots in Uganda include Kibale forest national park, Kyambura gorge in Queen Elizabeth National Park, Kalinzu forest near Queen Elizabeth national park, Budongo forest and at Ngamba Island Chimpanzee sanctuary on lake Victoria. Visit these places and see hundreds of chimps and discover why they are called the closest apes to humans possessing up to 98% of our DNA.
Birding Safaris
Uganda is arguably the most ideal country in Africa for birding safaris. The country rewards her birding travelers with over 1075 bird species to explore. Some of these are endemic to Uganda for example the Fox weaver and the stuhlmann's double-collared sunbird. Bird watching is best done in Uganda's forests localized species that include Semuliki, Budongo, Kibale and Bwindi forests. The most common and eye-catching bird species of Uganda include the shoebill, woodpeckers, bulbuls, greenbuls, bush shrikes, warblers, flycatchers, kingfishers, sparrow hawks, weavers, cuckoos, pigeons, doves and many others.
Forest/Nature Walks
Uganda is blessed with tropical rainforests that form the beautiful green cover seen in almost every part of the country. The influence of the Equator crossing Uganda is such a significant one in terms of vegetation and climate. Uganda's nature and forest walks are done in her magnificent forests including Mabira, Budongo, Busingiro Ecotourism site, Mpanga forest reserve, Kibale forest among others. In these forests, its not only nature walks but you are rewarded with marvelous views of birds, chimps, butterflies and many other varieties of wildlife species including several vegetation types.
Mountaineering Safaris
Uganda is a wonderful destination for mountain hikers especially with the presence of Mountain Rwenzori on the Western border with DRC. The snow-caped peak of Margherita in the glacial ranges of Rwenzori is not found lower than 5,109m above sea level and reaching it always the main goal and a dream come true of very ambitious hiker. Away from Rwenzori, the less ambitious hikers can try it out at Mount Elgon in the Eastern part of the country along the border with Kenya to ascend to its beautiful peak of Wagagai found at 4321m above sea level. Other hiking safaris are done in Uganda's volcanoes of Gahinga and Muhabura in the Southwest.
Boat Cruises and Rafting
Enjoy breathtaking boat cruises on lake Victoria explore her beautiful Islands and beaches. Boat cruises and boat launches are fantastic on lake Victoria's calm and fresh waters, you will come across numerous Islands. Explore the adventurous white water rafting at the source of the Nile at Jinja, the longest River in the world. Other areas where boat cruises are done include Lake Mburo national park which allows to view some of the wildlife species of the park like the hippos, Kazinga channel within Queen Elizabeth national park also gives you incredible views of hippos, buffaloes, elephants and thousands of birds that flock around the channel. Lake Bunyonyi in Southwest near Bwindi Impenetrable national park offers a wonderful boat cruises as a relaxation especially after the tiresome gorilla trekking in Bwindi jungles.

Community tours
Visit Uganda's unique communities and discover their amazing way of life. Visit the wonderful community of the Batwa (pygmies) in the Southwest near Bwindi impenetrable national park, enjoy their music and dance plus a tour around their community to see their local activities and homesteads. The Karamajongs and the IK in the North east near Kidepo valley national park are the other two amazing communities that deserve a visit as you will find out a lot more unique aspects about them that you couldn't believe.
You shouldn't also miss out on Uganda's amazing historical sites that include the Kasubi tombs in Kampala where former kings of Buganda kingdom are buried. Other incredible sites include the Namugongo shrines where the Uganda Martyrs that were slained for their faith are buried.