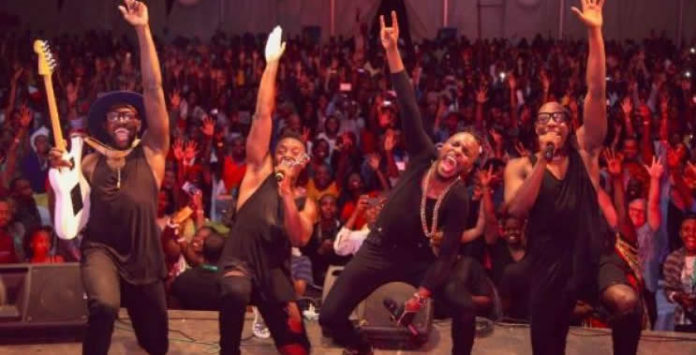 Entertainment is one of Uganda's popular undertakings, which has been embraced by most Ugandans especially the youth. Different artists have come up with new local and international songs and comedies, which send out specific messages to various people on different occasions. The shows are generated from past stories, experience and on going happenstances at a time. Music has played a big role in the lives of Ugandans socially and economically as a source of employment, esteem and income. The industry started way back in early centuries with the composition of local music known, as "kadongo kamu" from which new styles of music have picked. Popular Uganda artists include Bebe cool, Bobi wine, Chameleon Juliana Kanyomozi, Iren Ntare, Eddy kenzo, David Lutalo, Judith babirye, Iryn Namubiru, Rema Namakura, Maurice Kirya, Halima Namakula, Geoffrey Lutaya and Desire Luzinda among others. The trending music styles in Uganda include:
Kadongo Kamu also known as "One Guitar", was the first introduced style of music in the early centuries mostly enjoyed mostly by cultural loyalists in the Buganda kingdom. The founders of this music were Fred Musagazi, Christophe Sebaguka, and Elly Wamala who paved a way for new artists. Due to its history, kadongo kamu became an influential style of music from which other styles of music have picked ideas.
Kidandali was the second style of music just after kadongo kamu, which comprise of soukous and Congolese style of music. Bobi wine the "Ghetto President" is the founder of kidandali music. Kidandali is good for both local and urban people and message is generated from the existing events and one's experience.
Dance hall is one of popular music styles embraced by most Ugandan youth who are funs of music. This music style is basically in international versions which started in the early 1990;s by international artists such as Buju Banton. Iren Ntale is one of the artists who has progressed in singing these dance hall music.
Hip hop is the latest style of music which has come wit new styles old dress, movements and speech and has been loved by most young people in many ways beyond music. In its early stages of its introduction, hip-hop music was not legally accepted until 2008 when the music style was accepted. Much as hip hop was mainly of American language, many Uganda artist have changed it in luganda from where the word"Lugaflow" was generated which mean that hip hop music can as well flow in Luganda Version. Hip-hop is still a popular music style in which artists like Keko and Navio are the best artists in performing this style of music.
Gospel music generated from church praise and worship has gained popularity in Uganda music and entertainment industry. These songs are mostly sung in church choirs, weddings, kwanjura and other parties like baptism all thanking God for the mighty things achieved. Pastor Judith Babirye, Pastor Wilson Bugembe, Joseph Ngoma and different church choirs especially for the Pentecostal churches have become popular in singing gospel Music.
Rthym and blues is another music style in Uganda mostly sung by Juliana Kanyomozi, Iryn Namubiru, Maurice Kirya and Naava Grey among others. Most of this R &B music is most sung in local languages but carrying a lot of message.