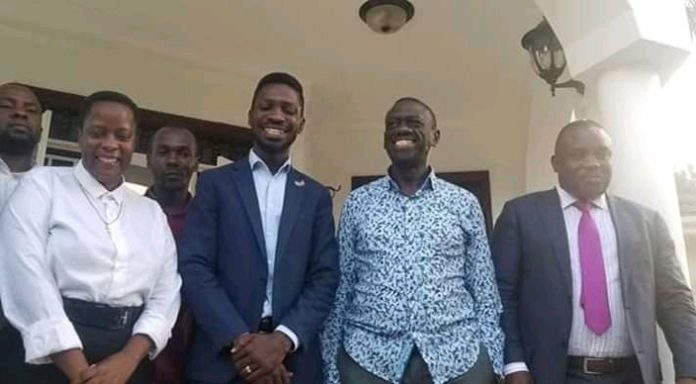 The two leading opposition political figures in Uganda, Kyadondo East MP Robert Kyagulanyi alias Bobi Wine and former presidential candidate Dr. Kizza Besigye have agreed to join forces towards the 2021 presidential elections in order to oust president Yoweri Museveni.
Both Bobi Wine and Dr. Kiiza Besigye signed a joint statement on May 6 during their meeting in which they indicated that they have concluded discussions on key issues including joining their political forces together against Mr. Museveni who has been in power since 1986.
"We took note that we are on the same mission to free Uganda from dictatorship and oppression. We agreed that despite belonging to different formations/ fronts, we must work together as partners on the same mission," read part of the statement.
While addressing the media at Fairway Hotel in Kampala on Wednesday, Mukono Municipality MP and Spokesperson of Dr. Besigye's "People's Government" Betty Nambooze and Mr. Joel Ssenyonyi, the Spokesperson of People Power under Bobi Wine said that the two movements will carry out joint activities in order to defeat Mr. Museveni.
Mr. Ssenyonyi was quoted saying "The two groups have different activities and we shall continue to work on them but once in a while, we shall hold joint activities".
Ms. Nambooze said the issue of fielding one candidate as opposition in the 2021 presidential election has been shelved in order to first concentrate on getting back their freedoms taken away by Museveni and his NRM government.
"As we have always stated, our main aim is to oust Museveni even before 2021. However, if the struggle takes us till then, then we shall choose one person from amongst us to go in one force. For now, we are fighting for the freedom Mr. Museveni has denied us. That is why we are not tackling the question as of now," said Ms. Nambooze.
On Tuesday Bobi Wine said that they have been having several meetings with a number of political parties including the ruling National Resistance Movement (NRM), the newly formed Alliance for National Transformation (ANT), the DP bloc and lastly with the People's Government.
The announcement of the joint effort by the two opposition leaders will come as a relief to the supporters of the two camps who have been at loggerheads with each other over the strategy to be used as we head into presidential election in 2021.
Supporters of pressure group "People Power" under Bobi Wine and other opposition political parties have been accusing Dr. Kizza Besigye of having hidden ambitions for failing to come together with other opposition leaders to negotiate the question of a joint candidate.
On the other hand, supporters from Dr. Besigye's camp have also been accusing Bobi Wine of leading people without a clear strategy compared to Besigye's Forum for Democratic Change (FDC) that has got supports and representatives almost in all parts of the country.
As the opposition parties are trying to devise means on how to take over power in 2021, the ruling NRM party under president Museveni has already endorsed him as the party's flag bearer in the 2021 presidential election.
The removal of the age-limit clause from the constitution by parliament in 2017 allowed president Museveni to seek re-election when his current term expires in 2021. Article 102 (b) of the constitution was preventing anyone above 75 years and below 35 to stand for the presidency before it was scrapped out. President Museveni, currently 74, will be 76 in 2021.