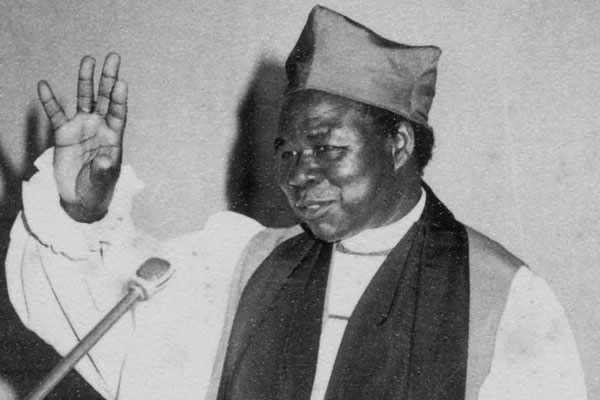 Archbishop Janani Luwum was a renown human rights activist in addition to his liturgical duties before his mysterious death in 1977. As Uganda marks this day to remember him, the government is under mounting pressure to end torture and other forms of human rights violations that have become rampant in the country.
Who was Janani Luwum and why is he remembered?
Janani Jakaliya Luwum was born in Kitgum, northern Uganda in 1922. He attended Gulu High School and Boroboro Teacher Training college and taught and went on to teach at a primary. He went to Buwalasi Theological College in 1949 after converting to Christianity the previous year.
Luwum started his church services in 1950 when he was attached to St. Phillip's church in Gulu. In 1953 he was ordained a deacon and then a priest the following year and went to serve in the Upper Nile Diocese of Uganda. He was later transferred to the Diocese of Mbale before being consecrated Bishop of the Diocese of northern Uganda in 1969. In 1974, Luwum was appointed Archbishop of the Metropolitan Province of Uganda, Rwanda, Burundi and Boga in Zaire. He became the second African to occupy this position.
Arrest and death
On 16 February 1977, Luwum was arrested by authorities after he had issued a note of protest to then president Idi Amin against rampant human rights violations which included arbitrary killings and unexplained disappearances. He was arrested together with two cabinet ministers with whom he was accused of treason. When Idi Amin convened a rally in Kampala, the archbishop was accused of planning to stage a coup and being an agent of former president Milton Obote who had been exiled. After a few days, Luwun and his co-accused were pronounced dead. It was reported on national radio that the three died in an accident when the car transporting them for interrogation collided with another vehicle. The radio added that the accident had occurred when the victims tried to escape by overpowering the driver. However, it was alleged that Luwum was rather murdered after his body was released to his relatives with bullets.
Luwum's legacy
Archbishop Luwum was survived by his wife Mary Lawinyo Luwum and nine children. He is recognised as a martyr by the Anglican Communion and his statue among the Twelve Century Martyrs at Westminster Abbey in London. He is also honoured on the liturgical calendars of different churches worldwide including England, Wales, Canada, Australia, USA, Brazil, New zealand and Polynesia.
Uganda's bad human rights record continue

Despite the efforts undertaken by heroes like Janan Luwum to fight against human rights violations which eventually resulted into their death, Uganda continues to struggles overcome the vice. Human rights violation was listed as one of the factors that forced the NRA fighters under president Museveni to topple the previous regime but the vice has persisted through the years of his regime.
Several cases of human rights violations have continued to be reported and majority of these are committed by security personnel. Such cases include unexplained arrests and disappearances, gruesome torture and long periods of detention without trial. There is a limit on the freedom of speech and association where people have been arrested and detained for what they said or wrote and for gathering for different causes.
The most recent examples of such cases include the arrest, detention and torture of author Kakwenza Rukirabasaija who claims to have been severely tortured by security personnels for criticising president Museveni and his son Muhozi Kainerugaba. Another is Samuel Maseruka, the coordinator for the opposition party, National Unity Platform (NUP) in Kasesse who was also abducted and tortured for weeks. Opposition politicians have also continued to allege that many of their supporters and coordinators are still being detained in prisons without trial while others are missing with no whereabouts. They accuse the government of being behind all these violations though in order to sabotage and silence critics and the opposition and their support.
Opposition protest in parliament
Recently all opposition members of parliament declared a protest at parliament against continued human rights violations. They decided to abandon parliamentary sittings for two weeks while staging routine protest sittings at the entrance of the house as they demand action from government to give justice to those detained and end the torture.