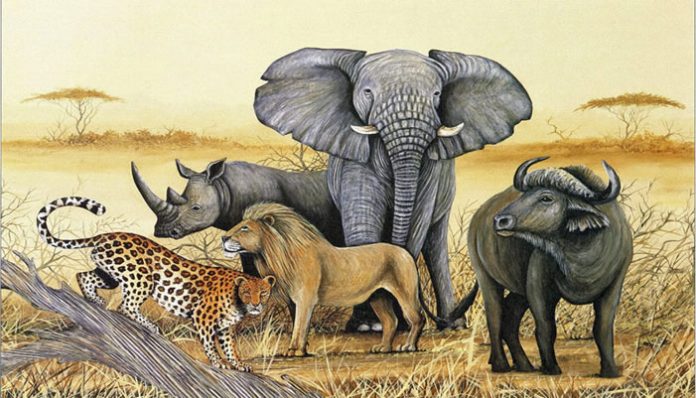 Uganda is one of the countries that are blessed with the big five game that include lion, leopard, rhinoceros, elephant and the cape buffalo that are all readily seen on a wildlife safari.
The term big five was initially used by the big-game hunters who referring to the five most difficult animals to hunt on foot though it is now commonly used by safari tour operators worldwide.
Uganda has got all the big five game within her parks and all but rhinoceros and can be found within the country's major parks of Murchison Falls national park, Queen Elizabeth national park and Kidepo valley national park.
Uganda's Rhinoceros are protected within the Ziwa Rhino sanctuary at Nakasongola on your way to Murchison Falls national park. Tourists always have a stop over here to track the rhinos before they proceed to Murchison to complete their big five safari.
The African elephant

It is scientifically referred to as Loxodonta Africana and arguably the largest animal in the world. Uganda has got both savanna and forest elephants with the savanna elephants relatively larger than their forest counterparts.
There are over 5000 elephants in Uganda's wilderness and they are commonly found in Murchison Falls national park, Queen Elizabeth national park and Kidepo Valley national park.
The African lion

Not very may in number like the buffaloes and elephants in Uganda. These large carnivores scientifically known as Panthera Leo are widely known as the Kings of the jungle. Lions are well known for their formidable natural strength that allows them to lure any prey including those far bigger than them like elephants and buffaloes.
Uganda's lions are found in several national parks across the country but the presence of the unique tree-climbing lions in Queen Elizabeth national park stars as the major feature of Uganda's lions. The tree –climbing lions are found in the Ishasha sector of the park where tourists flock every day to enjoy this magnificent view. However, a safari to other parks Murchison, Kidepo
The African cape buffalo

The African cape buffalo is the most numerous in Uganda among the country's big five game. In all the parks where they are found in Uganda, buffaloes are the most numerous among all the big five with Kidepo valley national park having more than 10,000 buffaloes.
Buffaloes are fond of grazing in large groups of about 2000 individuals which gives tourists such a magnificent view of these enormous animals in the parks. Large herds of buffaloes can be seen by tourists while on their game driving safari in Queen Elizabeth national park, Murchison Falls national park and Kidepo valley national park in the northeast, Lake Mburo national park and Semuliki national park.
Leopard

The major distinguishing feature between leopards and the other members of the big five family is that they are nocturnal which makes them rarely seen during day. They are strong cats, ever fierce and never scared despite their small size.
Leopards are present in Murchison falls national park, Queen Elizabeth national park, Kidepo valley national park, Lake Mburo national park, Mount Elgon national park, and Kibale forest national park. A nocturnal game drive in these parks is the best to see to see these carnivores and cat family members.
The Rhinoceros

These large and thick-skinned mammals complete our Uganda big five game package and they should not miss on your Uganda safari list.
Rhinos possess one or two upright horns on their nasal bridge as their trade mark. Rhinos in Uganda have been exclusively protected at Ziwa Rhino Sanctuary along the Kampala-Gulu highway where tourists enjoy a brief stopover to visit them before they continue to Murchison falls national park or Kidepo valley national park for more game viewing experience.
The sanctuary has got over 20 individuals of white rhinos that were introduced here in 2005.
With the presence of all the big five game in the country, a wildlife safari to Uganda is really very rewarding and the travelers can always choose to complement their itinerary with other wildlife encounters like gorilla trekking in Bwindi Impenetrable national park and Chimpanzee tracking in Kibale forest national park.