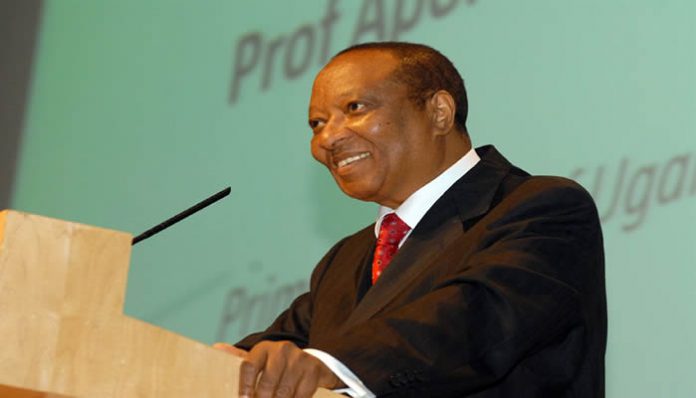 Apolo Robin Nsibambi who served as Uganda's Prime Minister between 1999 and 2011 has died of cancer aged 78.
Nsibambi died peacefully yesterday evening at his home in Bulange Mengo in Kampala. He leaves behind a widow, Esther Nsibambi and five children.
Government spokesperson Mr. Ofwono Opondo said that both the President and Prime Minister were informed about the passing of Nsibambi and were in touch with the family.
"The Prime Minister and the President have been briefed and we are in contact with the immediate family, especially the widow, Esther," said Mr. Opondo at the Uganda Media Center in Kampala yesterday evening.
Professor Apolo Nsibambi was appointed Prime Minister in 1999 succeeding Kintu Musoke and served in this position until 2011 when he was replaced by Amama Mbabazi. He remains the longest serving Prime Minister in the history of Uganda (12 years).
Nsibambi's widow Esther, told mourners that her husband died peacefully in his home.
"He was able to speak well before he rested. He had a peaceful death," Esther said in her short emotional statement.
"He has been suffering from cancer for nearly 10 years. And he received medication as our fathers in Christ kept on praying for us," she added.
Who is Apolo Nsibambi?
Birth and education background
Apolo Robin Nsibambi was born on 25th October 1940 to his father Simeon Nsibambi. He attended Kings College Buddo for his higher education before joining Makerere University where he studied Bachelor of science in Economics. He went on to obtain a Master of Arts degree in political science from the University of Chicago, United States. Nsibambi crowned his education career with a Doctorate in philosophy which he obtained from the University of Nairobi in Kenya.
Academic and political career
Nsibambi served as the dean of Faculty of Social Science at Makerere University from 1978 to 1983 and served in the same position between 1985 and 1987. Between 1987 and 1990, Nsibambi served as the Head of the Department of Political Science at Makerere University, before becoming Director of the Makerere Institute of Social Research between 1994 and 1996.
Nsibambi started his political career in 1996 when he was appointed Minister of Public Service in the Uganda Cabinet a position he served in until 1998 when he was appointed Minister of Education and Sports. In 1999 Nsibambi was appointed Prime Minister and leader of Government Business in Parliament. He was the 8th Prime Minister of Uganda.
In 2003, Nsibambi served as the chancellor of Makerere University a position he occupied until 2007. He also taught at the same institution in the 1960s.
Marriage and family and religion
Nsibambi married his wife Ether in 2003 after the death of his first wife Rhoda in 2001. He had four daughters and five grandchildren. He a staunch Anglican by religion.
Reaction to his death
Immediately after the breaking news of Mr. Nsibambi's passing, messages of condolence from friends, politicians and many others started flowing in.
President Yoweri Museveni wrote, "I have learnt of the untimely passing of the former Prime Minister, Prof Apolo Nsibambi. He was a true patriot and great academic. The country will miss him. I have instructed Prime Minister Ruhakana Rugunda to lead to lead a team that will ensure we give Prof Nsibambi a befitting send-off".
Norbert Mao, the president of Democratic Party wrote, 'I'm saddened to learn the death of former Prime Minister Prof. Apollo Nsibambi. I convey my condolences to his family and also Ugandans. An accomplished academic who transitioned smoothly into the political arena, Nsibambi served with integrity, dignity and class. RIP".