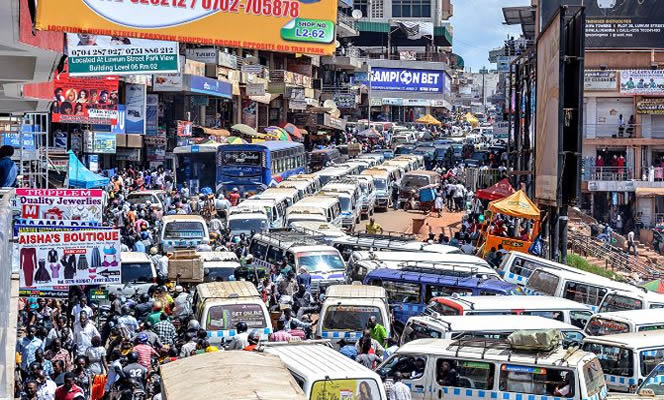 Kampala Capital City Authority (KCCA) has announced changes in the flow of traffic in the city center directing motorists to new diverse routes.
Motorists who use Entebbe road are the most affected with the new traffic changes with the taxis that use this road being relocated to Usafi Park from the Old Taxi Park.
KCCA has also suspended parking along Ben Kiwanuka and Burton streets meaning that both taxis and passengers who have been meeting here will also be heading to Usafi Taxi Park. The new traffic flow changes will commence this Friday according to KCCA.
Usafi Taxi Park is off-Entebbe Road, behind Usafi Market, about a kilometer from the city center and the Old Taxi Park
Among travelers who are affected include those going to Entebbe, Kawuku, Kajjansi, Zana, Namasuba, Kasenyi, Ndeeba-Swmbule, Kibuye, and Ndejje who will have to board and get off from Usafi Taxi Park hence walking for almost a kilometer from or to the city center.
This is not the first time KCCA has attempted to shift Entebbe Road taxis to Usafi Park, the first attempt failed when both passengers and the taxi operators refused to use the park, reciting criminals that the place is allegedly infested with as the main obstacle.
KCCA is planning to fill the vacuum left in the Old Taxi Park by the departing Entebbe Road taxis with those going to Ggaba and Makindye areas including Muyenga, Kasanga, Salama, and Buziga. Initially, these taxis have been parking along Ben Kiwanuka street as they call for passengers.
According to KCCA, the major reason behind the new traffic changes is to allow the Queensway Flyover Project to commence though the authority promised to make amendments where necessary in due course.
New traffic flow in the city center
According to the new plan, parking along the sides of Ben Kiwanuka Street up to Kyaggwe Road will no longer be allowed and the street will be turned into one-way. The street has been commonly used by traders especially those in Kikuubo market for wholesale businesses for loading and offloading merchandise.
Among the new changes, Burton Street between Ben Kiwanuka Street and Willian Street (initially one-way) has been opened to tow-way traffic for all motorists.
Like along Ben Kiwanuka Street, motorists will not be allowed to park on the roadside of Burton Street meaning that passengers going to Nakawa-Banda-Kireka-Mukono, and Port Bell-Luzira routes who have been finding their taxis here will have to boad and alight from the Old Taxi Park.
Buxton Street, connecting Sikh Road to Burton Street via Mega Standard Supermarket will now be one-way for motorists exiting the city to Entebbe side or all the way to Jinja Road.
The section of Sebaana Kizito Road (Nakivubo Place Road) between Namirembe Road and Nakivubo Mews has also been opened for two-way traffic to enable motorists from the Old Taxi Park connect to Kafumbe Mukasa Road and through to Ring Road.
A new road is also being constructed near Ham Tower to connect Sebaana Kizito Road to Kafumbe Mukasa Road.