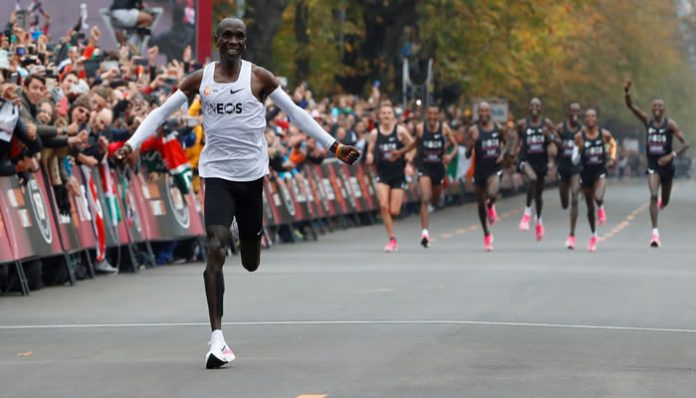 Kenya's marathon runner Eliud Kipchoge has become the first athlete to run a marathon in under two hours after beating the mark by 20 seconds in Vienna, Australia.
Kipchoge, 34, ran the 42.2km (26.2 miles) in one hour 59 minutes 40 seconds in what was dubbed "Ineos 1:59 Challenge" in Vienna on Saturday.
After the marathon, Kipchoge said he felt so good to have managed to beat the barrier.
"I am feeling good. After Roger Bannister in 1954 it took another 63 years, I tried and I did not get it – 65 years, I am the first man – I want to inspire many people, that no human is limited." Said Kipchoge.
Kipchoge record will not be recognized as the official marathon record since it was not in open competition while those who participated were just a team of rotating pacemakers.
His team of pacemakers dropped back towards the finishing line allowing Kipchoge to splint over the line making history on the home straight as he was being roared on by a large crowd.
In 2017, the Olympic champion missed out on setting his desired by just 25 seconds at the Italian Grand Prix circuit at Monza.
After crossing the finishing line, legged on around while celebrating with the crowd before embracing his wife Grace and kids. He grabbed the Kenya flag before he was mobbed by his pacemakers who included many world's best middle and long-distance runners.
The four-time London Marathon winner was so proud to have made history and contributed to the beauty of the sport.
"This shows the positivity of sport. I want to make it clean and interesting sport. Together when we run, we can make it a beautiful world". Said the Kenyan.
At halfway in the marathon, Kipchoge was 10 seconds ahead of schedule and he appeared to slow a bit later before regaining his pace in the final stages.
Among his 42-member team of pacemakers included Olympic 1500m champion Matthew Centrowitz, Olympic 5000m silver medalist Paul Chelimo, among others.
"They are among the best athletes in the world – so thank you, I appreciate them for accepting this job, we did this one together", Kipchoge applauded the pacemakers.
In the initial stages of the marathon, he received water and energy gels by bike from his coaches instead of having to pick them from a table as par the rules in the normal competition marathons. These aids are partly the reason why this feat will not be recognized as the official marathon record since they are not allowed under the rules of the IAAF, athletics' world governing body.
Kipchoge is the current holder of the official marathon world record of 2:01:39, which he set in Berlin, Germany in 2018.