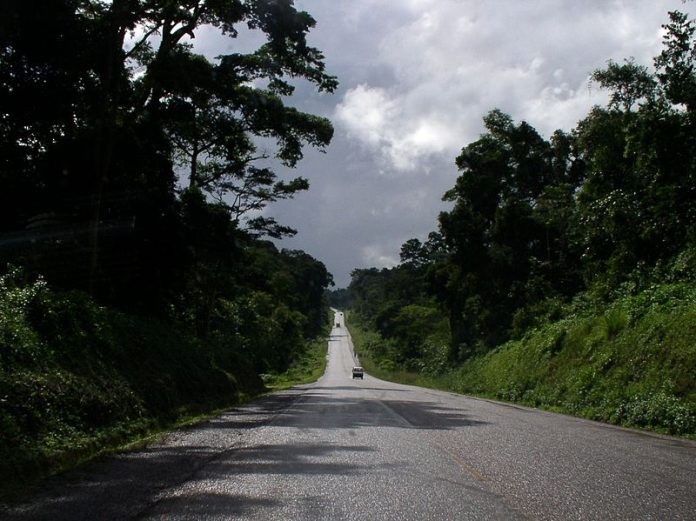 Mabira central forest reserve is 54 km (1-hour drive) east of Kampala. It is located in Buikwe district along Kampala-Jinja highway. Mabira is a good place to go on brief excursions such as birding, cycling, and environmental study trips.
Adventure experiences including zip lining and camping with bush meals are available. Mabira also offers a wide range of accommodation with self-catering facilities for groups as well as 3 eco bandas, and a lodge. Those intending to spend several nights have the chance to explore the rich biodiversity including 23 mammal species, 218 butterfly species, over 300 species of birds, 97 moth species, and 202 tree species.

Mabira is an important Ecotourism destination with such a variety of wildlife to see.  However, the forest is surrounded by urban centers including Mukono, Lugazi, Jinja, and Kampala capital city. As such, Mabira is one of the highly threatened tropical forests in the region. Environmentalists continue to reject the recent demands to convert a portion of the forest for sugar cane growing. The government recognized Mabira as a key biodiversity area under the national forest conservation plan 2002. Since then, the forest has been protected and restored to conserve its flora and fauna species and the environment at large.
History of Mabira central forest reserve 
Mabira was gazetted as a central forest reserve in 1932, at the time it spanned over 29,593 ha. During the colonial era, the forest was subject to commercial timber harvesting and there was significant encroachment after independence in 1962. Due to increased settlements, the forest has since shrunk in size.
Today, less than 70% of the remaining forest serves as primary moist tropical semi-deciduous forest. The rest is secondary growth vegetation containing savanna and papyrus swamps both in the north and south towards the shores of Kyoga and lake Victoria respectively.
The elevation is 1,070 meters from the shorelines, and it undulates northward across gently sloping hills. The tallest point in Mabira forest is Najjembe hill at 1,356 meters. The forest is found on well drained ferralitic soils due the location between Kyoga in the north and Victoria Nyanza in the south.

Sezibwa river flows through and empties into lake Kyoga. Visitors can visit Sezibwa falls located in Mukono district 4 km off the Kampala-Jinja highway. The fertile and productive land around Mabira is one of the factors attracting farmlands that continue to threaten biodiversity. The National Forestry Authority (NFA) was mandated in 2004 to manage and develop ecotourism. This has been possible through a number of strategies such as carrying out biodiversity inventories, reafforestation, and demarcating the boundaries.
Flora and fauna in Mabira central forest reserve 
After obtaining the database on the species and ecosystems, Mabira forest was designated as an Important Bird Area in 2008 due to the presence of species that are threatened with extinction. According to NFA, there are 202 tree species of which 5 are classified as endangered. These include brown mahogany (lovoa swynnertonii), Ugandan greenheart tree (warburgia ugandensis), African nutmeg (pycnanthus angolensis), star apple leaf (celtis chrysophyllum), African wild mango (also in Budongo forest), and African teak (milicia excelsa).

There are over 300 bird in Mabira species including lake Victoria basin endemics and species of the Guinea- Congo forest, and Sudan-Guinea savanna biomes.  In particular, the 6 species of the Guinea- Congo forest biome in Mabira central forest reserve include gray longbill, yellow mantled weaver, Nahan's francolin, yellow longbill (macrospenus flavicans), capuchin babbler, and black-shouldered nightjar.
The reserve is also a breeding ground for 4 Afro-tropical highland birds including the gray-headed flycatcher (trochocercus nitens). Only one species of the Sudan-Guinea savanna biome exists in Mabira, the bristle-crowned starling (onychognathus salvadorii). There are 23 mammal species and the most important for tourism are birds and primate species including gray cheeked mangabeys, which are habituated for tourism.
What to do and see in and around Mabira central forest reserve
Mabira central forest offers a variety of adventure activities including zip lining, cycling, primate tracking, and birding. Booking a tour to Mabira is available through a tour operator. Sezibwa Falls and Jinja are two additional locations that can be included in the tour. The roadside market in the Najjembe trading center is worth visiting to get fresh food and snacks while traveling. Mabira is a good destination for those planning day trips from Kampala  capital city.
Mangabey tracking 

One of the largest known populations of Uganda mangabeys (lophocebus ugandae) might be found in Mabira forest. There are three groups of the monkeys that have been habituated for tourism, giving visitors the chance to observe them. The likelihood of seeing Uganda mangabeys at Mabira Forest is high, similar to the Bigodi Swamp Walk.
Zip lining 
The Mabira forest zipline offers a chance to soar above treetops and waterfalls on Musamya river. The ziplines stretch for 250 meters, making it one of the longest in Uganda. The activity begins at Griffin Falls Camp and is done over the course of two sessions, from 8 a.m. to 1 p.m. and 2 p.m. to 6 p.m.
Cycling
Cycling is a great way to explore the  Mabira forest and tour the local villages and farmlands. Bikes are available for hire at Griffin falls camp, which is the starting point. There's a wide range of bikes and routes to select depending on fitness level and time. Experienced bikers can go for long routes up to Jinja, the adventure capital of East Africa.
Sezibwa falls
Sezibwa waterfalls in Kayanja village, Buikwe district 3 km off the Kampala-Jinja highway. While traveling to or from Mabira, you might stop over for birding and to learn about the story behind their formation. The falls, which are 7 meters tall, were formed when huge rocks caused the Sezibwa river to split into two rivers.
Sezibwa, however, is a well-known figure in Buganda folklore. Traditional legend tells a story of a woman named Nakungu Tebatesa who gave birth to twin boys named Sezibwa the older and Kato the younger one. Among the Baganda, giving birth to twins is a blessing and unusual things always happen. They're thought to be eternal beings and in this case they become living rivers. The twins in Buganda are sanctified through rituals, making the location a significant spiritual and cultural site. Many villagers visit Sezibwa to pray to the gods for favors in all facets of their lives. Given that it has been designated for a sacred or religious use.
Accommodation 
Those intending to spend the night there, Mabira forest offers a range of accommodation including camping sites and lodges available for booking through a tour operator. Alternatively, you can opt for one day excursions to Mabira central forest reserve.
How to get there
Mabira forest is 59 km (1.5-hour drive) east of Kampala capital city and 54 km west of Jinja city. The forest is easy to identify given that it is bisected by the highway. Those coming from Kampala need to begin early to escape the traffic jam. Any type of car can travel smoothly on the tarmac road, although careful driving is required owing to the presence of big trucks on the road. Those traveling from Kampala must start early to avoid the traffic jam.