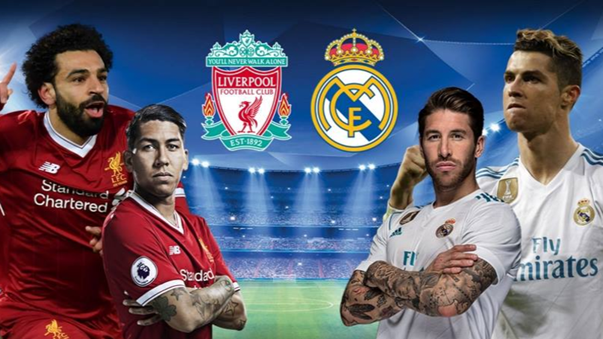 The evening of May 26th 2018 will see two European giants Real Madrid and Liverpool lock horns for UEFA Champions League glory in Kiev Ukraine. Football fans all over the world are eagerly waiting to see who will turn out victorious between Real Madrid from Spain and Liverpool from England after the UEFA Champions League final clash this Saturday. The two sides meet in this year's final after eliminating Bayern Munich and AS Roma in the semi finals respectively. Although many may tip Madrid as slight favorites to win the silverware basing on their recent success in 2014, 2016 and 2017, Liverpool's potential to upset the defending champions cannot be underestimated.
The Reds have had an impressive season both locally in the English Premier League where they finished fourth and their Egyptian star Mohammad Salah winning the golden boot with a record breaking 32 goals and in Europe upsetting some of the good sides like Manchester City and AS Roma to book their place in the Saturday final. Real Madrid will be looking to set a new record in the competition as the first side to win the trophy in three consecutive years breaking the one they set last year for retaining the title since the competition was initiated in 1992. Liverpool will be hoping to win their first European title since their impressive second half come back from three goals down in 2005 in Istanbul Turkey that saw them topple AC Milan on penalties to win the trophy after a 3-3 draw. Madrid who the most successful side in this competition with 12 titles are the defending champions after edging Italian side Juventus 4-1 in last year's final and they will be looking forward to win their record 13th Champions League Trophy whereas Liverpool will be hunting for their sixth title.
The Saturday final will offer soccer fans something to talk about especially in a period when all the European top football leagues have closed and the world cup is still a couple of weeks away. It will definitely set the tempo for the world cup due to kick off in Russia on June 14th. This is because some of the highly awaited for stars that are expected to shine in this football greatest tournament are also going to feature in this Final. These include Portugal's star Christiano Ronaldo, Brazil's Marcelo and Casemiro, Spain's Sergio Ramos and Germany's Toni Kroos all in the Real Madrid squad. Liverpool's world cup stars include Egyptian wonder boy Mohammad Sala, Senegal's Saido Mane, Brazil's Roberto Fermino and England's Jordan Henderson among others.
This year's final is going to be hosted in Olimpiyskiy National Stadium Sports Complex, Kiev, Ukraine with a European capacity of 68,000 seats. According to UEFA, the European football governing body, both clubs will be allocated 17000 tickets each with 6,700 tickets also made available last month for the public via the UEFA website. Serbian referee Milorad Mazic will be the main official for the match assisted by other three fellow Serbs while the fourth official will be from France.
Both teams are in a good shape with no big injuries to cause any panic and each side is expected to produce their best piece of football to become the 2018 European Champions.
HISTORY
For those who may want to press a bet on this clash, we believe this brief history of the matches between the two sides will guide you a bit.
Both teams have so far met five times in Europe with Liverpool more victorious than Madrid, winning three times and losing two. The last match between the two was in November 2014 and it ended in Madrid's favor with a 1-0 victory. The last European final between the two giants happened way back in 1981 in Paris France leaving Liverpool champions after a 1-0 triumph. For both Madrid and Liverpool fans we wish you good luck and feel free to post your prediction and let's see how accurate you will be at the end of the match.
Football is an interesting game which catch attention of many people especially the youth. Taking part in sports tourism is a good venture which keep you fresh, happy and lively always. Other interesting activities that can be enjoyed besides sports include gorilla tours in Rwanda and Uganda, mountain climbing, bird watching and cultural tours among others.