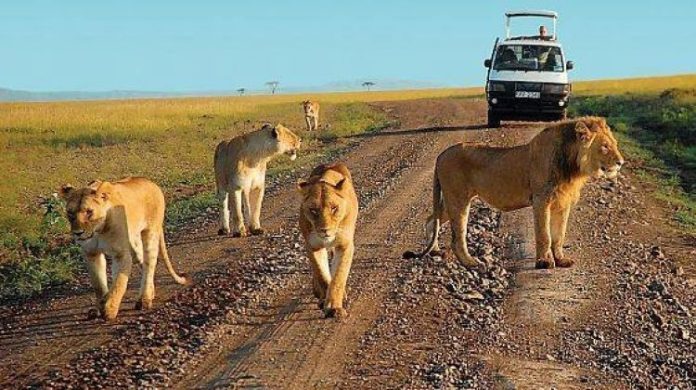 Uganda has 10 national parks of which 8 are found in the western region. Most travelers go to the west for safari through Queen Elizabeth, Kibale Forest, Bwindi Impenetrable Forest, Murchison Falls, Lake Mburo and Mgahinga Gorilla National Parks. These areas are rich in biodiversity with diverse species of wildlife including mountain gorillas, chimpanzees, elephants, rhinos, lions, buffaloes and tropical birds. Nature and wildlife is one of the main motives for the 1.54 million visitors received in 2019 of which about 350,000 visited the protected areas. According to the New Vision Paper of Jan 15th 2022, Stephen Masaba Uganda Wildlife Authority's director of Tourism and Business Development said that due to the Covid 19 pandemic between 2020 – 2021, the arrival numbers reduced to 473000 due to travel related restrictions. However, the restart of tourism in 2022 has seen almost all global restrictions lifted in particular Uganda borders are now open. Visitors arriving at Entebbe international airport don't need to test for covid-19 but rather present a negative PCR test carried out within 72 prior to arrival. Consequently, the tourism industry is recovering despite challenges and this year's World Tourism Day theme – "Rethinking Tourism" tells us to take advantage of emerging opportunities and trends to reconsider how we conduct tourism.
Plastic waste production in Uganda

Prevention of plastic pollution in particular seems to be of concern among the tourism fraternity in Uganda given that the number of tourist arrivals is projected to rise again. Recently, East African nations including Rwanda and Kenya decided to outlaw the entry of single-use plastic objects into their protected areas. In particular, Uganda had pledged to reduce the use in 2017 following the example of her neighbors. But the law hasn't been implemented due to a disagreement brought on by the plastics manufacturing industry in the country. The 2009 Finance Act's Section 2 forbids the importation, local manufacture, sale, or use of plastic bags or bags made of polymers of ethene and polyethene." The proposed ban was directed at stopping polythene papers (Buveera) and alcohol sachets which have turned out to be most items used therefore creating a lot of waste countrywide.
In general, the daily usage volume of plastic waste in Uganda is estimated to be 600 metric tons according to Uganda Biodiversity Fund. This comes from the increasing industrial production of plastics in form of soft drinks and snacks which feeds the traders operating shops both retail and wholesale. Some of the industries such as Kasese distillers are located in Kasese Municipality and Fort Portal city close to the protected areas including Kibale Forest and Queen Elizabeth National Parks. Chances are high that a considerable amount of plastic waste might be entering the parks as locals and tourists transit through which could harm the wildlife.  

Plastic bags take more than 1000 years to decompose yet the public seems to be lacking a sense of responsibility which puts a burden both financially and environmentally on nature. For instance, the Kampala Capital City Authority report indicates that about 10 billion Uganda shillings ($2.7m) is spent annually to remove plastic waste from drainage channels. The reports shows that only 40% of the estimated waste is collected and properly disposed off and the remaining 60% is left to disappear into the soil, lakes, rivers and forests. This puts at risk the wildlife such as fish and also harms the soil fertility in and around Lake Victoria basin.
What the tourism industry wants to be done about single-use plastics
In this regard, the tourism stakeholders in Uganda are calling the government to look at possible ways of stopping plastic waste from entering into the national parks. Tour operators and hoteliers are encouraged try to find substitutes to single-use plastics they use to pack food and beverages for their guests. This something achievable given that the accommodation facilities within the parks that still use straws, plastic forks, silver plates and can apply proper waste management ways to minimize litter. This might not work voluntarily but laws should be enforced to govern the use and storage of some single-use plastics across the tourism industry.

The Uganda Tourism Board quality assurance department has been enforcing laws regarding quality of services and legality amongst the tour operators, hoteliers and transport providers. The same could be done in regard to stopping the plastic objects from accessing the parks through collaboration with the Uganda Wildlife Authority and other stakeholders. The National Environmental Authority (NEMA) which is one of the stakeholders responsible for implementing the single use plastic ban is tasked with encouraging manufacturers to collect and recycle their waste, sensitize the public and monitor the areas that are prone to plastic pollution. The authority indicates that less than 5% of plastic waste is recycled thus calling for interested investors and artists to take advantage especially in Kampala which accounts for large volumes of plastic waste.
Despite all the proposed measure, the responsibility still lies in the hands of individuals. Locals and international visitors are encouraged to take care and avoid poor disposal of plastic waste.
Tips to reducing plastic items from accessing the parks in Uganda
Properly dispose of your trash and use as little water and energy as possible. Don't throw rubbish from the window of a car or drop a water bottle anywhere after using it.
Buy locally made bags to use when shopping instead of taking plastics from the shop to your home.
Pack light when traveling
Choose responsible travel operators and accommodations when booking your safari