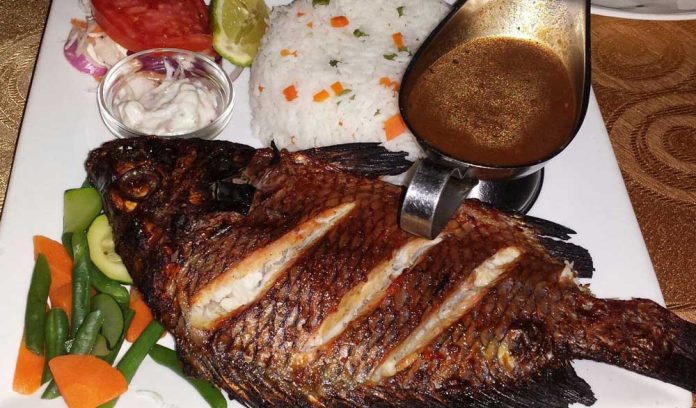 Uganda provides tourists and locals alike with an abundance of locally grown varieties of food including fruits, vegetables, herbs, spices and grains. On anyone intending to visit or live in the Pearl of Africa, find the information to guide you for shopping and local food markets in Kampala capital city. Selling food in Uganda is a thriving local business given that over 65% of the 45 million people are directly involved in farming related activities (Uganda National Housing Survey 2017). Furthermore, the statistics show that the agricultural sector contributes about 73% of total experts and 25% of Uganda's Growth Domestic Policy (GDP).
What visitors enjoy most about Ugandan food

Fresh foods, vegetables and fruits are among the most organically produced and exported crops along with coffee, bananas (Matooke), tea, cotton, tobacco, vanilla, flowers, freshwater fish and poultry products. This is due to presence of rich fertile soils making Uganda rank 3rd in Africa for having the most arable organic land. Agriculture still depends on natural weather cycle for small scale farmers with minimal use chemical fertilizers which helps to keep the food natural. That's why foreigners enjoy eating Ugandan food for the first time without having any stomach complications. Another reason for this is the good handling and transportation. For instance, from the western region trailers that bring Matooke, Irish potatoes, Apples and vegetables tend to travel in the cool of the night in order to reach markets in Kampala capital city when the food is still fresh.
Should you get fresh food at local markets or supermarkets

Popular fresh food markets in Kampala include Nakasero food market, Mengo market and USAFI market. Then the supermarkets, hotels and restaurants are able to source their ingredients from there and the price of food on shelves will slightly be higher than at the markets. Therefore, shopping for food at the local markets provides you with fresh food at affordable prices. This depends on your convenience to access what you need to get. Fresh food can also be obtained at the road side markets on major highways an experience in its own right. Road side markets offer a chance to observe or even sample Ugandan street foods such as rolex (rolled eggs and chappati), roasted meat (Mchomo) and roasted banana (Gonja).
At the markets, vegetables and fruits are the most abundant from Avocado, oranges and pineapples to spinach, broccoli, cauliflower and cabbages. However, fruits such as grapes, blue berries, raspberries, apples, pomegranates, cucumber, olives, desert dates, papaws (papaya), Kiwi among others can be obtained both in large markets like Nakasero in Kampala city or in supermarkets and malls where they are safely kept in refrigerators.
Value addition to Ugandan food and coffee

There are particular foods whose value has been increased especially by special industrial processing both for export and consumption domestically. From roasted Matooke crisps and flour, sweet and Irish potato crisps to frozen and dried fruit pulp, dried bitter berries, red and black chill paper powder. Coffee in Uganda is grown and produced everywhere but large amounts come from farmers on the slopes of Mount Elgon in the east and Rwenzori in the west. As Africa's second largest producer of coffee, Uganda adds a lot of value to it and is processed for export. Visitors can take part in coffee experience – from farm to cup at Sipi falls in Kapchorwa. Value addition to Ugandan food also includes non-alcoholic beverages made from millet and sorghum. These are ready for consumption and can be obtained in markets and shops especially in Kampala capital city. In fact, many Ugandans who live abroad tend to pack them whenever they return home for holidays.
Tips for buying fresh vegetables and fruits
Make sure to wash the food you buy with cold water especially those eaten raw with their skin on. Most farmers growing fruits and vegetables in Uganda use herbicides to spray.
Shopping for food at the local markets provides you with fresh food at affordable prices than in the malls.
Popular Ugandan food experiences  
Banana beer brewing activity is available at Rest in Banana Gardens located in Busimba village near Kibale Forest National Park. This food experience can also be done in Buhoma Bwindi sector after gorilla trekking.
Entanda cultural village in Mityana district offers opportunity to harvest and prepare organic foods. Here visitors get a chance to participate in the entire process of harvesting, preparation and cooking food. A buffet of fresh fruits is also available for visitors to eat for free.
Coffee from farm to cup experience is offered on community walks from Sipi falls in Kapchorwa in eastern Uganda. Also, coffee tours in Kampala capital city can be done to Kabanyole Makerere University Research station in Gayaza.
When in Kampala capital city, you can learn how food in Buganda is prepared including Luwombo and rolex. With the help of a tour operator, visitors will be provided with guidance on where to do that from.