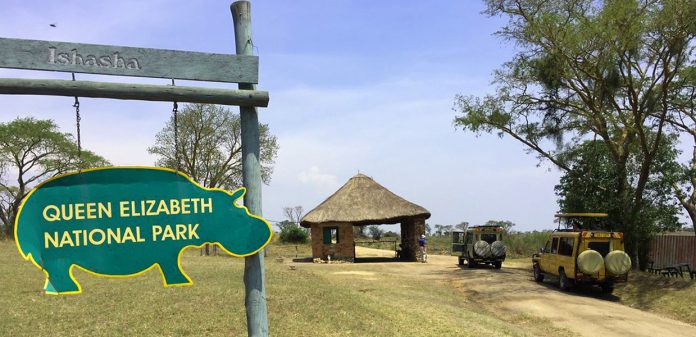 The Uganda Wildlife Authority (UWA) has deployed unmanned aerial vehicles (drones) to strengthen security in the protected areas. This follows an unfortunate incident that happened in mid October in Queen Elizabeth national park (QENP) where two tourists and their driver were killed and their vehicle burnt by suspected Allied Democratic Forces (ADF) rebels.
The rebels allegedly came from DR Congo entered the park illegally, committed a crime and took off without being detected. The incident was such a tragic mishap that could have been prevented. UWA relies on its team of law enforcement rangers to keep parks safe and secure through patrolling, monitoring wildlife, combating poaching, engaging local communities, managing fires, and assisting with tourism development across the 10 national parks and 12 wildlife reserves.
Rangers carry out their patrol on the ground therefore UWA launches the use of drones to support them with aerial surveillance of the protected areas. Each drone is fitted with high resolution cameras with capacity to survey an area over 15 km radius for 10 hours per day. Drone technology is capable of doing what people may not do such as detecting and zooming suspicious objects from a long distance over a wider area.
Drones also help to provide real-time transmission of information which facilitates quick decision-making and response to the scenes. Confirming the move, Bashir Hangi, the spokesperson for UWA said that "every morning  before visitors start their game drive experience, the patrol team of rangers flies the drones to ensure that there are criminals along the routes inside the park." Some encroachers have reportedly been arrested and will be prosecuted in the courts of law. This has ensured the safety of wildlife and visitors who are now confidently visiting Queen Elizabeth national park without any fear.
The protected area is Uganda's most visited destination for wildlife with rich biodiversity including 98 mammal and over 600 bird species. A game drive experience offers visitors an opportunity to spot the big four mammals which are elephants, Cape buffaloes, tree climbing lions, and leopards.
Among the park's favorite activities are the boat cruise along the Kazinga channel, chimpanzee tracking in Kyambura gorge and Kalinzu and nature walks in Maramagambo central forest reserves. The slain tourists and tour guide were hacked whilst enjoying a game drive in the park along the Katwe-Kabatoro road above the scenic crater-filled lake Nyamunuka. QENP covers 1,978 sq.km of which some parts like Ishasha wilderness, Lake Edward, and Kasese district are shared between Uganda and DR Congo.
ADF operates in eastern DR Congo which made it easier for the rebels to infiltrate the park. After the incident, UPDF began tracking the elements and put all the different parts of the park on guard with day and night joint operations by armed UWA rangers in partnership with security agencies including Tourism Police and the Uganda People's Defence Forces (UPDF).
According to the latest DailyMonitor news, a number of suspected ADF rebels were killed on Tuesday 31, October 2023 on Lake Edward. It is alleged that the assailants were trying to return to DR Congo. The UPDF spokesperson Col. Deo Akiiki confirmed that those killed were being followed through intelligence. They're directly associated with those that killed the couple and their tour guide.
The government's right to deploy drones to strengthen security in the national parks is an essential component of the new national 7-point security plan. To assure citizens and visitors alike that Uganda at large is safe and secure.