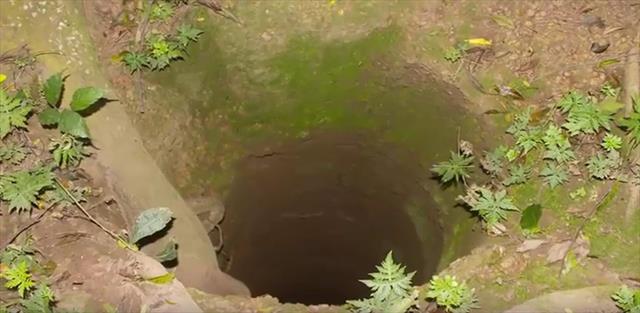 Tanda pits are found in Tanda village, Mityana district 63km (1-hour drive) west of Kampala city and 215km (3-hour drive) south of Kibale national park and Fort portal city. There are over 240 circular pits about 12 feet deep and 2 shrines in an enclosed reed fence. These are archaeological sites of Buganda kingdom. 
According to folklore, the pits are known as Enyanga za Walumbe or the home of Walumbe which means the god of death among the Baganda, the spirit is associated with diseases and death. According to the department of antiquities and museums, Tanda pits were first documented in 1920 by E.J Wayland having seen locals going there to worship the gods. Tanda pits is a sacred religious site where people go and allegedly given power to communicate with spirits and get healed of misfortunes. 
Tanda pits folktales

There are several mythological figures of Walumbe but the common one has it that the first man on earth Kintu lived with his beloved cow depending on its milk and cow dung. And Ggulu(the creator) lived in heaven with his three children that is to say; Walumbe, Kayikuzi and Nambi.
On several occasions Nambi and his brother descended on earth to play and adventure. On one of their visits they met Kintu grazing his cow. Nambi liked Kintu when she went with him to heaven and asked her father to be married to him. Ggulu wasn't pleased with their marriage at first but after persuasion they were blessed and  allowed to marry each other.   Among the siblings Walumbe was not happy with the union and promised to wreck their marriage. Noticing this Ggulu advised Nambi and Kintu to leave heaven so that Walumbe doesn't follow them.
Next morning they prepared for the journey with a few things Nambi had packed including chicken. As they were descending to the earth, Nambi remembered that she forgot millet for her chicken. Kintu tried to persuade her not to go back but in vain. Along the way she met Walumbe and didn't tell him where she was going. But the spirit followed her and eventually the couple came with him on earth. His arrival in Kintu's home was the start of sickness, misery and death.
Ggulu upon hearing the suffering and misery in the Kintu family, he sent Kayikuzi to bring back Walumbe. Walumbe didn't want to go back so he fought with Kayikuzi and  dug pits to hide which still act as a testimony for their fight. The  spirits of Kayikuzi and Walumbe are still believed to  roam the area in fascinating ancient folklore that is still retold to the generations. One of the  tales is associated  with earthquakes that are said to result from fighting between Kayikuzi and Walumbe. 
Today, the place is covered in thick forest as it is believed that the ancestors preferred trees and also gives  the pilgrims a good environment to rest. The main shrine known as Embuga Ettanda  is the biggest pit and believed to be where Walumbe disappeared to earth. The Caretakers covered the pit with three pieces of backcloth to distinguish it from others. The main entrance to Tanda pits is built in the form of shrines with traditional instruments like spears, calabashes and shields among other cultural items. Among the taboos, women are not supposed to eat chicken in this place, sit on chairs and put on mini outfits or trousers.

Those visiting, especially pilgrims are required to  remove shoes as they enter the  main shrine. They usually come for healing and pray for blessings, peace, love and prosperity in their social and economic endeavors including those who wish to bear children. They pay homage to Walumbe, gods and  deities. They perform rituals and give offerings such as coffee beans, cows, goats, chicken, fruits, water and local brews made from sorghum called Tonto. The  gods don't accept money. Walumbe reveals himself to pilgrims  through dreams as a sign of healing.
There are several fireplaces ( Ebyooto in Luganda) outside the shrines dedicated to various gods which are associated with Walumbe  like Bamweyana, Musoke, Wanema, Mukasa and Kibuuka. 
For instance, at the  Embuga ya Dungu, a shrine for the god of hunters has animal horns, bells, spears and nets surrounding the fireplace. Pilgrims who dream about slaughtering  or roasting animals bring them here to pay to the custodians of the shrine.. Another shrine is called Embuga ya Wanema where those who dream of seeing people with crutches go and pray to  be healed. There is also Mbuga ya Bamweyana, the god of prosperity, where  people offer baskets, alcohol, tobacco, marijuana and khat because it is believed that the god takes those drinks. 
The Embuga ya Kiwanuka, the god of war and army is responsible for inciting chaos among people. The place is surrounded by red clothes because the god likes blood. Pilgrims offer honey and banana juice only believing that this god moves in Mukokowe (Ficus Brachiopod) tree. At the Embuga ya Musoke, a shrine for the god of rain is dedicated to people who dream about drinking water for blessing and sharing it with their ancestors. After dreaming they go there to fetch holy water from Musoke well for drinking. At times women are found peeling matooke and pounding groundnuts which signifies that these women dreamt of preparing a meal of matoke with groundnut stew to eat and share it with their ancestors. 
The Embuga ya Mukasa, a shrine for the god of water and fish has boats, pots with water and oars and the only place where eating fish is permitted. It is believed that the god was a fisherman.   
For cattle keepers there is always a fire burning place for Kalisa (cattle keeper) where fire keeps on burning with only cow dung. The cultivators make offerings to the deity known as Mama Nalongo Nabinene and give in things like banana, gomesi, millet, sim sim, maize, traditional hoes and knives. There are other shrines for gods like; Wamagobye, matriarch Nakayima and Jajja Muwanga.
Tanda is an important place among the Baganda, however. Kabaka does not visit the place given that it's a taboo.  Further, when Kabaka appreciates the work done by the people at Tanda pits, he directs them to slaughter a cow or goat as a sacrifice. The site is managed by the Buganda Tourism Board and is growing to become a cultural and religious site that attracts many worshipers from different religious background to convene at Tanda pits to seek for blessings. The cost of visiting Tanda pits is 2000 for tourists and pilgrims don't pay.