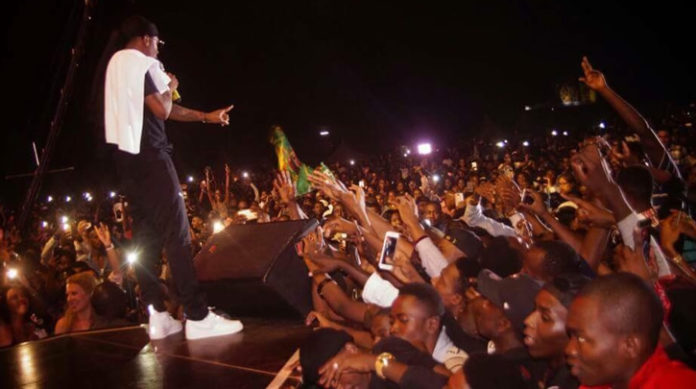 Are you a music fun? Do you know the current top artists in Uganda's music industry? We bring you Uganda's popular artists/celebrities and their albums, which have made entertainment in Uganda a success. It's undeniably that music is part of our daily happy life played everywhere you go. Different kinds of music is played on different occasions like gospel songs in churches, parties and farewell songs played on burials to provide comfort. It's through music that young Uganda's express their "GOT TALENT by shaking their bodies while singing loud with their voices that sound beautiful that make you feel relaxed on your safari to uganda the "pearl of Africa". Interestingly, music is dynamic where everything new is introduced everyday including the dancing styles and different voice codes, which make it, sound more amazing. New artists continue to join the industry composing new songs, which has made the industry strong hence attracting large crowds at a local and international level. in most cases, different people come together to come up with an album acting differently as writers, actors and singers a combination of which make it a not miss.
Jose Chameleon
To some people, Jose chameleon is a leading artist in Uganda's music industry. Chameleon is a fro-beat artiste whose versatile music has become a catch for most people especially the youth in Uganda. The young artist joined the music industry in 1996 acting as a Dj at the Missouri nightclub in Kampala, which opened the doors for him. His songs combine Ugandan folk albums, Zouk, African Rumba and Reggae, which serve the interest of all people. Chameleon is known for attracting a large crown on his concerts, which has made him a star in Uganda's music industry. Among the popular albums of Jose chameleon include Bageya, Mama Mia, Njo karibu, Golden voice, Mambo Bado, kipepeo, Shida Za Dunia, Sivyo Ndivyo, katupakase, Bayuda, Vumiolia, Valu valu, Badilisha and Wale Wale among others. The artist has won several awards in the pearl of Africa music awards, Tanzania music awards, kasima music awards and hipopo music awards among others.
Bobi Wine
The now Member of Parliament of kyadondo East is one of Uganda's top Artist. Bobi wine whose real names are Robert kyagulanyi Ssentamu and grew up in the slums of kamwokya during and after his course at Makerere University. Bobi Wine stared singing in 2000 when his first song Akagoma made him known as a potential artist. Among Bobi wines' albums include Kiwani, Bobi wangye, Hosanah, Ontabira, Caroline, Mazi Mawanvu, sweet, Tata Wabaana, Ayagala Mulaasi among others. The singer/politician is always followed by thousands of people of his shows.
Bebe cool
Bebe Cool is a fun to many Uganda's when it comes to his catch songs. Bebe cool whose real names are Moses Sali tops the African reggae. The singer first promoted his carrier in 1997 in Nairobi Kenya after which he came back to Uganda. Besides singing, Bebe cool is a songwriter, record producer and an actor, all which bring him large crowds. Bebe cool has won several awards in the Pearl of Africa music awards, Channel O Music awards and Hipo Music awards among others. Some of Bebe Cools' albums include Go Mama, Freedom, Love you everyday, African gal, Tofaayo, Mandela, anything for love, Tofa Ku Bigambo, Everywhere I Go, Make the world dance, Old Skool, Byebyo and Tokota among others.
Eddy Kenzo
Also named Edrisa Musuuza, Eddy Kenzo is the best whose shows you should not miss. After sleeping on the streets for 13 years, following the death of his mother Eddy kenzo joined the music industry. His firs song, stamina made it for him making his known to people. Eddy kenzo's albums include Ogenda Kunzisa, Kamunguluze, Sitya loss, stamina, Zigoido, So Good, Mbilo, Mbilo,, Soraye, Disco Disco, Sembera eno, and Jubilation among others.
Juliana Kanyomozi
Julian kanyomozi is a top Ugandan pop musician actress and entertainer who was the first female musician to win the pearl of Africa music awards. Her albums include Omutima Guluma, I'm still here, Usiende Mbali, Mpita Njia, Nakazadde, Nabikoowa, Ndibulungi, Yegwe, Kalibatanya, love you better, Tata Wabaaana Yaani, Sanyu lyange and Diana among others. Julian Kanyomozi had a son who unfortunately dies in July 2014 some thing that was too bad for her. Other awards that have recognized Juliana include Airtel women of substance award, Hipipo music awards, Warid women of substance, kora awards, Super talent awards Uganda, BEFFTA Awards UK, Kisima awards, East African music awards, Nigeria entertainment awards, African music awards, Teens awards, Tanzania music awards, Kora awards and pearl of Africa music awards among others.
Shebbah karungi
Born in Bushenyi, Shebbah Karungi is an artiste, dancer and actress whose carry started in the obsession group. Shebah dropped the obsession group and started her private life. Her first hit song was ice cream, which made the upcoming female artists. Shebah has presently become popular are her albums include Muwe, Weekend, Enjala, Binkolera, Bum Sakata, Nkwatako and am in love among others.
David Lutalo,
He is yet another artist who has gained popularity from the crowds. David Lutalo joined the music industry in 2007 with his first song "Kapaapala" which attracted some people's attention to him. He is one of the good vocalists in Uganda set apart by his sharp, distinct and high toned which together make his songs flow calm and enjoyable. On several occasions, David Lutalo sings alone as well as being a genre of Kadongo Kamu music. On other occasions, the singer has ben seen joining with other artists such as Goodbye Crew, Radio and Weasel to produce other songs. Some of his albums include Gyetugenda, Manya, Magumba and Yamba among others, which make him one of the best you should not miss.
Other Uganda artists include Rema Namakula, Irene Ntale, A pass, Desire Luzinda, Iryn Namubiru, gravity omutujju, Navio, GNL Zamba, Aziz Azion, Leila Kayondo and Isaiah katumwa among others.
Conclusively therefore, music is part of a happy life, enjoy all kinds of entertainment, support the Ugandan artists by playing their songs, attending their shows and promoting it outside Uganda to make music industry a success in Uganda.