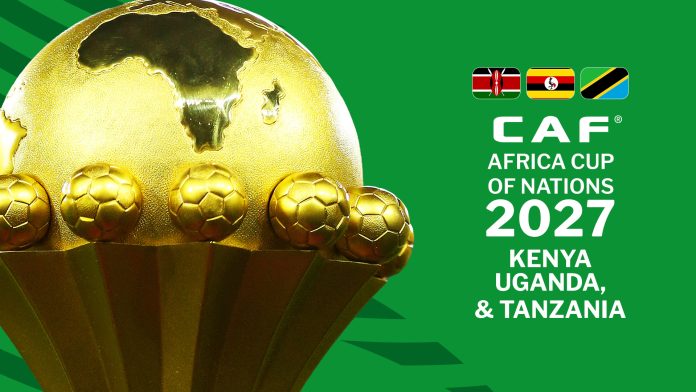 Three East African neighbours Uganda, Kenya and Tanzania have won a joint bid to host the 2027 Africa Cup of Nations (AFCON) tournament, famously known as AFCON 2027. The hosts were announced by CAF president Dr. Patrice Motsepe who also declared that the competition will be zonal oriented and will be hosted by all geographic zones of Africa.
The 2027 tournament will be the first ever edition to be hosted by 3 countries and the first to Be hosted in East Africa since Ethiopia in 1976. The East African co-hosts managed to beat their bidding rivals which included Senegal, Egypt, Botswana & Zambia as well as Nigeria & Benin.
Background of AFCON
This continental football tournament started in 1957 with 3 countries participating, namely; Sudan, Ethiopia and Egypt. The tournament kept expanding and in 2019 it reached 24 teams. All African nations are given chance to participate in the preliminary stages of qualifications before the final 24 teams are confirmed.
The first tournament was held in Khartoum Sudan where Egypt defeated the hosting nation. The first trophy to be won was Abdel Aziz Abdullah Salem trophy which was named after the first president of CAF Egyptian Abdel Aziz Abdullah Salem. Later in 2002 it was renamed  the cup of nations till date. This tournament has showcased the talents of Africans and promoted unity.
AFCON is held every 2 years. The 2023 tournament will be hosted in Ivory Coast in West Africa followed by Morocco in 2025. Uganda won the prize of hosting African Cup Of Nations (AFCON) 2027 with her neighboring countries of Kenya and Tanzania. This will be the first time to host AFCON in three different countries at once. It will be the first time for East Africa to host the AFCON tournament.
The teams will be grouped and these groups will be alternating in these 3 countries. These nations under East African Pamoja won the prize after meeting the requirements of hosting AFCON according to Confederation of African Football (CAF).
Minimum requirements to host AFCON
Nations should be with at least 6 stadiums with padded VIP and VVIP seats, turnstiles at all gates, and CCTV monitors. Stadiums should have a media center, press conference that can host 50 media personnel, a photography area, and Virtual Assistant Referee technology. 
Host Countries should have at least three training grounds near the match venues.
The nations must also have accommodations including five star hotels and hospitals. 
All these requirements are needed so as to facilitate the 24 teams that will  participate in the 2027 tournament and their accompanying delegates. 
By 2027, it is believed that these nations will be eligible to host the tournament. For instance Uganda is upgrading  Mandela national and Nakivubo  stadiums in Kampala capital city to meet the CAF standards. Several stadiums are being constructed like Denver Goodwin stadium in Garuga along  Entebbe road,Lira stadium in Northern Uganda, Hoima stadium in Western Uganda. Building these facilities will bring transformation in the Uganda sports industry through inspiring talents, boost tourism and create jobs which will lead to local economic development. 
Since these stadiums are located in different parts of the country one will have a chance to explore Uganda culture, attractive sceneries, heritage sites, wildlife. For instance Hoima municipality is located close to lake Albert, Kibaale forest, and Murchison falls national parks. The protected areas are rich in biodiversity including chimpanzees, elephants, lions, buffaloes, hippos, crocodiles, birds. Short safaris and excursions are available for booking through a local tour operator with opportunities to enjoy a wide range of activities such as boat cruise, game drives, and chimpanzee tracking.  
Uganda's record in AFCON 
The national football team known as the Uganda Cranes first qualified for the 3rd edition of AFCON in 1962. The team again qualified in 1974 for the second time in a row and played against Ivory Coast, Egypt, and Zambia. Uganda lost in the first round and qualified for the third consecutive time in 1976 in Group A with Guinea, Egypt, and Ethiopia. Guinea defeated Uganda by 2-1.
In the 6th AFCON edition of 1978 Uganda reached the finals and lost 2-0 to Ghana. Since then, Uganda didn't participate in AFCON until 2017, which was almost 40 years. Today, the sports industry, especially football, has grown beyond the  national level. There are over 30 teams that play under the Uganda Premier League including Vipers FC, KCCA, Express FC, and Sports Club Villa. These teams also participate in the regional tournaments under the Council for East and Central Africa Football Association (CECAFA).
What it means to Uganda
Hosting AFCON in Uganda will come with a variety of opportunities that will also affect other areas in addition to sports.
Hotel and hospitality
Many people who are going to be moving in the country will require accommodation where they will spend their time during the tournament. These include the executive staff of those teams, players, supporters among others. Hotels will boost due to the revenue earned from these people. Hospitality department will gain a lot since they have to prepare  food for these people thus increasing the government revenues and improving people's well being.
Tourism
AFCON 2027 will boost the tourism sector since people will be moving from different countries to Uganda. During and after the tournaments there are opportunities for those intending to go on trips. Since some of these stadiums are located in different parts of the country one will have a chance to explore Uganda culture, attractive sceneries, heritage sites, wildlife. For instance Hoima municipality is located close to lake Albert, Kibaale forest, and Murchison falls national parks.
Infrastructure development
Since people will be moving from different countries to Uganda they will require using different means of transport to reach their final destination  including road transport, air transport and use of railway. People will need to move to places like training areas, hotels, airports, recreation centers among others. Since stadiums will be in different locations of the country, Uganda Airlines and the state buses will be used to take players and delegates.
Employment opportunities
AFCON will also create job opportunities for the unemployed youths both the skilled and unskilled laborers in places like training grounds, recreation centers, hotels, among others that will improve their well being. They're also needed in construction and rehabilitation of stadiums. The tournaments will boost the agriculture sector since demand for food will be increased and other agricultural products like dairy products, fruits, coffee so as to  sustain the players and other people. This will boost the wellbeing of vendors, trades, and farmers. The hosting of AFCON will stimulate the construction of world class stadiums and ancillary facilities like hotels, recreation centers, roads and improve infrastructure development. 
What to see and do in Uganda 
Uganda is a diverse environment with breathtaking sceneries with many national parks. These protected areas are rich in biodiversity including chimpanzees, elephants, lions, buffaloes, hippos, crocodiles, birds. Short safaris and excursions are available for booking through a local tour operator with opportunities to enjoy a wide range of activities such as boat cruise, game drives, and chimpanzee tracking, gorgeous waterfalls,  mighty lakes and rivers, spectacular forests and  expansive plains. Top attractions in Uganda are. 
Rhino trekking is a one day trip from Kampala and offers an opportunity to see southern white rhinos at Ziwa Rhino Sanctuary found in Nakasongola 166.7 km (3-hour drive) north west of Kampala and Entebbe. The sanctuary is home to over 40 rhinos as well as bushbucks, endangered pangolin, birds including shoebill stork, African fish eagle. 
Game viewing
Game drives and boat cruises are done in savannah parks which include;  Murchison falls, Queen Elizabeth and Lake Mburo national parks. These activities offer one to see many African wildlife up close. For instance Murchison falls is a home to four of big fives which include; elephants, lions,buffaloes,leopards as well as Nubian giraffes, antelope species such as; jackson's hartebeest, Uganda kob, defassa waterbuck.
The highlights in Murchison is a boat cruise along the Victoria nile and hike of the top of the falls where one has a close view to the two falls.Queen Elizabeth gives one a chance to see tree climbing lions and other three big fives but the park has no giraffes.Boat cruise in queen is done on Kazinga channel which connects lake George and Edward. This gives one a close encounter  with hippos, Nile crocodiles, monitor lizards, water birds like shoebill stork, kingfisher, 
Lake Mburo is located in Kiruhura district 240km (4hr drive) south west of kampala, making it the  closest park for an excursion and a 2 day trip. Wildlife  highlights in the park include; elands,zebras,impalas and Nubian giraffes. The park boosts lake Victoria Endemic birds like;papyrus gonolek, pared harrier,whistling duck and shoebill stork. The area covers about 5 lakes, the largest being lake Mburo where boat cruises are done. The park offers walking safari, cycling, horseback riding and night game drive. One will have to stop at the equator for photoshoots, buy art crafts and taste local foods  on the way to or from Lake Mburo. 
Gorilla trekking
Gorilla trekking in Bwindi impenetrable and Mgahinga gorilla national parks offers an opportunity to see half of the world's mountain gorillas in their natural habitat. Both parks are situated in south west Uganda and one can decide to visit one of the parks on a short 3 day gorilla tour from Kampala capital city. The trekking permit cost is $700 for foreign non-residents, $600 for foreign residents, and $250,000 UGX for East African citizens available for booking through a tour operator. 
Chimpanzee tracking
Chimpanzee trekking is another trip one can take to Kibale national park famous for harboring 12 primate species including chimpanzees, red tailed monkeys, gray cheeked mangabeys, black and white colobuses. The trekking permit cost is $250 for foreign non-residents, $200 for foreign residents and UGsh 100000 for East African citizens. In addition to chimpanzee habituation, swamp walks in Bigodi and Kihingani wetlands.  
Cultural and historical tours
City tour and culture. One can decide to take a bodaboda  and tour the capital city of Uganda and this can be accompanied with visiting cultural places like Kasubi tombs, Kabaka's palace. religious centers like the Old Kampala mosque  at its top where one can view the whole of Kampala , Bahai temple, Lubaga and Namirembe cathedral.
Mountain hiking
Mountain hiking in Uganda  can be done  on Mount Muhabura, Gahinga, Sabinyo in Mgahinga national park. All these are day hikes that range from easy to medium level. The snow capped Rwenzori mountains, the third highest peak in Africa and is ideal for technical mountain climbers and takes 5-12 days to complete. Those intending to enjoy waterfalls can visit Sipi falls in Kapchorwa district where one is able to enjoy abseiling over the view of the cliff face and also visit the nearby Arabica coffee farm. 
White-water rafting
Rafting and tubing at the source of the Nile River is done in Jinja city located 82 km (2-hour drive) east of Kampala capital city. On the way to Jinja, you can make a stopover at Mabira Forest for Ziplining. Other activities to do in Jinja include; bungee jumping, boat cruise at source of the nile.
However there are other excursions that can be done for example; Mabamba forest along Entebbe road for birding, Ssese and Kalangala island for beach and water sports experiences.
ACCOMMODATION. 
Uganda has got a wide range of accommodation that can facilitate visitors ranging from five star hotels to the budget ones. These include; Sheraton, Serena, protea, africana, imperial Royale hotel among others.