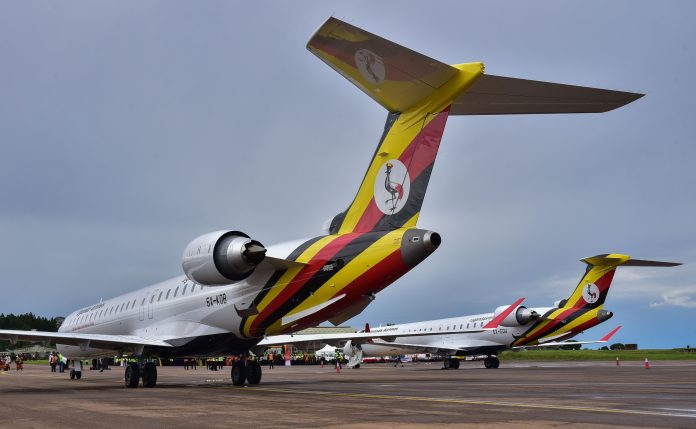 Uganda Airlines will be flying to Mumbai, the economic capital of India. Starting in September 2023, three direct flights in a week will be taking off from Entebbe (EBB) to Mumbai International airport (BOM). This marks the second international flight of the national carrier following its revival in 2019. The first flight from Entebbe to Dubai airport (DXB) was launched in 2021.
Direct flights from EBB to BOM will operate 3 times a week on Mondays, Wednesdays, and Saturdays. The departure times will be unveiled publicly. The international expansion of Uganda airlines to India is driven by several factors including a stable domestic market, competition, the new fleet of aircrafts and increasing international trade. Uganda obtained the Airbus A330neo with 258 seat capacity including 28 premium-economy, 210 economy-class seats, and 20 full-flat business class beds.
The A330neo is powered by Rolls-Royce Trent 7000 engines and efficient to handle the long-range non-stop flights. The aircraft has the most leg room in the economy class and offers great in-flight entertainment for passengers. Besides the aircraft availability, the Uganda airlines opened up the direct flight to Mumbai due to the viable international trade.
India is Uganda's leading country of destination in the continent of Asia. According to the Government Citizen Interaction Center, the estimated annual trade value with India is $959.11 million. Exports to India increased from $ 7.0 million in June to $ 9.1 million in July 2021. Uganda has the second largest Indian community in Africa. There are over 30,000 Indians that live mainly in Kampala capital city and Jinja industrial hubs, which represents 1% of Uganda's 45 million population.
They are involved in a number of businesses, including health and education, steel and tube refining, agro processing, tourism and hospitality, insurance, banking, and retail, which generates almost 70% revenue through direct taxes and creates jobs that support economic growth.
The Duty Free Tariff Preference (DFTP) Scheme of India for Least Developed Countries benefits Uganda through exchange of goods and services. For instance, some of the exports from India to Uganda include vehicles, plastics paper and paperboard, pharmaceuticals, and chemicals. The main imports of Uganda from Uganda to India include edible vegetables, roots, and tubers, coffee, tea, and spices, wood products, and vegetable oils.
The new route will amplify regular engagements between Indian and Ugandan companies across different sectors. As such, the direct route to Mumbai is likely to have a sustainable number of business passengers including those traveling for tourism, visiting friends, education, and relatives, and diplomatic missions.
Opening the direct to Mumbai could also match the competition. Given that the major airlines of Africa including RwandaAir, Ethiopian Airways, and Kenya Airways operate flights to Mumbai city. Uganda airlines can gain traffic flow by getting passengers from connecting flights at Entebbe airport. The growth of the regional air travel market is also influencing the Uganda airlines to open up to the international markets. Currently, Uganda airlines flies to 8 African cities including DR Congo's Kinshasa, Mogadishu in Somalia, Johannesburg South Africa, Juba in South Sudan, Bujumbura in Burundi, Nairobi Kenya, Kilimanjaro and Dar ES Salaam in Tanzania.
The legacy of the Indian culture in Uganda
During the colonial era Indians from the Punjab region came to East Africa as part of the group of engineers and laborers working on the British East African railway. From the port of Mombasa in Kenya in the 1890s, the railway workforce reached the source of Lake Victoria in Jinja in 1928 and Kampala in 1931.
By the time Uganda obtained her full independence in 1962, there were over 80,000 estimated Indians of which over 23,000 had established permanent residence. The number included Gujarati traders of Hindu and Islam faith and those who arrived later for economic opportunities.
They became prominent and dominated the economy. However, the reputation of being colonial overseers stirred Anti-indian sentiments that culminated into their expulsion. Over 55,000 Asians were expelled in August 1972 by president Idi Amin who was highly influenced by the movement to Africanize the economy from the hands of colonial masters.
According to the Daily Monitor Special report, Ugandans mismanaged and lost the businesses handed over to them. The Gross Domestic Product (GDP) fell by 5% leading to inflation, unemployment, crime, and smuggling. Uganda also paid over $662,181 to Asians who claimed compensation through the United Nations High Commission for Refugees.
Amin was ousted in 1979 through the bush war that brought the National Resistance Army to power in 1986. Thanks to His Excellency President Museveni's new administration's invitation for them to return as investors. Over 35,000 Asians now live in Uganda and their culture is reflected in the cuisine and architecture. For instance, Samosa, a favorite Ugandan street snack and food, is tied to Indian culture.
Kampala capital city has several Indian architectural buildings including the Hindu temple below Nakasero food market. Jinja city has rich Indian heritage including the Monument where the ashes of Mahatma Gandhi were immersed into the Nile river waters. Marasa Africa owns several hotels in Uganda's Queen Elizabeth and Murchison falls national parks including Chobe, Mweya, and Paara safari lodges.