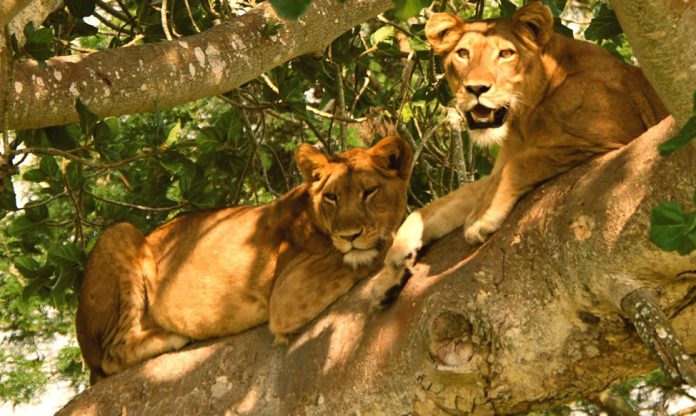 Visiting to see and track lions is one of the sought after wildlife experiences that bring thousands of travelers from all over the world to Uganda. Over 90% of traveler's to Uganda wish to see lions on their Uganda safaris. With no doubt, lions rank second to mountain gorilla tracking attracting a high number of travelers from all parts of the world. However, on a sad note, Uganda is facing a rapid decrease of lions nowadays. According to the recent lion census in Murchison Falls, Queen Elizabeth, and Kidepo Valley national parks, Lion population in Uganda has reduced by 33% in the last 10 years. It has been realized that the lion population has dropped from 600 in 2009 to 400 in 2019 in the three major wildlife parks in Uganda. The highest drop was recorded in Murchison falls national park was in Murchison falls national park where lions dropped from 320 to 130 individuals, this is a great loss!

Reasons for the loss of lions in Uganda
Several threats have been pointed for the tremendous loss of lions in Uganda. Among these are:
• Weak legal framework against poaching and wildlife trafficking in Uganda. The law for protecting wildlife in Uganda seems reluctant in some ways. Unlike in other countries, The Uganda tourism policy has not fought enough against poaching and all other illegal activities in national parks, which has continued to affect tourism performance in Uganda.
• Human activities like wire snares and wheel traps have killed many lions. People set snares to capture small animals in the park-like antelopes where lions also fall victims.
• Lion poisoning, by local people, is also a big challenge. Most lions killed of poison by locals in the protection of domestic animals. Last year, over 30 lions were poisoned in kasenyi Queen Elizabeth national park by unknown people which was a big loss to Uganda's tourism.
• Wildlife trafficking has also led to the loss of lions and other animals in Uganda most animals have been smuggled live through Uganda exit points while others have been killed for their products. This was confirmed by Uganda civil aviation who confessed that many people have been arrested at Entebbe international airport carrying animal products. Fortunately, several armed soldiers in uniform and casual attire have been deployed at the airport and all Uganda exit points to prevent smuggling of wildlife out of Uganda.
• Habitat loss is also a big threat affecting the lion population in Uganda. Local people have continuously encroached on lion habitats to expand their land for agriculture and settlement.
• Also, the killing of lions by local peoples for medicine and cultural rituals has also greatly reduced the lion population in Uganda. Some local people believe that the skins of lions cure several diseases and perform other rituals.
• Loss of prey has starved lions in Uganda national parks leading to the death of many. It has been realized that most animals like kobs, which lions feed on, have greatly reduced to poaching and diseases hence causing food shortage for the predators.
The decrease of lion populating has greatly affected the tourism industry in Uganda. The country is facing heavy competition from Kenya, Tanzania, and South Africa, which has high lion population. It's obvious that most travelers choose these other countries with the big game over Uganda, which affects the performance of Uganda tourism.

Contributions of lions to Uganda's tourism sector
Like said already, lions are one of the most visited wild animals in Uganda. One of the big five is widely known as the giant and king of the jungle with superpowers that when he roars, all other animals in the neighborhood go into hiding. Traveling to see and track lions has presently become a wish for most travelers to Uganda. Every day, travelers flock onto ishasha sector south of Queen Elizabeth national park for tree climbing lions, which rest, relaxed up in the acacia trees. Also, numerous vehicles are spotted in the trails of kidepo valley and Murchison fall national park searching for lions and other animals.
Due to their popularity, lions have become one of the major contributors to Uganda's foreign exchange earning increasing the country's gross domestic product. It's recorded that each lion in Uganda generates about $13,500 roughly 50 million per year for the national economy in terms of Uganda's revenue. The assessment was based on the fact that tourists are willing to stay longer just to see lions. Among other wild animals heavily trafficked in Uganda include elephants ivory, hippo skins, plus pangolin scales among others.
In generals, lions are one of the major tourism attractions in Uganda. Book wildlife safaris to Uganda; enjoy lion tracking in Murchison Falls, Queen Elizabeth and Kidepo valley national park for a memorable wildlife experience in the pearl of Africa.