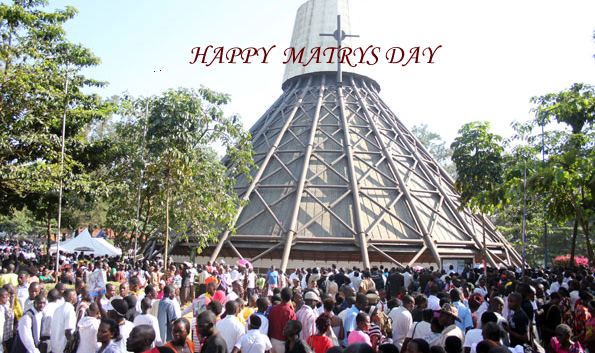 When it comes to Uganda safaris in early June, it's not only about gorilla tours for which Uganda is widely known but also a religious pilgrimage to Namugongo martyrs shrine. Every 3rd June, all businesses in Namugongo are put on as Christians from all parts of the world gather for the annual prayer session and celebrations dedicated to honor the catholic and Anglican converts who were executed for their faith between 1885 and 1887 at the orders of kabaka Mwanga for their faith. Their killing by Kabaka Mwanga II the king of Buganda was during the three-way religious struggle for political influence at the Buganda royal court. The Martyrs belonged basically two religious groups, which included 23 Anglicans, and 22 Catholics that had converted to Christianity after abandoning the Kabaka led traditional beliefs. Following their killing, the English Church Missionary Society used the deaths of Anglicans to enlist wider public support for the British acquisition of Uganda for the Empire. The Catholic Church also beatified the 22 catholic martyrs of its faith in 1920 and canonized them later in 1964.
This great religious event has attracted a lot of attention worldwide with pilgrims coming in from almost all countries around the world. This historical day sees the biggest gathering in the country flock the martyrs' shrines at Namugongo a Kampala suburb about 15km from the city center along the Kampala-Jinja highway. Marty's day is not only a public holiday in Uganda but rather a world public holiday for all Christians in the globe. Following the canonization in 1964, the government of Uganda also declared this day as a public holiday in commemoration of the first Christian Martyrs in the country. The celebration of martyrs' day has a series of events that start a month earlier with some pilgrims walking all their way to Namugongo.
The start of the pilgrimage to Namugongo has its history way back in 1920 when Rev. Fr. Stephen Walters, a Mill Hill Missionary Priest organized a pilgrimage to Namugongo to honor the newly blessed martyrs that had been beatified. After this a Dutch priest who was the based at Nsambya walked with a group of Christians to Namugongo and celebrated holy mass at the spot where Charles Lwanga was martyred. He erected a cross at this spot after the mass, which marked the beginning of pilgrimage to Namugongo.
Today the pilgrimage to Namugongo means much more to the locals than just remembering the martyrs. The event has moved from an emotional faith moved religious ceremony to also include commercial, social and entertainment aspects. Business oriented Ugandans have used the event as an avenue to make money and they sell all sorts of products to the pilgrims. Surprisingly the list of the sold items is dominated by beverages, other soft drinks and eats. All home accessories can be bought here and you may be tempted to think that the traders are not aware of the main event of the day rather to them it seems like a market day. Entertainers who are also in most cases marketing various products and services also arrange different stands with musical instruments airing out some of the popular local music to accompany the adverts. Namugongo also became a famous spot for pork lovers, as the delicacy is the main type of meat all over the area.
However, the dedication, sacrifice, faith and love exhibited by those few pilgrims who decide to walk to Namugongo from as far as DRC, Rwanda, Tanzania, Kenya and from the distant areas of Uganda like Karamoja, Kitgum, Kisoro and other areas to imitate the martyrs tend to be more significant to the event than any other off topic program that Is arranged in relation to the function. Today it commonly believed that a bigger percentage of those who to Namugongo on this day are basically motivated by what they are going to eat and drink from there with very few genuine believers going for the exact cause of the event.
Names Of Uganda Matrys
Uganda martyrs were 22 in number Anglicans and Catholics both killed at different spots. They include Achileus Kiwanuka, Adolpus Ludigo-Mukasa, Ambrosius Kibuuka, Anatoli Kiriggwajjo, Andrew Kaggwa, Antanansio Bazzekuketta, Bruno Sserunkuuma, Charles Lwanga, Denis Ssebuggwawo Wasswa, Gonzaga Gonza, Gyavira Musoke, James Buuzaabalyaawo, john Maria Muzeeyi, Joseph Mukasa, kizito, Lukka Baanabakintu, Matiya Mulumba, Mbaga Tuzinde, Mugagga Lubowa, Mukasa Kiriwawanvu, Nowa Mawaggali, Ponsiano Ngondwe.
Martyr's day is full of prayers, confessions, testimonies, deliverance as well as entertainment. Different choirs have trained to sing and dance for the guests which will keep the, happy and lively throughout.
In terms of our everyday life, martyrs day is a source of income for local people. It's the major source of market for local products such as soap, sugar, food, drinks, snacks and other necessities. Businesses people are assured of ready market at quite higher prices.
CAUTION
Much as it's a prayer day, people are reminded to be careful with their lives and properties. It's known that there are some wicked people especially the robbers who join the congregation to steal their property and cause chaos. Also, people are reminded to mind the person you trust with their belongings and share confidential information with.
Safety Assurance
People are assured of peace and order during this event. The Uganda people's defense force (UPDF) together with the Uganda police have deployed army men and police to ensure safety of people and their properties.
In general, come be part of the Uganda martyrs day, prays confess, testify, get delivered and celebrate the lives of Christian converts who sacrificed to die for the word of God to spread and reach many people in all parts of the world. Uganda martyrs day is indeed a day to celebrate.