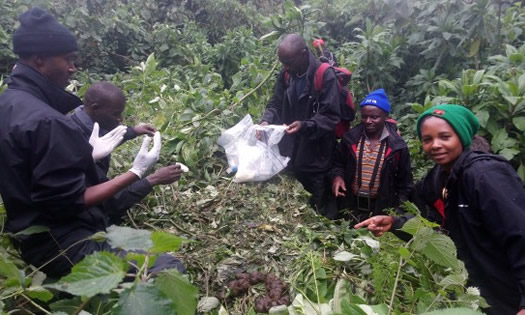 Its what we have all been waiting for! The mountain gorilla census results are finally out. Its great news that the recent gorilla census survey indicates a rise in the population of mountain gorilla population in the Virunga massif. Gorilla counting has been on going in the Virunga conservation area shared by volcanoes national park in Rwanda, Mgahinga gorilla national park in Uganda and Virunga national park in Democratic Republic of Congo. The new results show that mountain gorilla population has risen from 480 in 2010 to 604 which population increase indeed call for celebration. Similarly, the number o gorilla groups in the Virunga massif have increased to 41 from 36 in 2010. The remaining population of mountain gorilla's (roughly 400) dwell in Uganda's Bwindi impenetrable forest national park. In general the current population of mountain gorillas in the world is roughly 1004 gorillas shared by Uganda, Rwanda and Democratic Republic of Congo
Great thanks go to all responsible tourism and government bodies that have worked tirelessly to protect these critically endangered mountain gorillas. The bodies responsible are the Uganda Wildlife Authority (UWA) for Uganda, Rwanda Development Board (RDB) for Rwanda and the Institute Congolais pour la Conservation de la Nature (ICCN) in Democratic Republic of Congo. Also, gorilla doctors, conservationists and tourism police have done a great job to ensure good health and safety of mountain gorillas in their natural habitat.
The good news was spread by the team of rangers from the greater Virunga transboundary collaboration who did the counting. For three months, a team of 60 people from Uganda, Rwanda and Congo has been walking volcanoes through the Virunga massif everyday to check different gorilla families These people gathered different samples like hair and dung samples for easy identification of individual gorillas.
The increase in gorilla numbers brings hope for boosted gorilla tours to Uganda, Rwanda and Congo. Gorilla trekking is the most done activity in east and central Africa attracting the highest number of travelers from all parts of the world to enjoy this face-to-face encounter with the critically endangered gorillas in the wild. Also, there is assurance of gorilla permit availability compared to the past, which guarantee travelers an opportunity to meet and interact with these gentle giants in their natural habitat. Mountain gorillas are one of the critically endangered species surviving in the wild. Mountain gorillas are highly threatened by poachers, loss of habitat and other human activities which factors have kept the number of these endangered species low.
Rwanda is a renowned luxury gorilla destination due to its expensive gorilla permits each costing 1500usd fro all people including Rwanda nationals. Fortunately gorilla's safaris in Uganda are quite cheaper costing 600 for a permit in Bwindi impenetrable forest national park and Mgahinga gorilla national park. Unfortunately, mountain gorilla treks to Virunga national park in Democratic Republic of Congo have been put on halt till further notice. The ICCN and other tourism bodies closed entrance to Virunga national park in May 2018 following the kidnap of two Briton travelers who good enough were rescued. Unfortunately, the incident took the life of park ranger who was shot dead by the rebels.
Based on the trip advisor reviews, gorilla trekking is one of the best wildlife experiencers in the world. The human character of these gentle giants amazes travelers. Each family plays a different role in the family. The silverback is a head of the family, adult females nurse the young ones while the juveniles pay continuously which keep a family lively and enjoyable.
To ensure sustainable gorilla tourism and a more increase of mountain gorillas, all stake holders are called upon to revise other strategies to prevent any harm to the gorillas. Potential travelers are advised to check gorilla permit availability and book as early as 6 months before the actual trekking date. A variety of travel operators are available to offer you customized gorilla packages. Book a gorilla safari to Uganda, Rwanda and Congo, enjoy an encounter with these gentle giants in the wild and enjoy a memorable wildlife experience.