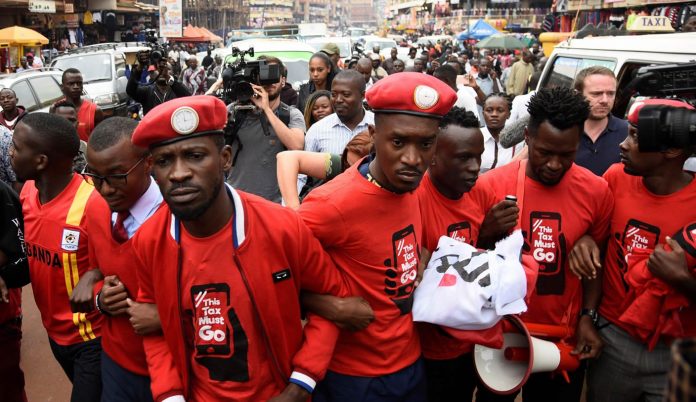 Uganda Social Media & Mobile Money Tax Invite Public Outcry
Many Ugandan social media and mobile money users have expressed their discomfort over the new taxes. Millions of Ugandans now have to pay a daily tax of Shs200 to use their popular social media platforms like Whatsapp, Facebook, Twitter and others, in addition, they have also to incur another 1% charge on all the mobile money transactions they carryout according to the new rules. This has come into effect following a move by the Parliament of Uganda to pass a legislation in late May that introduced a tax on the use of the so-called Over The Top (OTT) Social media platforms offering voice and messaging services and mobile money users as well. The new social media tax translates into about $1.5 a month and $19 a year though majority Ugandans are still living on less than $1 a day.
However, the government says the new taxes will help to boost the country's prospect of becoming middle income by the year 2020. Government maintains that the aim of the legislation was only to raise revenue for public services. On the contrary, the passage of the law follows President Museveni's warning early this year that that he was planning to tax social media platforms because they are used to promote "gossip" in the country. This also reminded Ugandans what happened in 2016 when the government closed down social media platforms during the presidential and parliamentary elections when the president was accusing Ugandans of using social media to spread "lies".
Many human right activists have come out to condemn the move strongly saying that the objective in the passing of the law is to stifle free expression rights of millions of Ugandans who largely depend on these social media platforms to communicate. Other activists pointed out that the president saw online communication as a threat to his 32-year rule. They argue that though the president says it was to stop young people from gossiping but he knows that online organizing has real-life implications for him and his power and his intention is to stifle free speech having known that online organization works.
The new tax of one percent on mobile money transactions has also been heavily criticized and condemned. Due to low incomes and limited knowledge about banking, many Ugandans have little access to formal banking services hence they have been relying on telecom company services to store and transfer money electrically. Statistically, out of the 40 million population, only 5 million Ugandans use banking services countrywide and the rest use mobile money services.
However from the government perspective, the minister for information technology and communication Frank Tumwebaze defended the move to impose the taxes saying that the revenue collected would be used to improve Internet services. He argues that if other essentials like water are taxed then why not social media? And concludes that the tax is meant to improve connectivity.
Various NGOs have also cautioned that the measure will punish people with low income, students and small online businesses without bringing in the expected revenue. Oxfam Uganda advised that the government has other avenues to resort to in order to raise more money. These include lifting tax breaks from big businesses, tightening laws and closing all loopholes to stop tax avoidance. They also warned that the tax is going to result into fewer people being able to share their views on many important issues.
Many social media users have vowed not to pay the tax with majority resorting to use of Virtual Private Networks (VPN) in order to access online services though the Uganda Communication Commission (UCC) has threatened to block such networks to ensure that the tax is paid.