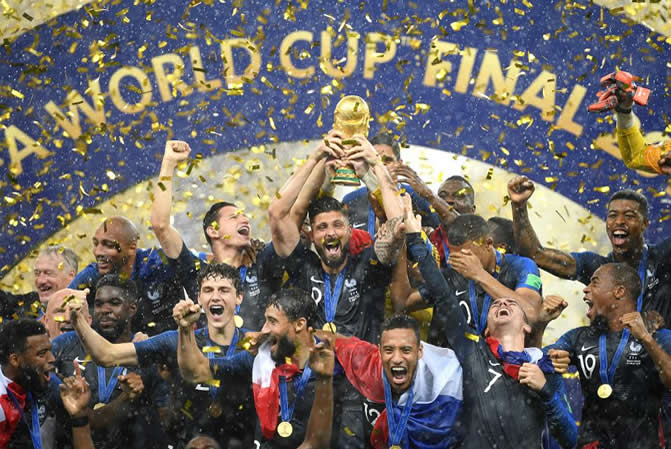 FRANCE WIN THE 2018 FIFA WORLD CUP IN RUSSIA
France were crowned World Cup champions after beating Croatia 4-2 in the final match at the Luzhniki Stadium in Moscow in front of 80,000 fans.
The Les Bleus made it clear from the start that they were playing for silverware. The champions could not afford losing a single match right from the group stage up to toppling Croatia in a mouthwatering six-goal thriller with the blues bagging four to be crowned world champions.
Mario Mandzukic opened the scoring though in his own net in 18th minute while trying to head away Antoine Griezmann's free kick. Ivan Perisic equalized for Croatia in 28th minute with a powerful thunderbolt into Hugo Lloris net but Griezmann ensured France finish the first half on top by converting a penalty to put France 2-1 ahead. France having trailed Croatia in ball possession during the first half, they ensured that they start the second half in a high gear and they ran riot by scoring two more goals in the opening 20 minutes of the second half. Paul Pogba scored from a deflected first effort after an hour and Kylian Mpappe put the game out of reach for Croatia through another powerful shot after being played a good pass by left full back Lucas Fernandez in the 65th minute.
French goalkeeper Hugo Lloris gifted Croatia a second goal through a shameful blunder against Mario Mandzukic in the 69th minute although it seemed too late to put Croatia back into the game. The Les Bleus successfully held on the game up the final whistle before they jumped into triumphant jubilations.
France won their second World Cup trophy after 20 years having won their first title in 1998 after beating Brazil 3-0 in the final at home soil. Coach Didier Deschamps also made history by becoming the third individual to win the trophy both as a player and coach after Germany's Franz Beckenbauer and Brazil's Mario Zagallo.
Forward kyliam Mbappe became the second youngest player to score in the World Cup final at 19 years and 207 days after Brazil's great Pele who scored at 17 years and 259 days in the 1958 final against Sweden. Croatian striker Mario Mandzukic also set another record by becoming the first player to score an own goal in the World Cup final.
France was placed in group C together with Denmark, Australia and Peru. They topped the group with seven points after beating Australia and Peru while they scoped a goalless draw with Denmark in the their final group match. A tough encounter against Argentina was waiting at the round of sixteen but France managed to over come the South American giants in one of the most entertaining encounters of the tournament that ended in 4-3 thriller win to France. Defeating Argentina only introduced another tough South American opponent in Uruguay in the quarterfinal but still France found few challenges in defeating their fearsome opponents 2-0 to book a ticket in the semi final. An all Europe battle with one of the tournament's favorites Belgium greeted France and it proved to be such a big test to the former champions as they struggled to overcome their fierce opponents with a narrow 1-0 win thanks to Samuel Umtiti's 51st minute goal. Belgium hugely dominated the game but they had to regret not converting at least on of the many goal-scoring chances they created. Croatia also battled England in the semi finals winning 2-1 after extra time to set up a mouth-watering final with France.
As France were being crowned world champions, several awards were also given out to some of the tournament's finest that included the golden ball which was won by Croatian midfield Maestro Luka Modric for his tremendous contribution as he dominated the midfield to guide his country to the final. England's forward Harry Kane won the golden after topping the scorers with six goals. French prodigy Kylian Mbappe won the tournament's best youngest player award while Belgian goalkeeper Thibaut Courtois won the golden glove with three clean sheets coupled with important saves.
As the tournament closed in Russia, the ball was passed over to Qatar the next organizers of the tournament in 2022 and they are already underway with the preparations.
While assessing the French winning team, concerns were raised about their future with many fans fearing that the French young side is still capable of causing more damage to their opponents in the upcoming tournament given the young talents they have at their disposal. The Likes of Kylian Mbappe, Antoine Griezmann, Paul Pogba, Ousman Dembele, Ngolo Kante Thomas Lemar, Benjamin Pavard, Lucas Fernandez and many others look to have a lot of years still on their side and they already look fearsome. This sends a serious warning to all the nations that may be aspiring to lift the trophy in Qatar as France are likely to return as the team to beat.