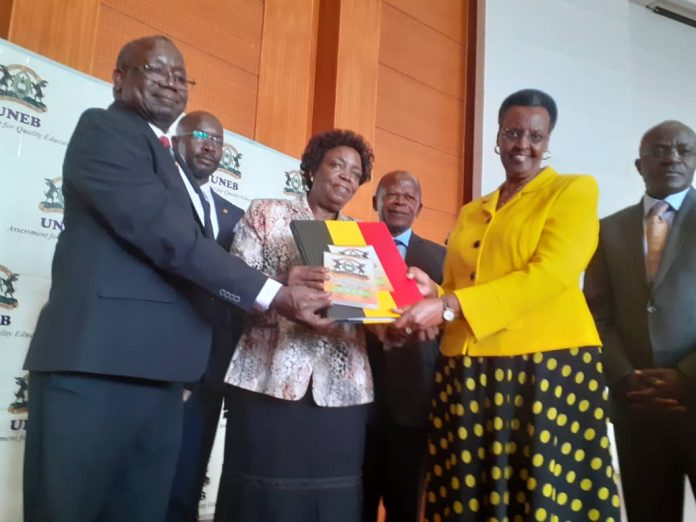 Uganda National Examination Board (UNEB) has released the results of the 2019 Uganda Advanced certificate of Education (A' Level). The results indicate an improved performance compared to previous years with female candidates outshining their male counterparts.
The results were released on Thursday afternoon by Education and Sports Minister and First Lady Janet Museveni who called upon schools to relax the cut-off points for admission at A' Level in order to allow more students take up science disciplines.
The Minister attributed the improved performance to better efficiency which translates into reduced wastage of resources.
"I am happy to note that performance has improved and more learners have qualified for tertiary education. The fact that more learners can transit to the next level means there is more efficiency in the education system, I believe. This leads to less wastage of resources invested in the sector." She said.
She also expressed her concern about the low numbers of students who offer sciences at A' Level especially given the fact that all science subjects are compulsory at O' Level.
"I am, however, very concerned about the very transition from UCE to UACE in the sciences. I am even more concerned about the very low number of girls in the sciences. Regrettably, this is happening despite the fact that government, through the Ministry of Education and Sports, has invested heavily in provision of teaching and learning materials and laboratories. Deliberate efforts now have to be made to increase the number of science teachers and their welfare in order to raise the number of students in sciences and improve performance." She noted.
The Minister also called upon schools to relax their selection criteria and be more realistic to allow students to pursue their science ambitions.
"I learnt in 2016 that part of the low numbers of students taking sciences could be attributed to the very stringent selection criteria by schools – that is by admitting only students with distinction scores a UCE. I then appealed to schools to relax this unrealistic demand because a child with a Credit Three or Four should be able to comfortably study a science subject at UACE.
"I want to reiterate that appeal now, because Mathematics and sciences are at heart of industrial development, which is crucial to taking our country to another level," said Mrs Museveni.
She also called upon learners and parents to consider vocational and technical education.
"Many parents and candidates themselves will most likely be aiming for university education. It is indeed a commendable goal. However, I wish to encourage the candidates to take up vocational education." She said.
UNEB Chairperson Prof. Mary Okwakol noted exams were conducted smoothly from November 11 to December 2 despite the challenging weather. She added that although performance has been better than that of 2018, the interest in science subjects remains low.
Okwakol said that UNEB is concerned that entries for science subjects are quite low. Only 10% of the candidates registered for science subjects last year according to UNEB while only 30% registered for Mathematics. The chairperson noted that female candidates who registered for science subjects were less than 10%, adding that this persistent trend must be addressed urgently.
Biology poorly done subject
The performance of candidates in biology has continued to cause big concerns. The chairperson said that less than 50% of candidates in the previous four years have managed to obtain passes at principle level in the subject. However, she said the performance in 2019 has been better than in previous years and she hopes that this will continue.
Another decline in performance was noted in Economics, Entrepreneurship, Geography and Chemistry.
However, candidates registered improved performance in Mathematics, Literature in English, Physics, Agriculture and CRE.
104,476 candidates registered for UACE exams last year while 103,429 actually sat indicating a 1% absenteeism rate though it was better than that of 2018 (1.1%).
Female students who registered for exams last year were more than their male counterparts at 43,625 and 41,296 respectively.
Girls beat boys
Unlike last year where male candidates beat their female counterparts at both PLE UCE levels, this year has seen female candidates beat males at all levels including at UACE.
Girls also registered a lower failure rate of 0.9% compared to 1.7% of boys and this trend was similar to that of 2018 and 2017 according to UNEB Executive Secretary Dan Odongo.
Girls also performed better than boys at the principal level pass in subjects like Arts, Mathematics, Physics and Agriculture while boys were better in Chemistry, Biology, Art and General Paper.
30% of last year's candidates offered Mathematics, 16.2% offered Chemistry, 14% offered Biology while only 10.9% did Physics.