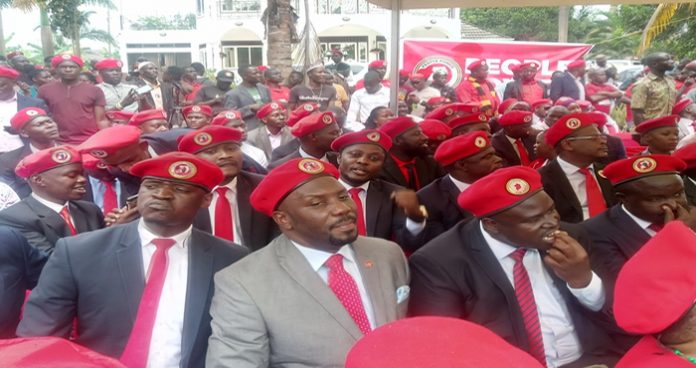 Kyadondo East Member of Parliament Robert Kyagulanyi alias Bobi Wine the leader of the People Power political pressure group launched a national coordination team on Wednesday.
The team will be in charge of mobilizing supporters and coordinating all the necessary activities in different regions ahead of the 2021 general elections.
The appointed committee will also be responsible for identifying, recruiting and harmonizing candidates from these regions vying for several political posts in the upcoming elections.
The meeting in which the coordination committee was appointed took place at Bobi Wine's home in Magere, Wakiso district on Wednesday.
The People Power Spokesperson, Joel Ssenyonyi said that they had intended to have this meeting in a hotel but they failed to secure a place sine all the hotels contacted turned them down due to fear of government's response for hosting Bobi Wine.
"We were not supposed to be here today for this press conference. We should have been at one of the hotels but we roamed town for the last couple of days seeking to get space but all of them declined, especially when they got to know its People Power", he said.
The committee comprises of members from different political parties as well as those from diaspora. Mr. Ssenyonyi said that all members are there for a better country.
"We have leaders here from the NRM and some are in Parliament but they are here because we all want a better country. We also have members from DP, FDC, Jeema… People Power is also about empowering women. President Museveni says that he has empowered women but in many ways, he has disempowered them. We are keen on changing that", he said.
Arua Municipality MP Kasiano Wadri said that the involvement of members from other political parties will not affect multiparty democracy but it will rather empower all parties.
"Multiparty democracy has principles. People Power has come to empower all political parties and not to break them. We are coming up with something new because we can't behave normally in an abnormal situation. Multipartism can't be killed by what you see here. We are all here for a common cause. This is a consortium, we are here to foster a common goal", he said.
The committee teams that were appointed were regional based and are responsible to coordinate activities in their respective regions.
The committee list is as below
Kampala Metropolitan
Hon Medard Lubega Ssegona (Team Leader)
Hon Wakayima Musoke
Naluyima Betty
Samuel Lubega Mukaku
Semugooma
Greater Luweero;
Hon Lutamaguzi (Team Leader)
Hon Brenda Nabukenya
Nanyanzi Shifa
Former Luweero Mayor
Sekabira Lawrence
Greater Mubende;
Hon Patrick Nsamba (Team Leader)
Hon Kalwanga David
Kawuma Digo
Kabuye Frank
Sumaya
Greater Mpigi;
Hon Muwanga Kivumbi (Team Leader)
Aisha Kabanda
Hillary Kiyaga(Hilderman)
Teddy Nambooze
Sadam Gayira
Greater Mukono;
Hon Lulume Bayiga (Team Leader)
(Mayor of Mbiko, Kiwanuka Abdullah
Patriko Mujuka
Simbwa
Greater Masaka;
Hon Mathias Mpuuga (Team Leader)
Hon Sewungu Gonzaga
Hon Florence Namayanja
Dr. Abed Bwanika
Katerega Muhammad
WestNile;
Hon Kasiano Wadri(Team Leader)
Hon James Acidri
Hon Oguzu Lee
Habib Asega
Asara Night
Acholi;
Hon Lucy Akello (Team Leader)
Hon Gilbert Olanya
Hon Anthony Akol
Olenga Anthony
Okema Santo
Karamoja;
Hon Adome Bildard (Team Leader)
Ayen Bonny
Lopolo Mukulu
Ponyu Badru
Lango;
Hon Jonathan Odur (Team Leader)
Moses Okot P'Bitek
Okello Blick
Isaac Okae
Teso;
Hon Susan Amero (Team Leader)
Elakuna
Ojangone Anthony
George Okoit
Amato Immaculate
Tooro;
Kakuru Thomas (Team Leader)
Innocent Tukundane
Medard
Hanifa Said
Nyakato Hassan
Ankole;
Hon Mbwatekamwa Gaffa (Team Leader)
Kakama Moses
Lucas Muhangi
Muhanguzi Kateera Lubega Muzamir
Ayebare Jasper Musherura Daniel
Tuhimbise Rhoda
Byamukama Godfrey
Sebei;
Pastor Satid (Team Leader)
Chemonges Benjamin Kwoyen
Satya
Chemisto Kubai
Bunyoro;
Hon Barnabas Tinkasimire (Team Leader)
Nyakato Asinas
Amanyire Rogers
Asiimwe Grace
Atiki
Bugisu;
Hon John Baptist Nambeshe (Team Leader)
Anthony Wameli
Wetaka Abas
Sam Mali
Robinah Nadunga
Busoga;
Hon Asuman Basalirwa (Team Leader)
Hon Paul Mwiru
Mercy Walukamba
Bigirwa Moses
Basakana Hannington
Bukedi;
Hon Nabulindo Agnes (Team Leader)
Hon Catherine
Sanya Wycliff
Mukasa Abdullah
Yusuf Mutembule
Rwenzori;
Hon Winnie Kiiza (Team Leader)
Hon Robert Centenary
Wakibanahi Joram
Ndungu James
Musabingo
Youth Wing;
Hon Francis Zaake(Team leader)
Angella Namirembe(Deputy-Central)
Bosmic Otim(Deputy-North)
Sasi Marvin(Deputy-West)
Mariah Natabi(Deputy-East)
Institutions;
Roy Semboga (Team Leader)
Muhumuza Umaru
Milkah Nabacwa
Tunduru Jonathan
Magulu Mpagi
Women Wing;
Flavia Kalule (Team Leader)
Hon Robinah Ssentongo
Hon Anna Adeke
Nusifa Nakato
Aturinda Agnes
PWDs
Pastor Robert Mpala Isabirye (Team Leader)
John Luwago
Kisimizi Nuhu
Arts & Entertainment;
Nubian Lee (Team Leader)
Swengere
Ronald Mayinja
Flavia Namulindwa
Informal Sector;
Nyanzi Fred Ssentamu (Team Leader)
Nnazzinda Sifa
Okello Richard
Ande Kibirige
Muwanguzi Andrew
Diaspora;
Arao Ameny (Team Leader)-US
Belinda Atim-UK
Patricia-UAE/Dubai
Ali Mawale-SA
Pamela (Sweden)