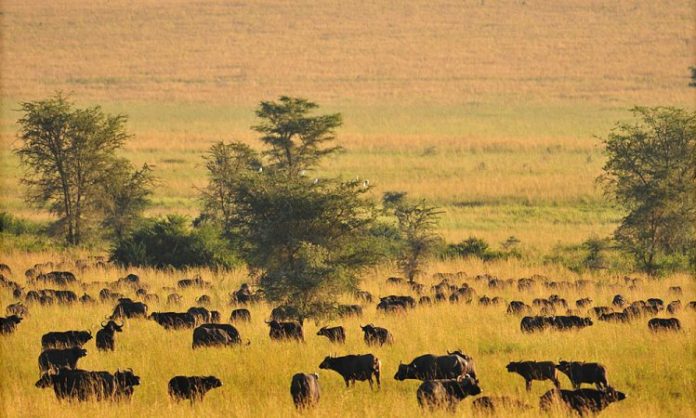 Uganda the pearl of Africa is unlimitedly blessed by nature. Everywhere you go, something amazing awaits you. Church Hill Winston dubbed this small country Africa's pearl due to its magical features and incomparable beauty. Past travelers who have been on Uganda safaris go back testifying how Uganda offers it all to meet, satisfy and exceed every traveler's expectations. A combination of favorable weather, endangered wildlife, hospitable people, beautiful landscapes, lakes, and rivers make a complete safari package to offer you a lifetime experience. However, despite the many tourist spots and attractions Uganda has, some places stand out as exceptional. These you cannot dare miss visiting them if you want your Uganda tour to be lively and memorable. We bring you the top 5 places that every traveler must visit in Uganda for a memorable experience. These include:
Bwindi forest national park
Bwindi forest is the most visited national park in Uganda according to Uganda tourism statistics. It's undeniable that over 90% of tourist arrivals in Uganda visit this impenetrable forest. But what's the secret? The endangered mountain gorillas that roam in this thick jungle are a key attraction for most travelers in Uganda. Situated in southwestern Uganda, Bwindi impenetrable forest national park is home to over 600 mountain gorillas, which is half of the world's surviving gorillas habituated in 17 families. Gorilla groups in Bwindi are split into four sectors that make up the park (Buhoma in the north, Ruhija in the East, Rushaga and Nkuringo in the south). The gorilla families in Bwindi are Mubare, Habiyanja, Rushegura, Bikingi, Kahungye, Katwe, Christmas, Bweza, Nshongi, Mishaya, Nkuringo, Bitukura, Oruzogo, Kyaguliro, and Busingye. Each family is unique in its own kind. Interestingly, gorilla trekking in Uganda is quite cheap at $600 per permit compared to $1500 in neighboring Rwanda.
Besides gorilla trekking Uganda, Bwindi forest is a center for experimental gorilla habituation experience. Here travelers take part in training wild gorillas making them familiar with human presence and ready for trekking. Habituation experience is 2-3 years of taming mountain gorillas to get used with people. Unlike in gorilla trekking where people spend an hour with gorillas, gorilla habituation is a four hours gorilla encounter. This gives travelers ample time to learn, observe ad enjoy the company of endangered gorillas in the jungle.
Gorilla watching in Bwindi is complemented by Batwa community visits, bird watching an forest walks which give travelers a natural feeling of a natural tropical rain forest.
Murchison Falls National park
Do not miss visiting Murchison falls, Uganda's oldest and largest national park situated in northwestern Uganda. The park is named after the mighty "Murchison Falls" formed when the Nile River squeezes through 7-meter gorge before plunging 43 meters down. Also, Murchison Falls Park has a high concentration of wildlife, which includes elephants, lions, giraffe's buffalo, hippos, Uganda kobs, L'Hoest gazelles, waterbucks, impalas, Topis, warthogs, and leopards among others. Game drives via the park I best way to see these animals grazing, hunting, and browsing for food. More so, enjoy a boat ride at the bottom of the thunderous Murchison waterfalls, enjoy the fresh cold breezes, watch out for birds and animals on the river banks and a permanent rainbow at the bottom of the falls.
Kidepo Valley National park
If you want to taste the true wilderness, visit Kidepo valley national park located miles away from Kampala city. Located in extreme northeastern Uganda, Kidepo National park is Uganda's least visited park which gives travelers an off beaten wildlife experience. In 2017, CNN named kidepo valley national park as Africa's 3rd best national park based on its beautiful sceneries and undulating landscapes. Kidepo Park is also referred to as a long-forgotten Eden, a hidden gem that most travelers to Uganda have often missed out. The park is home to countless animals such as rare cheetahs, wild dogs, defassa waterbucks, giraffes, buffalos, bat-eared fox, impalas, Oribis, striped hyenas, lions, leopards, warthogs, hippos, Jackson's hartebeest, aardwolf, elands, bohor reedbucks among others. Also, enjoy a cultural walk to Manyata cultural village to learn about Karamojong, their traditions, norms, and beliefs. A traditional dance is performed by locals as a welcome to their area. Animal rearing is the major activity done in the area, mil and meat are the key food.
Queen Elizabeth national park
The ease of access, the abundance of wildlife and beautiful sceneries make Queen Elizabeth National Park a must-visit destination in Uganda. The park spreads over 1978 square kilometers of land ranking as Uganda's second-largest national park after Murchison falls park. Also, Queen Elizabeth Park is home to numerous crater lakes which include Katwe for salt mining, Lake Bunyampaka, Lake Munyayange for flamingos, Lake Nyamunuka whose waters heals animals from injuries among other crater lakes. Travelers to Queen Elizabeth national park have a variety of activities to do, which include game viewing, boat cruising, mongoose tracking, nature walks, and lion tracking. The ishasha sector south of Queen Elizabeth national park is home to famous tree-climbing lions, which you should no miss. Kyambura gorge shelters chimpanzees hence the best spot for chimpanzee trekking. Among the animals to see in Queen Elizabeth national park include elephants, buffalos, lions, leopards, Uganda kobs, waterbucks, warthogs, impalas, Topis, Oribis and hippos among others. The park is also a birders paradise sheltering numerous bird species on the shores of Kazinga channel and in the forested areas of the park.
Source of the Nile River –Jinja
A day trip to explore the source of river Nile, the longest river in the world is worth doing. A Uganda tour to jinja offers travelers a variety of adventurous travel experience, which includes bungee jumping, white water rafting, kayaking, boat cruising and even swimming for those who know. Enjoy the calm waters of the Nile, raft on the strong rapids of the Nile river and have fun. Travelers to jinja also have a chance to enjoy horse riding which makes you safari a complete package.
In general, Uganda the pearl of Africa offers it all you are looking for on a trip. Book a safari to Uganda today, enjoy a close encounter with the endangered mountain gorillas, go game viewing and water activities with Africa Adventure Safaris.