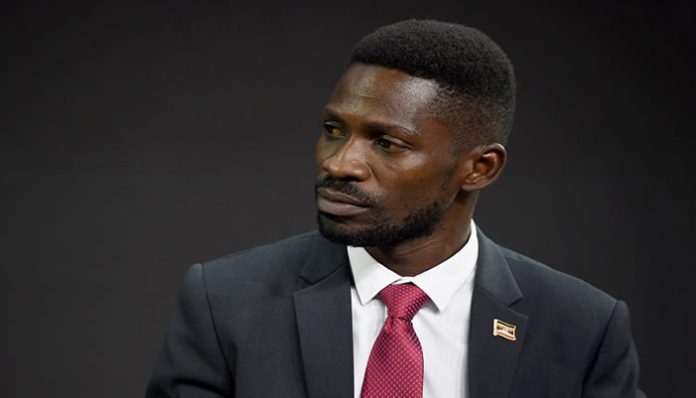 The musician-turned politician and Kyandonda East Member of Parliament Robert Kyagulanyi alias Bobi Wine has continued to make headlines and this time by receiving an award of recognition of his efforts against human rights abuses in Uganda.
Bobi Wine received the award on Tuesday in Chicago, USA at the Rainbow PUSH Coalition Annual Conference organized by human rights activist and former US presidential candidate Rev. Jesse Jackson.
Earlier On Monday, Bobi Wine had said that there are still many Ugandans who are languishing in jail and several others have been tortured severely for speaking against the ruling NRM government.
While receiving the award, Bobi Wine said he was humbled by this honor, which he said will encourage him to intensify his fight against dictatorship in Uganda.
Mr Kyagulanyi added that his fight for freedom comes right from his childhood while still in the ghetto and on the streets.
"I am not speaking to you as an expert on human rights law. I'm just an ordinary citizen of the world born and raised in the biggest slum of Uganda, the ghetto of Kamwokya. That's where I come from. My passion to fight for freedom was indeed not born out of the classroom… it was born out of the streets, out of my experience from growing up out of the poorest of the poorest in Uganda and those are the people who face the worst human rights violations in my country Uganda," said Bobi Wine.
Bobi wine added that though he may be known by many due to the torture he went through at the hands of security officials in Uganda, he said that that was nothing compared to what any Ugandans go through every day in their own country.
"I know many of you have come to know about me out of my experience of torture, repression and abuse of my rights by the authorities in Uganda and the military in my country. while I am grateful for the attention, I must assert it that my own experience, however nasty it was, is nothing compared to what very many men and women go through every day in my country.
"Many have been arrested. Many have disappeared and indeed many have had to pay the ultimate price. So while I am very lucky to be standing before you ladies and gentlemen, I must inform the world that another activist, an academic giant, a woman, Dr Stella Nyanzi, continues to rot in jail, continues to be incarcerated, simply because she wrote a poem that criticizes President Museveni who has been president of Uganda for 33 years". Said Bobi Wine.
The Global Peace and Human Rights Summit that started on June 28 and ended on July 2 was also attended by former US Vice President Joe Biden as a special guest. Mr Biden is the front runner of the Democrats for the next year's US presidential election.
Mr Kyagulanyi hit the political stage in Uganda in 2017 by storm when he won the Kyandondo East Parliamentary by-election and his seen his popularity increase drastically both locally and globally since then.
Kyagulanyi was at the center of the mix in august last year when he was reportedly arrested and tortured by security forces following the fracas that resulted from the Arua Municipality by-election.
His worsening health situation that resulted from the torture forced him to go for specialized treatment in the US where he was admitted in the hospital for a couple of weeks before he returned to Uganda to continue his recovery process.
During the Arua fracas that resulted due to the stoning of one of the cars that were in President Museveni's convoy, Kyagulanyi's driver Yasin Kawuma was shot dead by security operatives.