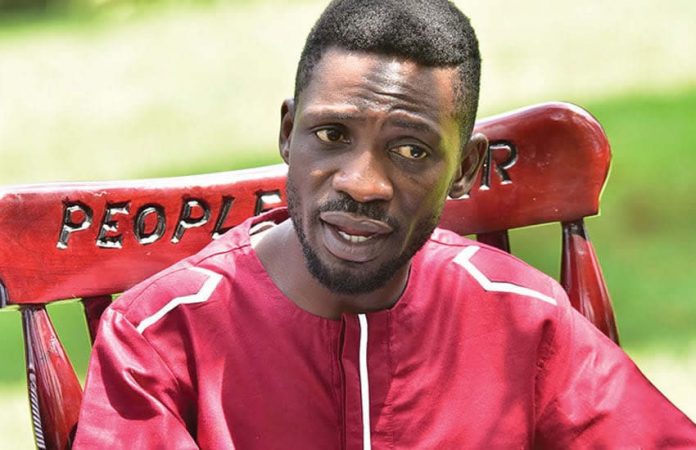 Kyadondo East Member of Parliament Robert Kyagulanyi alias Bobi Wine is still held at home by the police in what they termed as "preventative arrest".
The police spokesperson Fred Enanga said that the police have put Bobi Wine under house arrest to keep law and order.
"Those are preventative measures under the preventative policy of keeping law and order. As long as he still has threats of conducting unlawful assemblies, our intelligence will help us get that and we shall be able to see what next. However, as of now, we shall keep our forces there because this has become an issue of national security," said Enanga.
Yesterday the US through its embassy in Uganda issued a statement condemning the mistreatment of opposition politicians by the government of Uganda.
"Today we join the many Ugandans asking why their government has recently blocked musical concerts and radio talk shows, disrupted peaceful demonstrations and rallies, and deployed heavy-handed security against peaceful citizens," read the statement in part.
"Uganda's constitution guarantees freedom of assembly and expression. We echo the Ugandan people in calling on the government to respect these rights. Strong leaders and states do not stifle speech – they allow their citizens to participate fully and without fear in a vibrant multi-party democracy," added the statement.
Kyagulanyi's house arrest came shortly after he had announced his plan to walk to police in a demonstration against the continued brutality by the police and other security agencies against his music shows and opposition politicians.
Bobi Wine announced his plan on Monday afternoon while at his home in Magere, shortly after the police had blocked him in the morning from accessing his One Love Beach in Busabala. He was going to address the media about his next course of action following the cancellation of his "Kyarenga Extra" concert by the police that was scheduled at the beach on Easter Monday. He was immediately pushed into a police truck and taken back to his home.
While at his residence, Kyagulanyi explained to the media what he was going to do at Busabala.
"I wanted to tell the world what next and that is what the police didn't want to hear. We have used all lawful ways for police to stop blocking my shows and brutalizing the opposition but they have failed to understand. I am calling for another lawful method and that is to protest". He said.
As a way forward, Bobi Wine told the media that he would write a letter and deliver it to the police personally to inform them about his intention to organize peaceful demonstrations countrywide.
"I will write to police myself and take the letter on foot. I will walk there and wait for my response from them. I call upon all the other Ugandans to write as many letters as possible. We need to get many of them and we see", said Bobi Wine.
In response to Bobi Wine's remarks, Mr. Fred Enanga, the police spokesperson said they would respond after receiving the writing from him.
"There are laws that govern assemblies, public address, and peaceful demonstrations. If Bobi Wine writes to us, and he fulfills all the requirements of the POMA law (Public Order Management Act), then we shall concur because they have their right," said Mr. Enanga.
Bobi Wine's promoters had received a letter from police on Sunday which informed them about the cancellation of his music concerts that were scheduled in Kampala, Lira, Gulu, and Arua. Police said that the organizers of those concerts had failed to meet the security guidelines and having them would put the lives of revelers at risk.
Police accuse Bobi Wine of failing to separate his music from politics. They argue that when it comes to such shows, they only want Bobi Wine the musician on stage, not Bobi Wine the politician.