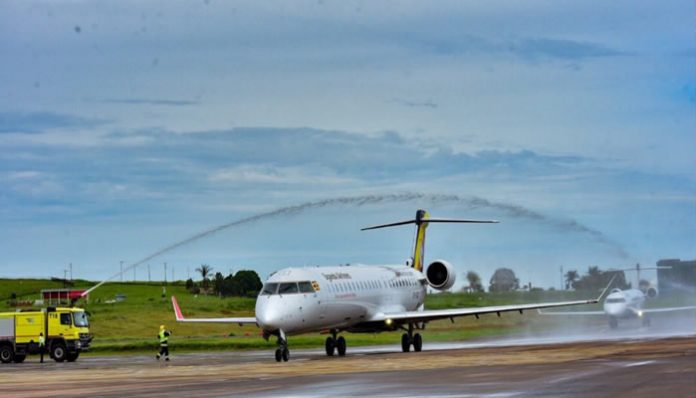 President Museveni has today received two Bombardier CRJ900 jets at Entebbe International Airport.
The two aircraft first went through the common tradition of water canoeing that is performed when a country or company receives new planes.
There were ululations from guest present and those in the company of the president as they celebrated the revival of Uganda's national carrier that has been grounded for over 18 years.
Both planes are labeled Uganda Airlines on their sides, which confirms that finally, Uganda has got herself a national carrier once again. The two aircraft have registration number 5X-KOB and 5X-EQU.
Among the dignitaries that attended the event included Works and Transport Minister, Monica Azuba Ntege, Uganda National Roads Authority boss Allen Kagina, among others.
Before the bombardiers were finally sent to Uganda, they were first tested at Montreal Mirabel International Airport in Canada. The 8-minute video clip showing the test flight caused excitement among Ugandans as they watched it on YouTube.
On their way to Entebbe, the two bombardiers flew out of Canada on Friday heading to Reykjavik, the capital of Iceland. From here they headed to the Netherlands in the Southern city of Maastricht before connecting to Cairo in Egypt and then straight to Entebbe.
As part of the plan to revive the Uganda Airlines, Uganda ordered four CRJ900 regional jets last year with today's two arrivals part of that package. According to the manufacture's, Uganda's revived airline will be the first carrier to use the new CJR-series atmosphere cabin in Africa. The new model atmosphere cabin sets new standards of passenger experience in the regional jet market segment.
This new atmosphere cabin design enables passengers to carry and store an oversized roller bag within the aircraft cabin bins, which reduces the need for checking of bags at entry points.
The arrival of the first two planes comes after the government has spent Shs280 billion through a supplementary budget that was approved by parliament recently. The CJR900 will be managed by the Uganda National Airline Company on a dual-class configuration with their 88 seating capacity divided as 76 for economy class and 12 for business class.
Some of the key features of the CRJ900 new interior include larger passenger living space, more spacious lavatory, wheel-first roller bag capability and increases cabin connectivity options.
There have been divided opinions on the revival of the national carrier with opposition from some of government departments like the Central Bank. However, the government insisted that there was need for a national carrier to promote tourism and build the national image.