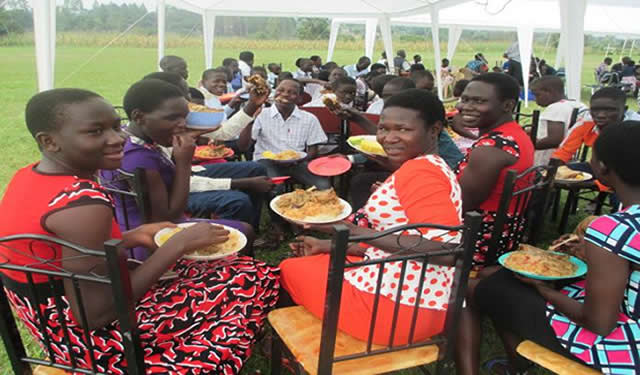 Christmas in Uganda means so much more than celebrating the birth of Jesus Christ. In other words, many Ugandans use the day to do all sorts of stuff ranging from traveling upcountry to visit their loved ones and organizing various events to arranging family reunion programs and many more.
The Christmas Spirit gets every Ugandan in their own unique mood but in the end we all find ourselves in the same hangouts while rubbing shoulders with each other as we try to shop, travel, feast and dance for Christmas. This is how the Christmas spirit gets every Ugandan dance to its tune.
Shopping
Ugandans flock the shopping stores around the country to buy stuff for Christmas ranging from foodstuffs and drinks to clothes and gifts and the shopping list is endless. For traders, they use this high season to hike prices for their products and services and they still get them consumed. For instance in the capital Kampala in busy shopping centers like Kikuubo and Awino markets prices for some items especially those for wear including clothes and shoes are doubled yet you still find buyers lining up to pay. The city center especially downtown is almost impassable on the last three days to Christmas as people are busy shopping for Christmas.
Travelling
Ugandans especially the city dwellers are accustomed to travelling back to their villages for Christmas. This is the only time they have to visit their parents and loved ones in villages since they spend a full year in Kampala working for a living. It is against this background that transport operators in Kampala use this opportunity to reap big from this situation as they hike the charges by doubling or tripling the normal rates. They justify this exploitative act by saying that those travel to villages don't return immediately hence driving empty vehicles back to Kampala.
Food and eating
Perhaps the most expected and celebrated moment of a Ugandan Christmas. This is the moment for every food item and drink that was shopped to be unveiled but now in a ready form and ready for consumption. A typical Ugandan Christmas meal in the village gets everybody seated around the serving point while the men hold the privilege of sitting on the high table a they are served by the ladies in the family. A full Christmas meal can involve about six different dishes served to everyone at once ranging from foodstuffs that include cereals, plantain, legumes to vegetables and meat plus drinks inclusive. Leaving food on a plate is the best indicator that someone is fully satisfied while those who want more are taken care of immediately until they want no more. Sharing Christmas food with strangers and the needy is also a common characteristic of a Ugandan Christmas. The point is that no one lacks what to eat or drink on Christmas day. Food is freely given to anyone who visits any home on the fat day while those who shopped in excess of what they can consume gladly give the proceeds to the vulnerable family they know around.
Church attendance
The real Spirit of Christmas is finally revealed as Christians flock their local churches celebrating the birth of Christ hence allowing their Churches to register the highest attendance on this fat day. Shockingly most religious Ugandans think that on Christmas day Church is a must attend and one counts the fully celebrated if they added Church prayers to it earlier in the morning. For traditional Christians in villages, this is also their best day to put on their brand new wear pieces since they hardly get any outing throughout the year as they are busy engaged with farming and other local economic activities.
Partying and Entertainment
Usually after the main Christmas meal, next on the menu is partying and socializing with friends. Every small town across the country is usually flocked by revelers and there is no disappointment because several entertainment events are organized ranging from music concerts, discos to karaoke, comedy shows and live performances. Big name artists in the country stage music concerts in Kampala's main clubs and in major towns across the country to entertain their fans. There is no place for boredom on Christmas in Uganda with at least each and everyone being able to find something funny or consoling to engage themselves with.
Family gatherings and meetings
Once city dwellers get back to their ancestral villages, they this opportunity to amend and reconcile everything that might have not gone well in the family. Now that almost each and family member is present, family meetings are held to sort out every difference and also to lay plans for the future and this is strong point that brings I more cohesion and unity among the ever scattered family members.
One may wonder why Ugandans rank among the top to celebrate Christmas in style in the whole world but perhaps the country's strong Christian history is responsible for this. Uganda is such a great Christian nation with Christians making over 80% of her total population of about 40million people.