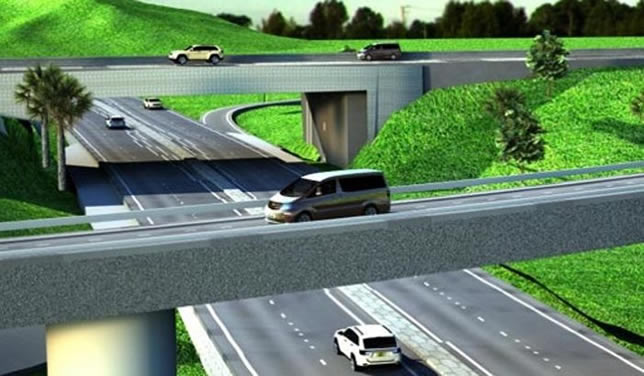 President Museveni has this afternoon launched the construction of a flyover at clock tower in Kampala in a bid to control traffic congestion along the Kampala Entebbe road.
The Flyover construction is a joint project between the Uganda government and the Japan International Cooperation Agency (JICA) which is estimated to cost Shs224b. the whole project is expected to be completed within three years with actual construction starting in January next year.
The project plan involves construction of a half-kilometer long clock tower flyover, widening the road from Shoprite via Queens Way to Katwe adding more lanes for half a kilometer. The plan also involves improving Nsambya, Mukwano and Ggaba roads starting with the section from Clock Tower.
The early acquisition of land by the Uganda National Roads Authority (UNRA) for the construction of the flyover will help to quicken the project according to the Executive Director of UNRA Ms. Allen Kagina. Japanese construction company Shimizu Konoike JK was awarded the contract the to construct the Flyover.
UNRA is trying to improvise new diversions to reduce the congestion expected during the construction. Entebbe road where the flyover is to be constructed has the second highest traffic jam intensity in Kampala after Jinja road.
The same agency (JICA) will also fund the second flyover to be constructed at Wampewo Roundabout near Centenary Park to reduce traffic jam along Jinja Road.
The traffic problem in Kampala
Traffic jam is Kampala's biggest problem especially along the two highways to Entebbe and Jinja. Motorists are usually held up for over 30 minutes before they reach the city center in the morning or leave it the evening. The data from World Bank shows that traffic congestion costs the country over Shs2.8 trillion per year.
Diversions
Upon commencement of construction, there will be traffic diversions at several points including Kafumbe Mukasa Road, Entebbe Road and Mengo Hill Road to allow the construction process to go on well. All roads connecting to Kafumbe Mukasa road will be closed and traffic will be diverted to Kisenyi Road. From Entebbe, traffic will be diverted at several points before accessing the city center including at Zzana Roundabout, Namasuba to Stella stage and Kibuye Roundabout. Likewise traffic to Mengo Hill Road will be diverted to Kisenyi and Kibuye Roundabout.
Once the project is accomplished it is expected to bring about benefits and relief to motorists that will supersede all the inconveniences they will go through during the construction process.
The improvement in the city transport also comes as good news to travelers that come for Uganda safaris who are usually caught up in the city traffic as they go for their tour destinations and as they go back to Entebbe Airport for their return flights.