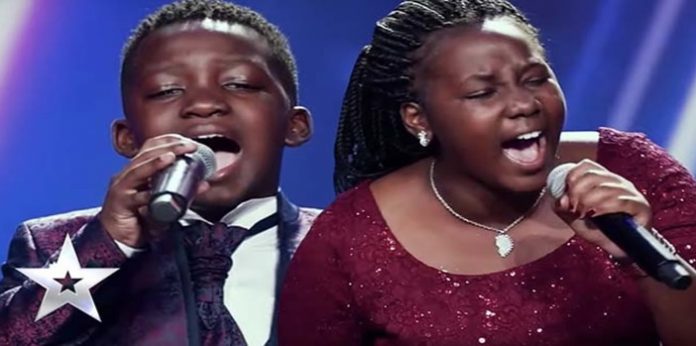 Two siblings from Uganda, Esther and Ezekiel Mutesasira are the winners of the first edition of East Africa's Got Talent competition.
Esther and Ezekiel, aged 14 and 11 respectively beat off competition from other 5 groups of finalists after performing 'When you believe', a rendition of Whitney Houston and Mariah Carey. The duo walks home with the winner's cash prize of $50,000 (Shs184m).
Their performance impressed both the judges and fans who took to twitter to commend them using the hashtag #EAGTFinale.
The first edition of the contest drew completion from four regional countries including the hosts Kenya, Tanzania, Uganda, and Rwanda.
The singing duo beat off competition from other three local rival groups from Uganda in the final including Comedic Dance Group, Dance Alliance Network, and Jehovah Shalom Acapella. The other finalists included Kenya's Janella Tamara, and Spellcast and Rwanda's Intayoberana Cultural Troup.
Among those impressed by the duo's performance included the Uganda president Yoweri Museveni who took on twitter to congratulate the teenagers referring to then as 'Bazukulu' (grandchildren).
"My grandchildren have told me about our talented bazukulu Esther and Ezekiel, who have won an East African Talent completion this evening. I am told they are very good singers. I congratulate them". The President wrote.
Popular opposition leader and Member of Parliament in Uganda, musician-turned politician Robert Kyagulanyi alias Bobi Wine also congratulated the winners
"I've personally watched and followed the #EAGT show but in bits because of busy schedules and I must say I was impressed by Esther and Ezekiel. You outdid yourself and the win was indeed well deserved. You made Uganda proud". Wrote Bobi Wine.
East Africa's Got Talent is part of Got Talent franchise owned by English entertainment businessman Simon Cowell.
The show started with a bit of drama back in August when the Burundi government accused Rwanda of illegally playing Burundi's famous traditional drums in the competition. It was alleged that the drums were played by Burundian refugees living in Rwanda who had taken part in the talent show.