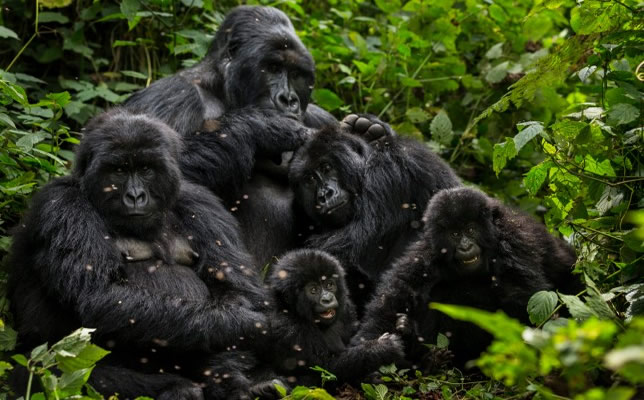 There is an ongoing opportunity for tourists to enjoy the best of Uganda's tourist attractions at reduced prices including both park entrance fees for game viewing and gorilla permits for gorilla trekking, an offer which applies for both local and international tourists until March 31 2021.
The Uganda Wildlife Authority (UWA) announced these tourism discounts as an offer for the festive season to encourage both and local and international tourists to visit the national parks. The offer has been running since December 1, 2020 and will end on March 31, 2021.
However, since the discounts are running amidst the ongoing struggle to control the spread of the Covid-19 pandemic, UWA has called upon everyone intending to benefit to strictly observe the guidelines set by the Ministry of Health.
UWA discounts
Game viewing and birding
• 50% discount on park entrance fee for Lake Mburo NP, Queen Elizabeth NP, Kidepo Valley NP, Murchison Falls NP, Semuliki NP, Toro Semuliki Wildlife Reserve, Katonga Wildlife Reserve, Kabwoya Wildlife Reserve, and Pian Upe Wildlife Reserve.
• 50% discount on birding fees
Gorilla and chimpanzee tracking
• East African citizen gorilla trekking permit reduced from UGX 250,000 to UGX 150,000
• Foreign resident gorilla trekking permit reduced from USD 600 to USD 300
• Foreign non-resident gorilla trekking permit reduced from USD 700 to USD 400
• East African resident chimpanzee tracking permit reduced from UGX 150,000 to UGX 100,000
• Foreign resident chimpanzee tracking permit reduced from USD 150 to USD 100
• Foreign non-resident chimpanzee tracking permit reduced from USD 200 to USD 150
Why you should exploit this opportunity
In addition to enjoying some of the best wildlife experiences in the world at half the price of the normal cost, the offer also presents an opportunity to see some of the rare and breathtaking species in the wild like the endangered mountain gorilla, chimpanzee, endemic birds, and big game like the tree-climbing lions of Queen Elizabeth National Park.
Gorilla trekking in Bwindi Impenetrable National Park

Gorilla trekking has been described by some past trekkers as one of the best wildlife experiences in the world with gorillas sharing about 98% of the human DNA. Bwindi is one of the only two locations in the world where the endangered mountain gorilla can be found and the park protects the highest population of these gentle giants (about 450 individuals). There are about 15 habituated gorilla families in Bwindi which are visited daily with each family visited by a group of not more than 8 trekkers per day according to conservation regulations. The current global population of mountain gorillas is about 1,063 individuals according to the gorilla census of 2018. The rest of their population is found within the Virunga Mountains which straddle the borders of Uganda, Rwanda and DR Congo where they are also protected in 3 different national parks including Volcanoes National Park in Rwanda, Mgahinga Gorilla National Park in Uganda and Virunga National Park in DR Congo.
Game viewing and birding

When it comes to game viewing, Uganda has an endless list of national parks from which you can choose where you want to and enjoy the scintillating experience with amazing game species. Some of the Uganda's best game viewing parks include Murchison Falls NP, Queen Elizabeth NP and Kidepo Valley NP. Big game species like lion, elephant, buffalo, leopard, zebra, giraffe, among others are all available in huge numbers in these parks for every visitor to see. Bird viewing is also done in these parks with over 1000 bird species available including Rift Valley endemics.
Chimpanzee tracking

Uganda is also known to be one of the best chimpanzee tracking destinations in the world with Kibale Forest National Park, a home to majority chimps in the country referred to as the primates' capital of the world with 13 species available. Other places where you can track chimpanzees in Uganda include Queen Elizabeth National Park at Kalinzu and Kyambura, Murchison Falls National Park, and at Ngamba Island Chimpanzee Sanctually on Lake Victoria near the airport where they live in captivity. Like gorillas, chimpanzees also share about 98% of the human DNA and this is why they are regarded as our cousins.
Click here to book your Uganda safari to benefit from these discounts as you explore the best wildlife experiences the Pearl of Africa has got to offer.