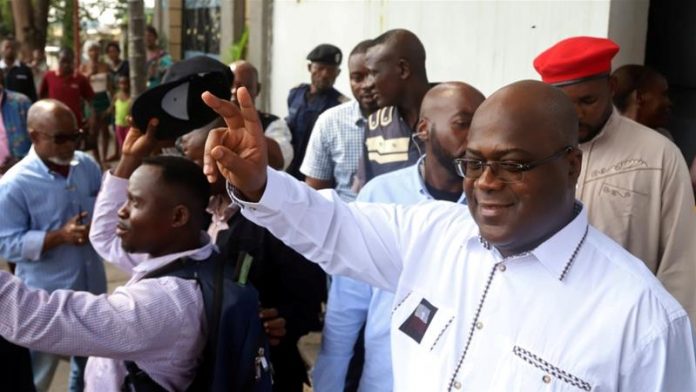 Opposition candidate Felix Tshisekedi has won the Democratic Republic of Congo presidential elections according to the results declared by electoral commission.
The poll results so far declared by the Independent National Electoral Commission (CENI) indicate that Tshisekedi leads with 38.57% of the vote and he has been provisionally declared president elect of the of the Democratic Republic of Congo.
The lead in polls puts Tshisekedi on top followed by another opposition candidate Marin Fayulu while Emmanuel Shadary, the ruling coalition candidate who was backed by outgoing president Joseph Kabila comes third in the race.
The reported turnout is standing at 48% and the full results indicate that Tshisekedi has 7 million votes, Martin Fayulu 6.4 votes and Emmanuel Shadary has 4.4 million votes.
If Tshisekedi is finally declared winner, DRC will witness the first handover of power in 18 years and he will be the first opposition candidate to win since the country gained independence from Belgium in 1960.
Initially the final results from the election were expected last Sunday but the commission asked for more time to finalize the counting and compilation process.
Mr. Tshisekedi who is a son to the late veteran opposition leader Etienne Tshisekedi addressed his supporters at his party headquarters in Kinshasa and paid tribute to Mr. Kabila saying that he should no longer be seen as an adversary but rather a partner in democratic change of the country. He has promised to prioritize the fight against poverty immediately after his swearing in.
There were jubilations and shouts of joy near the electoral commission's office as results were announced. There has been a succession crisis in the country since 2016 when Mr. Kabila was supposed to step down after the expiry of his two terms. It was not until late last year when he declared that he would step down and not contest in this year's presidential elections.
According to the arrangements of the electoral commission, the final results are scheduled to be announced on January 15th and the new president will swear in three days later. In case of aggrieved candidates who may not agree with the results, they could go on and challenge through an appeal in the constitutional court.
Among other challenges, Democratic Republic of Congo, the largest sub-Saharan nation has been entangled majorly by political instabilities especially in the Eastern region of the country and the new president will be put on the spot to see how he can solve these problems.
Several rebel groups have seized and occupied many areas in the Eastern region of this mineral-rich nation causing various insecurity concerns including the closure of the Virunga national park that was well known for its famous mountain gorillas tracking safaris.