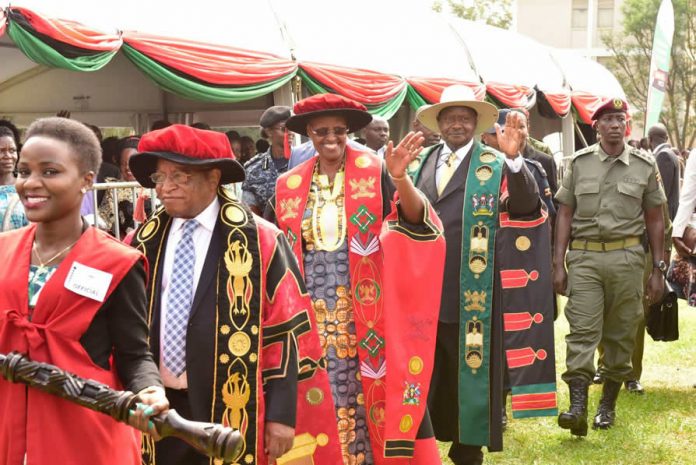 Makerere 69th Graduation Ceremony
There is jubilation at Makerere University as academicians celebrate the long awaited 6th grand graduation ceremony with their families and loved ones. The graduation ceremony is set for four days starting from 15th to 18th January 2019. In total, 13,333 graduands are to be awarded with different honors. Of these, 56 graduands are to receive PhD's, 1,254 Masters Degree, 101 postgraduate Diplomas and 11,939 will receive undergraduate diplomas and bachelors degree. Also, congratulations to 364 students who attained first class honors with the Cumulative Grade point Average (CGPA) of 4.40. The overall best student for the 69th graduation ceremony is Miss Namuwaya Hajarah Ali who scored a CGPA of 4.94 in the bachelor of business computing of Makerere University Business school (MUBS) followed by Galiwango Kasozi Steven with a CGPA of 4.84 in the bachelor of Science and Technology at Makerere University. 53.3& graduands are male while 46.7% are female. Other prominent people that attended the first day of graduation First lady (Janet Museveni), Hon. Dr. John Chrysostom Muyingo, Chancellor Prof Ezra Suruma, Lorn Magara the chairperson council, Rt.Hon. Danaiel Fred Kidega the vice chair, Prof. Barnabas Nawangwe the Vice chancellor, and the Mace bearer among others. The president was also awarded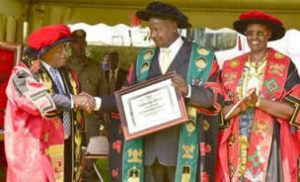 with an outstanding Scholarly Authorship award handed over to him by prof. Ezra Suruma the Chancellor of Makerere University. His Excellency was also recognized for his authorship of Katondoozi which is the first thesaurus of Runyankore.
The Colleges To First Graduate On 15th Are:
College of Agricultural and environmental sciences (CAES)
College of Education and external studies (CEES)
College of health sciences (CHS)
College of natural sciences (CONAS )
Colleges Graduating On 16th January 2019 Are:
College of business and management sciences (CoBAMS)
College of Computing and information science (CoCIS)
College of veterinary medicine, Animal Resources and Bio-security (CoVAB)
The Graduands On 17th January Include Are
Makerere University Business School (MUBS)
The Last Colleges To Graduate On 18th January 2019 Are
College of engineering, Design, art and Technology (CEDAT)
College of Humanities and Social Sciences (CHUSS)
School of Law (LAW)
What is required?
As always, each graduand is required to bring two guests who must have an invitation card from the university. Also, graduands are expected to have fully cleared with their Academic Units, Halls of residence, university library, hospital, police station and Finance department among others. All the attendees are prohibited from possessing Cellular (mobile phones, alcohol, Dangerous weapons, Canned food and drinks, Cameras (Video and still cameras), pocket radio, firearms, Large bags, Cells/batteries and chemicals and bottled drinks among other similar objects.
How much is Graduation fee?
For you to appear on the graduation list, all graduands are believed to have paid the graduation fees, which include:
Graduation 40,000shs
Certificate 30,000shs
Transcript 30,000shs
Convocation 10,000sha
Total =110,000shs
The graduation fess for the Post graduates (Masters and Patgraduate Diplomas) are
Graduation Fee 40,000shs
Certificate Fee 30,000shs
Transcript Fee 30,000shs
Convocation fee of 10,000shs for those who have not attained a degree at Makerere University.
Total is 100,000shs and 110,000shs for Non members of the Convocation.
Graduands in Doctor of philosophy by coursework and dissertation are to pay
Graduation 40,000shs
Cylinder 50,000shs
Certificate 30,000shs
Total s 150,000shsgruadands in doctor of philosophy by research are to pay
Graduation 40,000shs
Cylinder 50,000shs
Certificate 30,000shs
Total = 120,000shs
International students doing both undergraduate and postgraduate are required to pay a fee equivalent to $130. The breakdown is
Graduation $60
Certificate $30
Transcript $30
Convocation $10
Total $130.
In his speech, H.E Yoweri Kaguta Museveni, the president of Uganda congratulated the graduands and appreciated his co-authors for promoting the Katondozi book to the standard. In the similar manner, Prof. Ezra Suruma urged the newly graduands to fight and strongly defend the dignity of the African nations and African people.