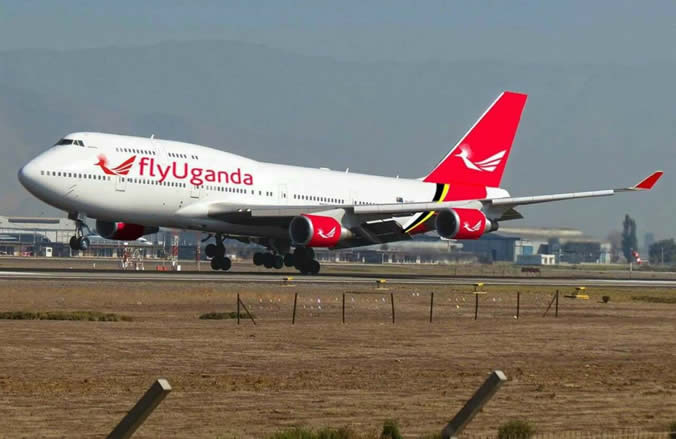 Fly Uganda to Launch Scheduled Flights to Bwindi
Have you known it yet? Fly Uganda has made your gorilla safari to Bwindi impenetrable forest national park simple and quick. With effect from 2nd November 2018, fly Uganda will operate scheduled flights from Kajjansi to Kihihi airstrip in Bwindi. This will save travelers long hours of driving which at times have hindered travelers with short trips from trekking mountain gorillas. Bwindi is located 550 kilometers from Entebbe airport roughly 9-10 hours of driving. The introduction of direct flights from Entebbe to Bwindi is therefore good news, which guarantee increased Uganda gorilla safaris to this impenetrable forest. Bwindi is a home to half of the world's mountain gorillas with 17 gorilla families available for trekking everyday. Also, Scheduled flights to Bwindi will enable short Uganda gorilla trips like 1 days Uganda gorilla trip unlike before. Fly Uganda is a junior of Kampala executive aviation (KEA) who is planning to launch new routes to the remote areas in Uganda. The new plans are aimed at promoting domestic tourism in Uganda through easy access.
The fly Uganda flights will operate 3 times a week on Monday, Wednesday and Friday setting off from Kajjansi airstrip between Entebbe and Kampala capital city. Travelers will either fly from Kajjansi to Kihihi airstrip in kabale or Kajjansi to Kisoro airstrip. From there, travelers will be picked up by their drives guides and transferred to gorilla trekking starting point for this magical encounter. The distance from kihihi airstrip to Bwindi entrance gate takes roughly an hour drive, which give travelers enough time to prepare and get ready for the hikes.
For the past year, domestic flights in Uganda have been operated by Aero link connecting to Murchison falls, Kidepo valley, Queen Elizabeth, Rwenzori Mountains and Bwindi forest national parks. Fly Uganda will therefore complement Aero link in promoting easy access to Bwindi and other tourism destinations in the pearl of Africa. Kisoro airstrip serves as the base for those who would like to go for gorilla tracking in the southern sector. Serving the Nkuringo and Rushaga sector in southern Bwindi forest as well as Mgahinga gorilla national park.
Flying time
To avoid missed flights, potential travelers are reminded to keep time. On every operating day, flights will depart from kajjansi at 08h00, arriving in kihihi at 09h30. The return flights will depart kihihi at 10h00 arriving in kajjansi at 11h30.
How much will it cost?
You should not be scared of the costs. Fly Uganda has offered you best prices with quality services. The flight will cost US$236 one way covering fees and taxes plus all other in flight services. The low quality services do not compromise the quality of services, which give travelers the best pre trekking experience.
When to book a flight?
Just like other airlines, fly Uganda encourage all their customers to book at least 2 days prior the actual day. The reason for early booking is to ensure timely and quality service delivery.
About Fly Uganda
Much as it has not been in operations, Fly Uganda is the Kampala Aero club and flight training center based in kajjansi. It was established in 1997 majorly to promote aircraft operations and chartering. Fly Uganda is based at Kajjansi airstrip on your way from Entebbe to Kampala.

What makes Bwindi exceptional?
Bwindi forest national park is undeniably a first priority for most Uganda safaris attracting the highest number of travelers to southwestern Uganda. Gorilla trekking in Bwindi is Uganda's most don activity which attract hundred's of travelers to this impenetrable forest. The forest is a home to 17 gorilla families and is one of the two gorilla destinations together with the Virunga massif. Interestingly, gorilla permits in Bwindi costs $600, each, which makes Uganda gorilla tours affordable, compared to Rwanda. The other populations of mountain gorillas live in the Virunga massif, which is shared by Mgahnga, Volcanoes and Virunga national parks in Uganda, Rwanda and Congo respectively.
In general, Bwindi forest is an exceptional tourism destination you cannot afford missing out on yours Uganda Safari. Fly to Bwindi, meet face to face with the endangered species and Fly Uganda To Launch Scheduled Flights to Bwindi with fly Uganda and enjoy this life changing gorilla encounter.