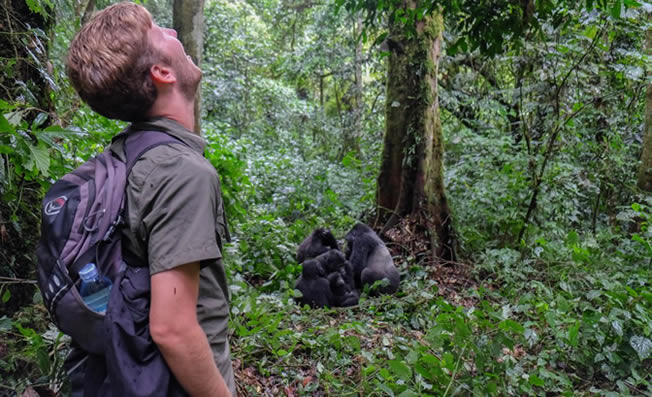 Mountain Gorilla safaris have become popular over the years for holiday makers to East and Central Africa seeking for exclusive primates' experiences. Mountain gorillas are apes covered with black fur and have over 98% of their DNA similar to humans. They are typical vegetarians and spend most of their time feeding on the fresh vegetation in the forested mountains where they live. They live in families that are led by a dominant silverback (Giant Male Gorilla) with subordinates including females, young and juvenile gorillas.
They are endangered animals that were at the Verge of extinction in the 1990's due to poaching, civil war where most of them were killed and disease. Due to great conservation works by Conservationists like Dian Fossey and the efforts the governments have put forward, the number of mountain gorillas has started to increase steadily over the years which has greatly facilitated gorilla tourism in the region.
Mountain gorillas are currently endemic to the Virunga Massif and Bwindi Impenetrable National park in south Western Uganda. The Virunga Massif stretches from northwestern Rwanda (Volcanoes National Park), Eastern DRC – (Virunga National Park) and South Western Uganda (Mgahinga Gorilla Park). These destinations have habituated gorilla families that are open to tourist's visitation offering once in a life time experiences.
Rwanda Gorillas Safaris;
These are done in Volcanoes National park situated in Northwestern Rwanda just a 3 hours' drive from the Capital Kigali. The park has over the years become the most visited gorilla destination all thanks to the aggressive marketing of the Rwandan Government. There are 10 habituated Gorilla groups here each being tracked by strictly 8 tourists a day.
The park is facilitated by a number of accommodation facilities that include Gorilla Solution Lodge, Da Vinci Lodge, Five Volcanoes Hotel, Mountain Gorilla View Lodge among others that are just a few kilometers from the park headquarters.
Gorilla permits here go for $1500 per person irrespective of one's nationality but are discounted for those attending conferences (15% discount) and a 30% discount (US$ 1050) for tourists with combined trips within Rwanda National Parks (Gorilla trekking, Akagera and/or Nyungwe National Park) during the months of November-May.
Trips to Volcanoes national park can range from a one-day tour with a pick up at 4:30 am from Kigali to the park. Those that have more days can do 2 days' trips and more and can add a visit to the other major two national parks namely Akagera National park for those interested in savannah wildlife tours for game drives and Nyungwe forest national park for those interested in Chimpanzees and monkeys.
Uganda Gorilla Tours;
Mountain gorillas in Uganda inhabit the Bwindi Impenetrable forest situated in south western Uganda with half of the remaining mountain gorilla population on the planet and in Mgahinga gorilla national park. Bwindi is the most popular with 12 habituated Gorilla groups distributed in the 3 major sectors while Mgahinga gorilla park has one habituated gorilla group. Just like in Rwanda, only 8 tourists are allowed to track gorillas and allowed in the presence of the gorillas for strictly an hour.
There are also great accommodation facilities here that include Bakiga Lodge, Gorilla Mist Camp, Bwindi Jungle Lodge, Mahogany springs, Gorilla Safari Lodge among others. Gorilla Permits in Uganda cost $600 per person for foreign visitors, $500 per person for foreigners in east Africa (Foreign Residents) and $70 for east African citizens.
Bwindi and Mgahinga gorilla parks can be accessed from Uganda (Entebbe international airport) by road taking a 9 to 10 hours' drive. There are also flights from Entebbe to domestic airstrips near Bwindi for those who don't want the long drives. The parks can also be accessed through Rwanda (4 to 5 hours' drive) and trips can also range from a one day but this strictly start with a pick up from Kigali Rwanda at 3:00 am and then those with enough time can opt for 2 days and more and can add visits to other Uganda's famous destinations like Lake Bunyonyi, Queen Elizabeth National park, Kidepo Valley National park as well as the capital primates of the World – Kibale forest national park famous for Chimpanzees.
Congo Gorilla Tours
Gorilla encounters in the Democratic Republic of Congo are sheltered in Virunga National Park in Eastern Congo. Gorilla trips here in the past were being disrupted by insecurity in the region but this has changed over the years as the area became more secure and is now a fast growing gorilla destination. The park is currently also visited by a number of tourists seeking to meet gorillas in their natural habitats and those adventurous ones' seeking to explore more about the little known tourism potentials in this Vast Country.
The park can be accessed through Rwanda by flying to Kigali international airport and the connecting there by road via Gisenyi – Goma Border. Those in Uganda can access Virunga national park through Kisoro (Bunagana Border).
Accommodation facilities include Mikeno Lodge, Bukima Tented Camp, Hotel Ihusi, Kivu Lodge among others. Gorilla trips in DRC can be supplemented with the hike to the lava lake on mount Nyiragongo and those that have time can add the lowland gorillas in Khauzi Biega National park.
All the above gorilla destinations can be visited any time of the year but gorilla treks are mostly enjoyed in the dry season from June to September and from December to March.
interestingly a gorilla safari can be well organized through local tour operators in the Region and these mainly include Africa Adventure Safaris, Lets Tours Rwanda, Gorilla Trek Africa among others