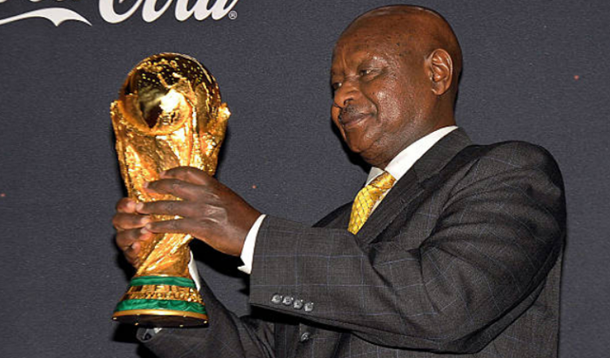 Are you a football fun? The long awaited FIFA world cup trophy has finally arrived in Uganda. Today 5th March 2018, Uganda marks the 33rd country to host the Federation International for football association (FIFA) world cup trophy since 1934 when it was started. After along time of waiting, Uganda football funs are now counting hours to have a close look at the worlds cup trophy. Upon arriving at the airport, the trophy is transferred straight to Entebbe state house to be received and acknowledged by the president in the company of the FUFA president Mr Moses Magogo and the sports cabinet minister Mr Charles Bakkabulindi among other professionals . Its on this note that the sitting president (H.E Yoweri Kaguta Museveni) is the only person to touch the trophy on behalf of all Ugandans. Sports is part of our daily happy life where people are commonly seen watching, and playing football in their leisure time. Sports are a love of all ages and sexes and are one of the leading industries in Uganda and all over the world attracting large audience. After its arrival today, the world cup trophy will be displayed for public viewing tomorrow-6th march 2018 at Lugogo Cricket oval.
Comprised of 18 karat gold, the world cup trophy is considered one of the world's moving attractions which stand at 36.8 centimers high weighing 6.1 kilograms and a target for all FIFA member associations. Since its establishment FIFA has registered 211-member association all competing for this one trophy. The world cup is played every after four years held in different countries depending on the country's security, the capacity of the play grounds and support and support of that particular country. During the time of world cup championship, expect to see almost all television channels and radios switched to football a clear indication of how lovely sports is to most people. Overtime, footfall has achieved great support proved by a big turn up of 3.2billion football viewers in 2014 hosted in Brazil. Tomorrow, 6th March 2018, a large number of Ugandans are expected to flock Lugogo cricket oval to have a special time within close to the iconic trophy. The world cup trophy has reached Uganda a few months to the final world cup championships to take place in June 2018 from Russia.
This year (2018) Kampala Uganda is one of the 91 cities in 51 countries with a golden opportunity to host the world cup trophy which transverses 92,000 miles roughly 126,000 kilometer. Uganda is one of the 10 lucky African countries to host the trophy.
Due to the great respect for the trophy, ordinary people are not allowed to touch or come so close to the trophy but rather the sitting presidents and former world cup winners are the only ones allowed to tough the trophy. For this case, H.E Yoweri Kaguta Museveni the president of Uganda is representing Uganda to tough the world cup trophy. The trophy is an eye for globe and was on 3rd March 2018 broadcasted by the Chinese TV and CGTN on their show flagship sports show and match print. Different questions where raised regarding this trophy (its distribution and when it was brought among others questions) and many people took part.
Whereas many people are eager to see the trophy, the question in mind is what next after the world cup trophy is gone? There is much value attached to the hosting of this honorable once every year event beyond mere seeing and photographs. Most important people accompany the world cup from different parts of the world hence an opportunity to boost tourism in Uganda. The hosting of the world cup is a marketing opportunity for Uganda Tourism Board (UTB) to broadcast and display all its potential in offering best tourism experiences such as the exceptional gorilla treks, cultural visits, mountaineering, bird watching and other unique features that make Uganda the Pearl of Africa. Sports are one of the most powerful ventures that attract high audience of all ages and sex. The late South Africa president nelson Mandela put back and supported the game in 1999 by putting back on the scene.
In addition to promoting tourism in Uganda, the world cup trophy is an inspiration for Uganda as a nation to invest more money, energy and time in football hence encouraging Ugandans to support and promote and involve in sporting culture. The hosting of the trophy is also an inspiration for the potential young footballers who are inspired by veneration and gratefulness of the trophy hence great support for the sports industry.
This therefore calls upon the government of Uganda and other private and public sectors to work hard and invest in winning the trophy, which comes along with other numerous benefits. Winning the world cup trophy should be Uganda's ultimate goal if sports culture is to develop and expand in the country. Much investment is therefore needed to expand and renovate all infrastructures which all promote sports development in the country.
While addressing the congregation,HE the president of Uganda called upon Ugandans and other foreigners in the country to explore and enjoy all the hidden trasures that Uganda offers. The popular and must do activities in Uganda include taking part in a gorilla safari to Bwindi impenetrable forest national park of Mgahinga gorilla, wildlife viewing in Murchison falls national park, Queen Elizabeth national park, chimpanzee trekking in Kibale forest national park, cultural visits and mountain climbing among others. You can now book your safari to Uganda through any trusted tour operators offering related packages to meet and satisfy your travel needs.
Ugandans are how're urged to be accurate and respectful in all ways.
In conclusion, rush to Lugogo cricket oval, have a close look at the world cup trophy and support sports tourism in Uganda the pearl of Africa.