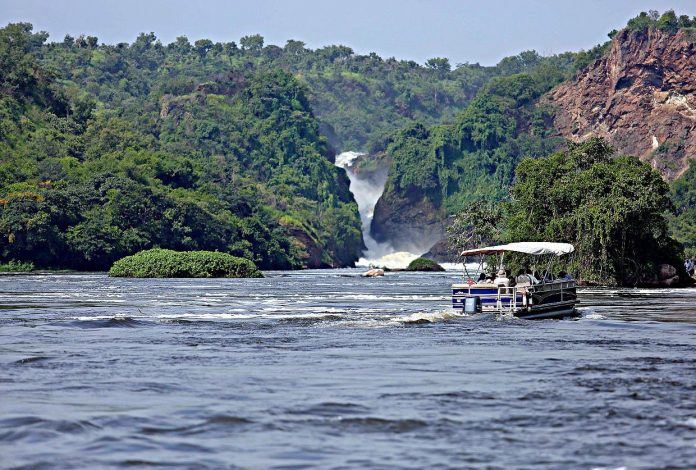 Uganda is endowed with fresh water sources. Water is the cheapest beverage any visitor can access at any part of country. Tapped water in Uganda is relatively safe but not recommended for drinking unless boiled. All tour companies ensure that visitors carry safe bottled water all times.
Where does water come from in Uganda?

Uganda has abundance of fresh water sources including rivers flowing from great natural fountains and snow-capped mountain Rwenzori; and lakes and wetlands. Statistics from World Wildlife Fund Uganda show that about 25% of the country's surface area is covered by water (lakes, rivers and swamps) combined. For instance, Uganda has four of the 7 great lakes of Africa namely; Lake Victoria, Lake Albert, Lake Edward and Lake George. In addition, the country is home to source of the Nile River, the world's longest river.
Water from these sources is utilized to serve the population in form of tap water, boreholes and water tanks. There are also several companies in Uganda packaging water that is available throughout the country.
The Uganda Water Supply and Sanitation Sector's mission is "to promote and ensure sustainable utilization, development and effective management of water and environment resources for socio-economic development of the country". The Uganda National Water and Sewerage Cooperation (NWSC) has a well-maintained water system that supplies quality piped water drawn from Lake Victoria, Africa's largest freshwater lake.

Most of the accommodations in Kampala or Entebbe city rely on this national water supply. There also hotels that use water from their own rainwater harvest tanks or wells. Most of the lodges in Kampala and in the national parks, will have a note in their rooms if their water is safe to drink or not from the tap.
Is bottled water safe to drink in Uganda?
There are several companies in Uganda that package and produce mineral bottled water. The Uganda National Water and Sewerage Corporation (UNWSC) does a good job of checking continuously the quality standards of water.

A study conducted in 2017 by the National Water and Sewage Corporation technical team showed that at least 30% of their 200 samples were contaminated with micro organisms thus not safe to drink unless boiled or treated. Henceforth the government of Uganda has expanded safe water coverage to even the most remote areas of the country.
Shopping in Uganda

Looking for where to go shopping in Uganda, the best supermarkets, curio shops, arts, crafts are found in Kampala, Entebbe and Jinja towns. These cities are also some of the best places to visit in Uganda for sightseeing city and cultural tours, white water rafting on the Nile River etc. Whether shopping for water, travel gear, souvenir and arts and crafts; better you do it in the towns mentioned above. In Entebbe town for instance, the Entebbe craft village has jewelry, souvenirs, sculptures, clothing etc. banana boat is the largest craft village in Kampala city and Kilombera workshop in Jinja city, the adventure capital of East Africa. Besides shopping, Kampala, Entebbe and Jinja offer the best outings, adventure and recreation. From cultural experiences to visiting Entebbe zoo, botanical gardens to rafting, biking and zip-lining in Mabira central forest reserve.
Tips to help you drink water safely in Uganda
Living in Kampala or anywhere as an expat in Uganda, look for big water bottles that range from 5 ltr to 18 liters. Because it's easy to refill after use.
Bring water purifying tablets
Carry an insulated water bottle.
Health issues you can get from drinking contaminated water
There are a number of ailments one can get from drinking contaminated water. The most common water borne diseases include Typhoid fever, cholera, diarrhea and dysentery. However, malaria is one of the leading causes of death in Uganda. Carry your medication because these diseases are preventable. Visit any pharmacy or clinic in Uganda if you get sick or stomach issues from drinking water. There are anti-malaria and diarrhea drugs.
Better be on the safe side. Purchase travel insurance before visiting Uganda.