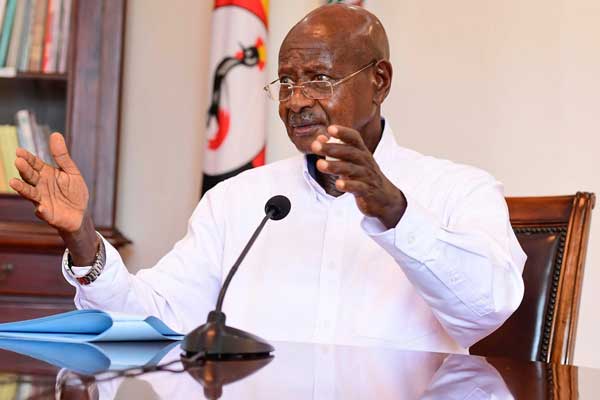 President Museveni has promised to fully reopen the economy and the schools in January 2022 regardless of the vaccination status in the country. Mr Museveni however, encouraged all Ugandans to flock their nearest health centres and get vaccinated to reduce any risk of another wave.
According to the president, Uganda will have about 23 million doses of Covid-19 vaccines which are enough to vaccinate more than 12 million Ugandans. These should include 4.8 million frontline workers and other categories of people that are vulnerable like bar attendants.
"If this is done, we shall be able to open schools and the rest of the economy by January 2022. But whether people go for vaccination or not, we shall still reopen the economy. If anything goes wrong, the moral responsibility is yours," he said.
Regarding the willingness of people to go for vaccination, the president dismissed claims that Ugandans are refusing to respond:  "I don't believe that Ugandans are refusing to get vaccinated, they are just not told. I now want to inform you that vaccines are available at the health centres."
He urged local leaders including Chief Administrative Officers (CAOs), Sub County Chiefs, Gisos to try and sensitise the public about the benefits of getting immunised against Covid-19. According to statistics, less than 10% of Ugandans have been vaccinated so far.
Worrying signs for schools
The closure of schools for almost two years has left Uganda's education sector at the brink of a disaster. Private school owners claim that they are heavily indebted and they are almost losing their schools to lenders like banks. They were calling upon the government to intervene and save their schools. Unfortunately the Minister for Finance, Hon. Matia Kasaija turned this appeal down by advising them to sell some of their property and save their schools from being taken by creditors. Many Ugandan teachers have also been reported to have left for other jobs including travelling abroad to make ends meet while others claim that they won't return for teaching. According to the report from UNICEF, Uganda's schools have taken the longest time while closed since the outbreak of the Coronavirus pandemic.
What about security?
Regarding the fragile security situation in Uganda following the two recent bomb attacks in Kampala and Mpigi which left two people dead and others injured, Museveni assured the public to stay calm and strong. He said neither rural-based insurgency nor urban terrorism will defy the government's capacity.
"Although we had some success in fighting terrorism,  I realised that there were gaps in the policing capacity of the country. There was the infiltration of police by criminal elements that colluded with criminals, laxity, and a serious deficit of technology capacity to fight crime. But I would like to assure the public that neither rural-based insurgency nor urban terrorism will defy our capacity," he added.
Latest Uganda Covid-19 updates
According to the Ministry of Health, confirmed cases of Covid-19 in Uganda are 125,758. Out of these, 96,510 have fully recovered while 3,209 have died. Total samples tested for Covid-19 are 1,781,878 and the country has so administered 2,854,082 doses of Covid-19 vaccines.