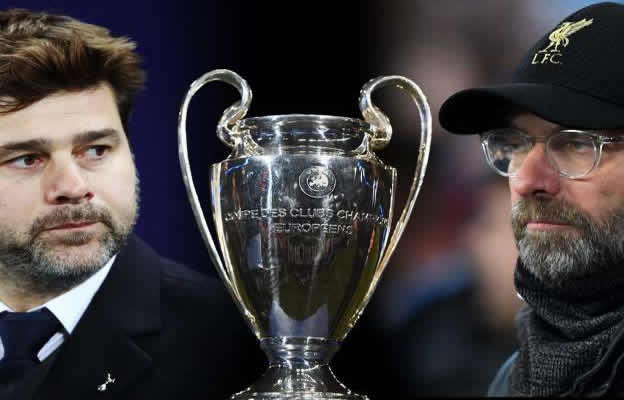 The two English giants will tonight rock horns in a mouthwatering final in Madrid fighting to win Europe's most prestigious club football trophy in a rare all-English final.
It will be the first time two teams both from the same country face off in a Champions League final since Manchester United and Chelsea met in 2008.
The final will kick off at 10 pm local time in Wanda Metropoliano stadium in Madrid, Spain. The 68,000 capacity stadium belongs to Spanish giants Atletico Madrid and very close to their city rivals Real Madrid's Santiago Banabeau.
Both Liverpool and Spurs fans will share 33,226 tickets to watch the final while the rest of the tickets will be reserved for neutral fans, officials and invited guests.
Liverpool will be hoping to win their 6th Champions League final while it will be the first time spurs have won this trophy if they triumph in Madrid tonight. Liverpool lost to Real Madrid in last year's final.
The Reds have won the competition five times with the most recent in 2005 in a dramatic comeback that saw them beat Ac Milan on penalties while they lost the 2007 final to the Italian giants before losing to Real Madrid in last year's final.
The Reds finished two places and 26 points ahead of Spurs in the Premier League and they were beaten to the title by Manchester City by just one point. Their 97 points and a single defeat throughout the season was a record for a team finishing runners-up in the top flight.
Coaches of both clubs are without a trophy to their name at their current clubs. Jurgen Klopp has lost his last six finals including two Champions League finals with Borussia Dortmund in 2013 and last year with Liverpool while he has also not managed any domestic trophy since his arrival at Anfield in 2015.
The German was calm and relaxed when asked by reports about his chances of winning this final and what he feels about his previous final failures;
"All the circumstances were different, the teams were different," said Klopp. "If I were the reason for losing six finals then everyone needs to worry. Last year was a world-class goal and two strange goals we normally don't concede which defeated us.
"My career so far is not unlucky. I haven't a problem with my career. My wife always asks when the final game of the season is because since 2012, apart from 2017, my teams have been in finals.
"I don't see myself as a loser and we would have a problem if I did."
While Liverpool will be counting on their previous success and experience in European final, it will Spurs' first ever final of the premier European competition.
The north London club has not won any trophy in the past 11 years since they last won the League Cup in 2008. Spurs coach Mauricio Pochettino will also be looking to win the first trophy of his managerial career. The former Espanyol and Southampton manager has hinted that could return to his native Argentina if he wins the Champions League for Spurs.
During the pre-match news conference on Friday, the Argentinean praised his team's resilience that has helped them to reach this milestone despite the challenges along the way.
"Our team became very robust from the start of the season, 10 months ago. At that time, we couldn't bring in new players. As we couldn't, we decided not to sell anybody. We sold Mousa Dembele in January to China because it was his dream.
"we haven't been able to play in our new stadium; we had to play in Wembley until a couple of months ago.
"We have come to the crucial part of the season and all of that has made us strong. We have had to overcome those difficulties."