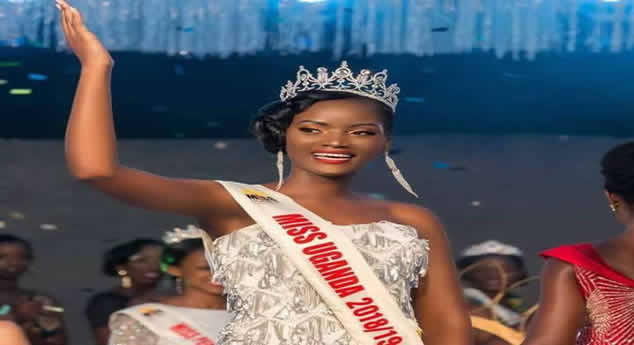 The 22-year-old Miss Uganda was on Saturday declared Miss World Africa during the closing ceremony of the 68th Miss World contest in Sanya China after finishing third in the overall event.
Abenakyo scooped the third place in this year's Miss World contest after becoming the first ever Miss Uganda to make it into the top five Miss World finalists.
Quiin was second runner up after the overall winner Vanessa Ponce De Leon (Mexico), first runner up Nicolene Limsnukan (Thailand) while Belarus's Maria Vasilevich and Jamaica's Kadija Robinson occupied the last two places respectively to complete the top five list.
All the top five beauty pageants were subsequently rewarded with continental crowns as winners from their respective continents, which saw Quiin Abenakyo taking the African crown.
After being crowned Miss Uganda 2018 back in August where she managed to beat other 21 contestants to the crown, Abenakyo was set for the next big step at the global level.
Her participation at the global level meant more fierce competition that saw her lining up against 117 other beauty queens from around the world.
When she made it in the final 30, already she had made history as the first Miss Uganda to make it that far in the competition. Her outstanding presentation about Teenage pregnancies as her purpose project to help the girl child in Uganda earned her a three way decision from the judges in her favor to cruise past her Argentine counterpart for a spot in top 30.
The next level saw Abeakyo's country men and women being called into action to vote for her so that she could make it into the top five. Indeed Ugandans didn't disappoint the 22 year old as thousands of Internet users in Uganda made it a point to cast their votes in her favor.
Gradually the incoming votes from Ugandans saw Abenakyo going up the ladder from twentieth to twelve and finally into the fifth position that guaranteed her presence in the finals.
Having made it into the top five, the ball had now shifted into her own hands and it was now about how well she answers the pre-recorded question displayed on a big screen to determine her overall performance.
Finally Abenakyo's response won her second runner up and although she missed out on the overall title, her position and her involvement in the last five was such a huge achievement for a person who comes from a country that had reached nowhere near that level in the past.
That achievement also opened many doors of opportunities to her including a guaranteed involvement in the Miss World 2019 Beauty with a Purpose Tour.
In addition to inspiring many other Ugandan young girls who have similar ambitions, Quiin has also raised a bar upon which future Ugandan beauty queens will be aiming to match or beat.