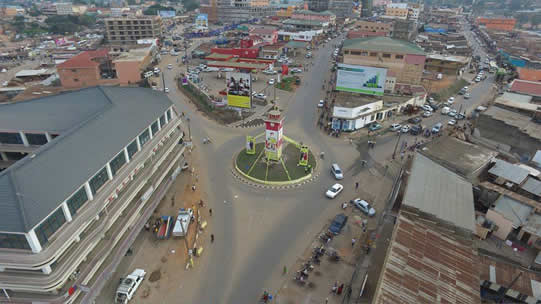 Life Away From Kampala With A Unique Lifestyle
For most of Ugandan visitors, Kampala has been the only destination they consider for their accommodation, food, entertainment, shopping and other leisure related activities. However, due to the growing increase in challenges that come with a developed urban center like traffic, human congestion, which also leads to increase in insecurity-related vices like theft, one needs to consider alternative towns where such services can be obtained much easier compared to the capital. For that purpose, Uganda is not short of such areas and you are able to find at least one developed town in each region of the country that can offer you a full package of the services that you may need while on your Uganda safari ranging from accommodation to shopping, entertainment to food and drinks among others.
The good news is that you will experience a completely different lifestyle in each town you visit because they are exclusively unique due to a huge cultural diversity of Ugandan communities. Therefore each town's lifestyle is predominantly determined by the culture of the residents in terms of what they eat and drink, music and general entertainment. Apart from some common aspects that cut across like the music from popular local artists which is played in all the entertainment centers in every region of the country, you will also experience the region's traditional music and dance that will entertain you like the Bagisu's Imbalu dance when you visit Mbale town in the East of the country will put you in the same mood with the locals. More interestingly most of these towns are near to tourist attraction sites hence allowing Uganda safari visitors to hit two birds with one stone as they can keep switching from one activity to the other like from gorilla tracking in Bwindi to an entertainment night in Kabale town.
The following are the main cities in Uganda that offer a grand lifestyle away from Kampala together with their main visited spots;
Entebbe
Entebbe is located just 40km South of Kampala along the Northern shores of Lake Victoria and it is the site for Uganda's main airport, Entebbe International airport. Visitors who don't have much business to do in Kampala would prefer to stay here in a suiting accommodation facility due to the area's conducive environment mostly contributed to by the cool winds from the nearby Lake Victoria. Entebbe is well endowed by accommodation facilities for all categories of visitors with all luxury, moderate and budget facilities. The hotels, resorts and lodges in Entebbe have fully furnished rooms with no need of going in and out looking for one or two things and in addition to this they prepare all kinds of cuisines to cater for all kinds of visitors from various origins. Various shopping centers including Victoria shopping mall will allow you to do any kind of shopping you may need. Entebbe is surrounded with numerous beaches and resorts where you can go for swimming, spot fishing, boat cruises and sand bathing. For visitors who love exploring wildlife, Entebbe hosts the national zoo, the Uganda Wildlife Education Center. All species of flora and fauna found in various game parks around the country are represented in this zoo together with well-documented information describing each specie you come across. The more significant cutting edge Entebbe may have over other towns in Uganda including Kampala is its proximity to the airport. Any risk of missing your flight back home is completely eliminated when you decide to stay around Entebbe. The intense traffic from Kampala to Entebbe presents a big risk to travellers of missing their flights hence staying at Entebbe saves you from this pressure.
Jinja City
Jinja is another alternative town to Kampala located in the Eastern part of Uganda along the Northeastern shores of Lake Victoria. The town is 82km from Kampala along the Main Kampala-Nairobi highway and it is the main city in the Eastern part of the country. The kind of life at Jinja is closely similar to that of Entebbe especially when it comes to the beaches, landing sites and lake-related activities. Jinja may be a bit more blessed than Entebbe in terms of drainage because it hosts the source of the longest River in the world, River Nile in addition to bordering the fresh waters of Lake Victoria. You will neither starve nor be bored at Jinja as the town is also full of various food points, bars and entertainment centers together with several shopping points. The town has also got a long selection list of activities ranging from source of the Nile tour to white-water-rafting at the beautiful Bujagali falls along the course of the Nile. Swimming, spot fishing, boat cruising and sand bathing are all available at one of the nearby beaches of Jinja. There are various transport options to Jinja whereby you can either choose to go by road or by water. Away from the main highway from Kampala that may take you 2 hours or more in case you get stuck in a heavy traffic in Kampala, you can also consider using the more Northerly route via Gayaza and Kayunga, which is 30km, longer but far mellower after leaving Kampala along Gayaza road. This route connects to the main highway from Kampala at the outskirts of Jinja where the road crosses the Owen falls dam then leads to the roundabout where a right turn goes to the town center and a left turn to Bujagali. There is no shortage of accommodation in Jinja as the town has a big number of hotels ranging from a quartet of upmarket boutique hotels to a trio suburban backpacker hostels and campsites and several simple central guesthouses.
Mbarara City
Mbarara can be considered as the capital city of the Southwestern sub region of Uganda. Situated 260km Southwest of Kampala at the junction of the main roads running south to Kabale and Bwindi and north to Queen Elizabeth National Park and Kasese. It is a rapidly growing town that now ranks as Uganda's largest urban center outside the environs of greater Kampala. Mbarara boasts a selection of business hotels and well-stocked shops to cater for all your accommodation and shopping needs. For tourism needs, the town hosts the museum at Igongo Cultural Center which is worth an hour of your time together with the Nkokonjeru Tombs, the burial place of the last two last two kings of Ankole. The central location of Mbarara in the middle of great tourist sites gives tourists a great advantage to explore their favorite destinations like Bwindi Impenetrable Forest National Park which is a tourists favorite for gorilla tracking, the outstanding game viewing site of Queen Elizabeth National Park and the nearby Lake Mburo National Park and so many other attractions ranging from the beautiful sceneries of numerous volcanic features like crater lakes and hot springs to the amazing savannah ranges with wonderful views of various vegetation types and a wide mixed landscape. For accommodation, Mbarara boasts an extraordinary number of hotels most of them being budget and catering mainly to the conference market with nice restaurants as well and they are perfectly adequate for unfussy travellers. There also about half-a- dozen similarly priced hotels strung along Bananaku drive in the main central cluster of Mbarara. For luxury, there is Bigongo country hotel as the smartest lodge in the vicinity of Mbarara at Biharwe, 15km along the Masaka road.

Fortportal
Fort Portal is the administrative center of Kabarole district and seat of the Toro Kingdom. The geography around Fort Portal makes it the most attractive town in Uganda as it is situated amid lush rolling hillsides swathed in neat tea plantations and clouds permitting offering excellent views across to the beautiful glacial peaks of the Rwenzori mountains to the West. There are 300km from Kampala along a good surface road to this well-equipped town and it is strategically located for exploring Kibale National Park and the Toro crater lakes. The town offers a very good selection of hotels, restaurants and nightspots, making it an agreeable place to settle into for a few days. The historical and cultural tourist site of stalagmites and stalactites locally known as "Amabere Ga Nyinamwiru" at Nyakasura is also located a few kilometers from Fort Portal town. Fort Portal has a good selection of accommodation suited to most tastes and budgets. The out-of-town Kyaninga Lodge located on the rim of the eponymous Crater Lake will cater for the most exclusive accommodation needs. For catering services in Fort Portal, in addition to the long list of restaurants, the covered terrace facing the manicured gardens at the Mountains of the moon Hotel is a fabulous spot for a relaxed outdoor meal. The Koi Koi village along the Kasese road is also another pleasant spot for a meal or drink.

Mbale City
This is the second largest city in Eastern Uganda after Jinja located in the Far East on the Western footslopes of Mount Elgon. Mbale is an agreeable and substantial town surrounded by leafy suburbs, sprawling eastward to the foot of the dramatic Wanale cliffs. Mbale has a greater sense of place than most towns East of the Nile, thanks largely to its striking cliff-base location below Mount Elgon, whose awesome volcanic peaks are sometimes visible in clear weather. Mbale lies 230km from Kampala along an excellent surfaced road through Jinja and Iganga a distance that can last for about 4 hours considering the traffic congestion on the outskirts of Kampala plus slow trailers and tankers on the Jinja road. There are various accommodation facilities in Mbale catering for all kinds of travellers with both luxury and budget facilities available, these include hotels, guesthouses and inns around the town. Mbale is the best center for tourists who would like to hike mount Elgon. Other tourist attraction sites around Mbale include, Mount Elgon National Park, Sipi falls, Wanale cliffs, Nabugoye Synagogue and Kakungulu's grave.
For travellers who have been fade up with flexing in Kampala's congestion and perhaps looking for towns with more breathing space and at the same time offering good services and with tourist attractions nearby, the above are the best alternative centers you should consider staying in during your next trip to Uganda.