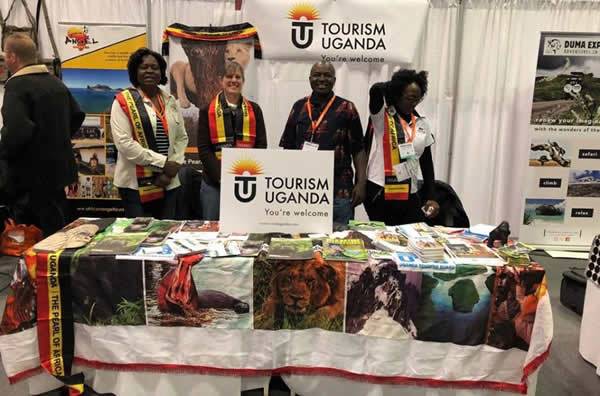 Do you know it yet? Uganda the Pearl of Africa again hit international news headlines ranked the 12th best travel destination each traveler should visit before he/she dies. The good news was revealed by the New York Times while when it was ranking 1000 countries that participated in the three days travel show in the United States. The article was written and published by Patricia Schultz the bestseller writer for the New York Times. This double blessing to Uganda comes a few months after Uganda was listed among the 19 must travel destination for 2019 by the national geographic. There is too much excitement at the Uganda Tourism Board (UTB) who sees this ranking as a breakthrough that will take Uganda to the next level. Uganda tourism has been a true success story approved by an increase in the number of travelers who flock into the country to enjoy the beauty nature has blessed us (Uganda) with. The ranking was based on her diverse wildlife, birds, hospitable people, hills, valleys, lakes, rivers and beautiful sceneries among others. The other 18 countries that were selected with Uganda include Setoguchi, Antarctica, Pittsburgh, Cordica, Cambodia, San Miguel de Allende, West Yorkshire, Hong Kong, Zimbabwe, Guyana, Oslo, Eritrea, Kwazulu-Natal, Bhutan, Dundee, Matera, Indonesia, and Sibiu.

What makes Uganda exceptional?
There are many outstanding features which make Uganda a must visit destination in Africa. Mountain gorillas dwelling in the jungles of Bwindi impenetrable forest and Mgahinga gorilla national parks are a key attraction, which brings in the highest number of travelers from all over the world. As of the 2018 gorilla census statistics, the Pearl of Africa is home to over 54% of the world's mountain gorillas hence a prime destination to do gorilla safaris. To ease the trekking, Uganda Wildlife Authority (UWA) has habituated 17 gorilla families split into different sectors of the national park. The low cost of Uganda gorilla safaris costing $600 for a permit makes it the first stop for all gorilla viewers compared to Rwanda where a single gorilla permit costs $1500 paid by all nationals. Uganda is, therefore, a fort stop center for most gorilla trips especially for those traveling on a budget. Today, a large number of travelers fly into Kigali international airport and cross over to Uganda to see gorillas in Bwindi or Mgahinga gorilla national parks. Over years, the Virunga massif has achieved a steady increase in mountain gorilla population counting to 1004 a rise from 808 in 2010
Game viewing
For game lovers, a Uganda safari offers you the best game viewing experience. The pearl of Africa is endowed with a big game in the savannah national parks especially Queen Elizabeth national park and Murchison falls national parks among others. Game drives through any of the savannah parks reward you with spectacular views of wild animals including elephants, buffalos, lions, leopards, hyenas, hippos, giraffes, zebras, impalas, waterbucks, warthogs, bushbucks, and Uganda kobs among others. Other national parks to see the game in Uganda are Kidepo valley national park, L.mburo national park, and Semilik valley national park.
Chimpanzee trekking
Besides mountain gorillas and game viewing, the pearl of Africa is home to the highest number of chimpanzees in East Africa. Chimpanzees, which rank as the closest relatives to human beings reside in the jungles of Kibale forest national park, Karinju forest, and Kyambura gorge, Fortunately, chimpanzee tracking is relatively cheap costing $100 compared to mountain gorillas. An encounter with chimpanzees helps you to appreciate the human-like characters of chimpanzees like female adults nursing infants, which make them exceptional creatures. Chimpanzee trekking rules and regulations are similar to those of gorillas.
Unique cultures
Uganda is blessed with exceptional traditions and cultures, which are worth exploring. The most visited people in Uganda are the Batwa pygmies in Mgahinga gorilla and Bwindi impenetrable forest national park in southwestern Uganda. Book a Batwa cultural trail tour, meet face to face with the indigenous Batwa, share and take part in their traditional forest life which make you understand extensively who these Batwa are and what makes them unique. Batwa will guide you into the forest to search for medicinal herbs, collect honey and perform some rituals in the forest the way they used to. Also, visit the IK people in Kidepo valley national park and learn more about their cattle lives.
Hiking Tours
For adventurer travelers, Uganda offers you best hiking tours to Margherita, the highest peak of Mount Rwenzori. Other mountain hiking spots in Uganda include Mt Elgon and Virunga Volcanoes to hike Mt Muhabura, Mt Gahinga, and Mt Sabyinyo, which are part of the Virunga chain of volcanoes. Interestingly, the slopes of all these mountains shelter wild animals since they are situated in national parks.
Uganda the pearl of Africa is one of the few destinations each traveler must visit before he/she dies. Uganda safaris offer you everything from wildlife encounters birds, culture and all other tourism experiences to meet and exceed your travel expectations at an affordable rate.