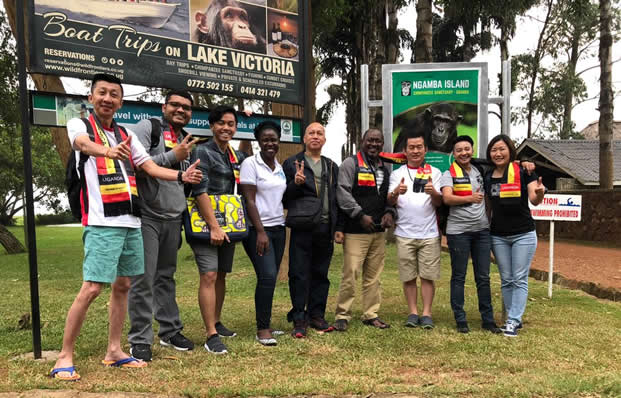 Just days after the departure of over 230 Israelite travelers, Uganda has again welcomed a group of 10 travel operators from Malaysia. The Uganda tour by Malaysian travel operators is undeniably an achievement by the Uganda Tourism Board as one strategy of exposing Uganda's tourism products to Asian countries and at the same time familiarizing Malaysian travel tour operators with tourism in Uganda. The tour is fully sponsored by Uganda Tourism Board (UTB) together with the Uganda High Commission in Malaysia sponsors the tour of Malaysian travel operators in Uganda. Miss Dorothy Samali Hyuha, the Ugandan high commissioner in Malaysia, officially flagged off the tour. Joined by a journalist and have so far visited the wildlife education center in Entebbe and Ngamba island, the chimpanzee sanctuary in Uganda plus igongo cultural center in Mbarara. Also, Malaysian travel operators have toured Queen Elizabeth, Uganda's second largest national park, home to the big game and tree-climbing lions in ishasha sector south of QENP. The next destination on the itinerary is Bwindi impenetrable forest national park, home to half of the world's mountain gorillas. Here, travel operators will join the strenuous but enjoyable gorilla treks, search for and meet face to face with mountain gorillas in their natural habitat, enjoy and embrace human-like characters of mountain gorillas that make them exceptional wild creatures.
From their reports, Malaysian travel operators have already fallen in love with Uganda's beauty just like other travelers who have visited Uganda before. The unending beautiful sceneries, chimpanzees, amazing wildlife and interesting diverse stories plus the abundance of food make Uganda an exceptional travel destination. More so, the warm-hearted, loving and hospitable Ugandans make the pearl of Africa the best place to stay in.
When did it all start?
The idea to visit Uganda by Malaysian travel operators started last year during the miss tourism world Pageant that took place in Malaysia. It was there that the then miss tourism, Miss Margaret kankwazi presented about Uganda tourism disclosing all that travelers can see and do on their Uganda safari. In her presentation, Margaret talked about gorilla trekking in the jungles of Bwindi forest, Mgahinga gorilla national parks, game viewing in the open savannah pars of Uganda, bird watching and cultural encounters which are surely worth doing. This inspired Malaysian travel operators who planned to come and explore Uganda, so they can sell Uganda products to their potential travelers. From this tour, Uganda Tourism Board (UTB) expects a high number of Malaysian travelers who will come to enjoy the beauty of the pearl of Africa. In 2017, Uganda received nearly 71,161 tourist arrivals from Asian which number is expected to grow as Uganda Tourism Board deepens aggressive marketing campaigns in various Asian countries especially Malaysia, China, and Japan. Hosting travel operators from different parts of the world is one way that the Uganda Tourism Board (UTB) has put in place to make her tourism products known to the outside world. The trip is aimed at increasing travel business between Uganda and Asia bringing in a high number of travelers to explore the beauty of Uganda. Asia is at present one of Uganda's source markets, which bring in a high number of business travelers compared to leisure tourists.

About the Israelites visit in Uganda
Hosting over 230 travelers from Israel who spent 3 days and 2 nights was a blessing for Uganda. Israelite travelers flew chartered direct chattered flight from Israel to Uganda. This was the first flight from Israel to Uganda after 43 years since 1976 when the last direct flight between the two countries (Israel & Uganda) took place during the raid on Entebbe. It was interesting when H.E the president of Uganda spared time to meet the leaders of Israelites travelers while he was chairing the NRM CEC retreat at Chobe Safari Lodge. Museveni further disclosed Uganda's beauty such as favorable weather, wild game and the source of the Nile among others. President Museveni then encouraged Israelite travelers to continue visiting Uganda to take part in the famous gorilla-watching trip in Bwindi forest/Mgahinga gorilla national park not forgetting the might Murchison falls in northwestern Uganda and Sipi falls in eastern Uganda. The cold and warm weather of Uganda makes it the best place to visit and stay all year round around.
The visiting of Malaysian tour operators to Uganda is an added blessing. The combination of beautiful sceneries, vast wildlife, birds, diverse cultures and hospitable people make Uganda a destination to visit.