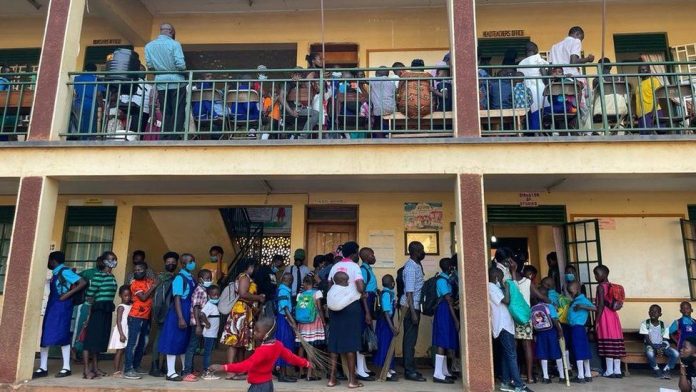 This week schools in Uganda finally reopened officially after being closed for almost two years following the outbreak of Covid-19. Schools were closed in March 2020 after the country had confirmed a few cases of Covi-19 and the partial reopening last year lasted for just a month due to the surge in cases fuelled by the Delta variant.
In November 2021, during his national address, President Museveni announced that schools will be reopened at the beginning of this year. He added that this would be followed by the reopening of the remaining sectors of the economy including transport and performing arts.

Students to be promoted to the next class
The 2-year school closure means that students have lost two years without progressing academically. However, as part of the plans to reopen schools the Ministry of Education and Sports has taken that into account.
The Ministry has issued a few measures to guide the schools on the reopening including promoting each student to the next class in this new academic year. School administrators were also warned not to increase school fees but to maintain the amounts at previous rates in order not to overwhelm parents whose incomes have been heavily affected by the pandemic. The Ministry also called upon schools to strictly observe Covid-19 control measures at all times to avoid another surge of cases among students which may prompt another closure.
Schools reopen amidst tough challenges
Although schools have been finally reopened, there are a lot of challenges facing schools, parents as well as students themselves;
High number of dropouts
The Ministry of Education and Sports predicts that about 30% of students will not be able to return to school due to a number of challenges which set in during lockdown. These include girls who got pregnant and those who are gave birth and unable to return to school due to parenting responsibilities. On the other hand, many boys have opted to get involved in income-generating activities and have refused to return to school.
Some schools unable to reopen completely
On the side of schools, many of them are unable to reopen due to financial difficulties majorly. Many, especially those that were financed by loans from creditors have been taken over due to failure to pay while others simply don't have enough funds to facilitate the reopening. Many private school owners have confessed they have run out of money to rehabilitate their facilities and to buy the necessary equipment for the smooth reopening.
Exodus of teachers

The long closure of schools which rendered teachers jobless has forced may of them to quit the profession in favour of other fields to get some income. Many of them have resorted to other economic activities like farming and trade while a good number has also gone to look for jobs abroad especially in the Middle East.
However, according to the Ministry, they have already found a solution to this problem by recruiting new teachers to fill the gaps left behind by those who have quit especially in government-aided schools.
Parents stuck with students at home
Although schools have been officially reopened, many parents are still stuck with their children at home due to luck of funds to take them back to school. These claim that they don't have the initial funds required by the schools to readmit the students.
Many schools are asking parents to pay at least half of the school fees as they bring back their children to school in order to facilitate the smooth running of school activities. However, this has proved to be a big stumbling block to parents whose incomes were heavily hit by the pandemic. Consequently, many parents have decided to remain with their kids at least until they get the required funds to take them back to school.