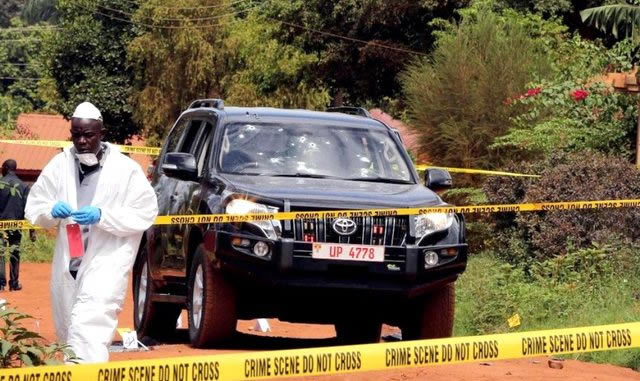 Uganda is going through a turbulence of security crisis involving both high profile and civilian killings as well as mass kidnaps that have really caused panic among the citizens.
There have been at least two other gruesome killings around Kampala in a period of less than a month including one that involved the killing of a social worker Maria Nagirinya and her driver Ronald Kitayimbwa who were abducted at Busega, a city suburb and later their bodies were found in Mukono. Another involved the shooting of a Rwanda national Merina Tumukunde and Joshua Nteireho along the Entebbe Expressway.
There have also been several cases on kidnap across the country where kidnappers abduct people and demand for a ransom in order to release the victims while others are just found dead or even disappear completely after their abduction.
Some high-profile killings have robbed Ugandans of their leaders in several departments like police, judiciary and legislature. Among the key names to fall victims include former police spokesperson Andrew Felix Kawesi, State prosecutor Joan Kagezi, former Arua Municipality Member of Parliament Ibrahim Abiriga, former Buyende District Police Commander Mohammad Kirumira, among others.
The massive killing of women in the country that commonly occurred in the areas around Entebbe, which left almost 30 women dead also went without any clarity about the cause and or even revealing the assailants and their motives.
The religious sector has been targeted by the assailants who have gunned down several Muslim leaders in the same format like other victims leaving their followers puzzled and searching for justice.
But what could be the major reasons for these continued killings and kidnaps that have left Ugandans living in fear and panic about their fate.
The investigations by the police and other security organs have not really yielded much in terms of identifying the real assailants and their objectives. Therefore, the public has been left to speculate about what could be the reasons behind the atrocities and the following points have commonly been pointed out.
Political factors
Political reasons were pointed out to be responsible for the killing of the high profile names in the country like Kawesi, Kagezi, Abiriga, and Kirumira. Some claims point out that some of these victims had political opponents who decided to eliminate them since they considered them to be a threat to their offices and money-fetching fortunes. Kawesi and Kirumira and the key names mentioned in this case.
Others like Kagezi were suspected to have been killed due to her role in the judiciary where she was handling some high profile criminal cases including the ones over terrorism. Kagezi was handling the case involving the suspects of the 2010 terrorist attack at Lugogo where over 76 people were killed in bomb blasts while watching the World Cup Final. Her murder was therefore seen as a move by the assailants to jeopardize the evidence and investigations into that case
The murder of Abiriga was linked to several factors including his political opponents who might have had interest in his position while others claim that he was eliminated because he was linked to the rebel group of the Allied Democratic Forces (ADF).
Rebel activity-related factors have also been mentioned to be responsible for the assassination of Muslim clerics. Allegations indicate that those killed were also linked to rebel groups especially the ADF though others also claim that their death was due to internal misunderstandings and conflicts in the Muslim faith by those who considered them to be opponents.
Poverty and unemployment
The high rate of poverty and unemployment in the country has been mentioned as one of the major causes of murders and kidnaps in Uganda. Majority of Ugandans are poor with many having no defined sources of income while majority of those unemployed are graduates from tertiary institutions who have failed to find what they can do for income even after getting qualifications.
It is strongly pointed out that poverty and unemployment have caused too much frustration among these young people of who some have resorted to killing or kidnapping those they think they can get money from. Several murders like the recent one of Joshua and Melina along the expressway have been linked to this. Some reports indicated that the victims had large sums of cash in the car which was targeted by the assailants who decided to end their lives in order to run away with it.
Several kidnap cases have also been attributed to poverty. This was mainly evident in the murder of businesswoman Susan Magara early last year when her kidnappers made several calls to her parents and relatives demanding for a ransom of about $1 million. The assailants finally ended her life when her parents delayed to send the money. Many other kidnaps related to the one of Magara followed, which even included school-going children who were abducted in order to fetch money from their parents.
The kidnap syndrome has also led to neither twist whereby some Ugandans have resorted to kidnapping themselves in order to get money from their parents and relatives. Many of these cases have been foiled by the police and majority are young men and women who are unemployed and are looking for money in order to meet their personal needs.
There have been allegations that some police officers exchange their guns for money from those who want to use them in robbery and later return them to the officers. This is attributed to low salaries given to these officers though some people point out that some of them are just greedy.
Insecurity
Insecurity in the country has also been blamed for the on-going killings and kidnaps with many blaming the government for failing to beef up the required security in the city and the nearby areas to check on these cases. The recently deployed Local Defence Unit operatives who are in charge of preventing crime especially at night have done very little to prevent these murders and kidnaps while some have been reported that they themselves take part in causing more insecurity as they resort to robbing people of their property like cash and mobile phones.
The CCTV cameras that were also recently installed by the government on the streets of Kampala and the surrounding areas have also been criticized that they only help to show what happened but do not prevent the crimes from happening.
Security agencies especially the police and other related organizations like the Internal Security Organization (ISO), and the Chieftaincy of Military Intelligence (CMI) have been blamed for failing to arrest and produce the real culprits who commit these atrocities in order for them to face justice. Until today Ugandans still don't know those who murdered their leaders and relatives including those murdered four years ago like Joan Kagezi. Ugandans fear that the assailants have taken advantage of this security weakness to continue committing more crimes since they know that there is no enough intelligence in the country to arrest them. Many of the suspects who are always arrested after these atrocities are later released after security agencies failing to produce the required evidence that pins them to the crime leaving the real killers free to continue with their evil.
Hatred and conflicts among people
Some killings have been attributed to social misunderstandings and conflicts among different social groups. Some of these conflicts are as a result of commercial factors involving business dealings while others are social in nature suspicion and mistrust among couples.
Some aggrieved individuals from these conflicts tend to take the law in their hands and get rid of their opponents either by killing them themselves or by hiring others to execute the job on their behalf.
Some of the murders that involved women were suspected to have been influenced by their partners who suspected them to have love affairs outside their relationship. Others were suspected to have been victims of conflicts they had in business over commercial property like land, money, buildings, and merchandise.