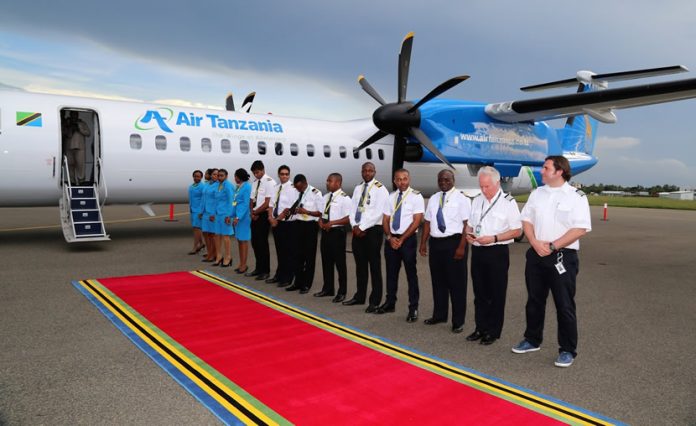 Air Tanzania Starts Direct Flights to Entebbe
Safe, comfortable and quick means of transport is one of the key features for a successful African safari. Air Tanzania has made connections from Tanzania to Uganda quick and simplified by the introduction of direct flights from Dar e salaam to Entebbe. The newly introduced Tanzania Uganda direct flights resume after five years of non-operations. The direct flight was launched on 26th August 2018 when the first flight landed at Uganda's Entebbe international airport. For now, travelers can easily connect from Tanzania to Uganda making it easy to do Uganda Tanzania combined safaris especially popular gorilla safaris in Bwindi/Mgahinga gorilla national park. Connecting travelers have therefore been relieved from long hours of driving across borders and long connecting flights with Rwanda air through Rwanda and Kenya airs through Kenya before proceeding to Uganda. The flight will operate four days (Monday, Wednesday, Friday and Sunday) per week. On every operating day, the inaugural flight (TC214) will depart from Dar e salaam to Entebbe at 0930 hours and arrive at 1155 hours lasting for roughly 2 hours and 30 minutes in the air. After landing, the plane stays at Entebbe before returning to Dar E salaam at 1225 hours in the evening.
For decades it has been difficult for travelers connecting from Tanzania to Uganda due to lack of affordable and quick means of travel. However despite the celebration in Uganda and Tanzania, a new direct flight from Tanzania to Uganda is a challenge to Kenya Airways and Rwanda Air. Previously, Entebbe Dar E Salaam route was dominated by Rwanda air and Kenya airways through their transit hubs in Kigali and Nairobi respectively. Travelers from Tanzania would first fly to either Kigali international airport in Rwanda or Jomo Kenyatta airport in Kenya which would be time consuming and costly. Fortunately, the newly introduced flight is relatively cheap costing of $360 for a return ticket to Entebbe. The flight will operate for says a week which are Monday, Wednesdays, Fridays and Sunday. The ease of transport and connections assure travelers memorable experiences free from bumpy roads and long hours of driving.
The first flight landed at Entebbe on 26th /Aug/2018 at 13.10pm and was welcomed by the civil aviation authority Uganda led by the minister for works and transport Hon. Aggrey Bagire, the Tanzanian high commissioner to Uganda H.E Rtd Major general Grace A. Mgovano, Civil Aviation Authority (CAA) Ag Director, airports, aviation security, Eng, Ayub Sooma and other officials from the transport and aviation sectors. The newly introduced aircraft (Boeing 787-8) Dreamliner's is also meant to serve other destinations such as Mwanza, Kilimanjaro and Bujumbura, which will improve air transport in Tanzania. Tanzania has been operating international flights to Moroni in the Comoros islands and some domestic flights to Mbeya, Dodoma, Songea, Mwanza, Mbeya, Tabora, kigoma, Mtwara and Bukoba.
Also, Tanzania Uganda direct flights aim at strengthening the bilateral and commercial tis between the two countries (Uganda & Tanzania). Fortunately, Uganda has already rafted the bilateral air service agreement with Tanzania to ease cooperation in its aviation sector. Tanzania has done great in promoting site air transport services.
Of all forms of transport (road, water, railway and air) its only air transport that has a big influence on tourism, agriculture and business. The management of Air Tanzania and all other industry players have therefore been urged to observe with strictness the minimum required standards to ensure delivery of reliable and quality air transport services for the existing and upcoming travelers. The launching of air Tanzania direct flights is also hoped to support and at the same time provide enabling environment for the growth of the aviation industry in Uganda. Similarly, various future economic developments are expected in Uganda and Tanzania supported by quick and easy air transport services.
Air Tanzania to Uganda aviation industry will meet and serve the travel demands of citizens in Uganda, Tanzania and other east African countries. Upcoming travelers have an opportunity to ease their transport needs as well as ticketing and baggage. The newly introduced aircraft has a carrying capacity for 65 passengers, which give a good number of travelers, chance to move by air. Direct flights also help to promote investment opportunities, trade and enhance tourism development.
Conclusively therefore, Air Tanzania's direct flight to Entebbe is a blessing to Uganda and Tanzania. Travelers are called on to book combined Tanzania Uganda safaris fly easily between the two countries and enjoy a lifetime experience in Africa.