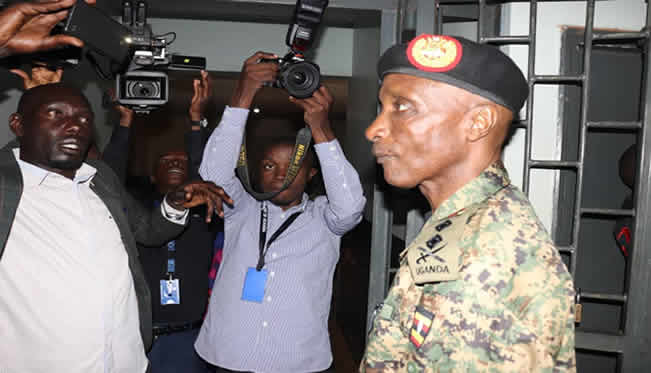 Former Inspector General of Police (IGP) Gen Kale Kayihura has been granted bail by the general Court Martial presided over by Let Gen Andrew Gutti at Makindye.
Gen Kayihura has been in detention at the Makindye Military barracks since his arrest in June this year. He was arrested and by the UPDF over allegations of misuse of office and the charges were read to him last week when he appeared before the Court Martial for the first time.
The charges against Kayihura included failure to protect war material, aiding and abetting the kidnapping by commission and repatriating Rwandan exile and refugees and Ugandan refugees to Rwanda between 2012 and 2016.
However, Kayihura's bail is subject to the fulfillment of the conditions set by the court, which include;
• He is restricted to staying only in 2 districts of Kampala and Wakiso as long as the bail still applies
• Reporting to court on a monthly basis
• Travelling outside the country is prohibited unless given permission by the court
• The bail is subject to payment of UGX1O Million not cash
• He will also be required to report to court at any time as court may require
Let Gen Andrew Gutti, the chairman of the court concluded the proceedings by saying that if any of the stated conditions is abused, the bail will be cancelled.
Gen Kayihura is now free to reunite with his family and seek medical attention as stated by his lawyers