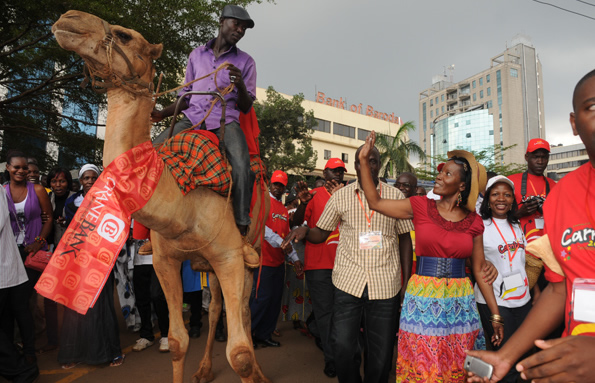 KCCA Cancels 2018 Kampala City Festival
While many were counting down to the long expected 2018 Kampala Capital City festival, Ugandans were outraged with the no 20128 festival news this year. The shocking news were released by Ms Jenifer Musisi the managing director of Kampala Capital City Authority (KCCA) on 12th September 2018 as she addressed the press conference that was attended by several sponsors of the festival including the marketing manager of UBL and City Tyres marketing Manager. In her speech at city hall in Kampala, Jenifer Musisi disclosed to the people how KCCA agreed with sponsors to inject 100% of the festival money to renovate schools managed by KCCA by removing asbestos roofs from these schools and putting new iron sheets. In a similar way, some portion of the festival money will be used to construct a maternity ward at Kiswa health Centre, which is also managed by Kampala Capital City Authority. Undeniably, many fun lovers and business people who had already booked space for vending in the festival were disappointed but could not change anything. Some people secured KCCA festival-vending space as early as May 2018 when KCCA launched some event related to the carnival that attracted a good number of people. Kampala Capital Festival is the celebration of Kampala city and is one thing you must not miss on your Uganda safari complementing other tourism activities and attractions in the pearl of Africa.
This year's event was scheduled to happen from 5th to 7th October 2018 on the streets of Kampala capital city. Over sh700m to sh900m that have been used to prepare and run the festival will this time be used to promote the standards of a primary and secondary schools managed by KCCA some of which are in bad state. Among the schools that are to be renovated include Nakivubo Blue Primary School and Nakivubo settlement primary school, which seem to be badly off. The major aim of diverting festival money to schools ins to save school going children from getting cancer as a result of the asbestos ashes. The other schools managed by Kampala capital city authority are Kawempe Mbogo primary school, St. Martin Mulago primary school, Ttula primary school, Mulago school for the deaf, St Paul's kyebando primary school, St peters primary school kanyanya, Kawempe moslem senior secondary school, Nattete Muslim primary school, and Kasubi Church of Uganda primary school among others. According to drafted budget, KCCA is to spend roughly sh1.9b to remove residual asbestos roofs on the seven schools and replace them with iron roofs.

Expanding health centers
Besides renovating old schools, KCCA also plans to use the other part of the carnival money to construct a maternity ward at kiswa health center under its management. The new maternity ward is to save and improve the health of pregnant mothers and newly born babies who have always been forcely discharged early from the hospitals due to lack of enough space. After that, KCCA will continue to fundraise more funs to construct more health centers to improve the health od pregnant mothers and newly born babies.
Why celebrate Kampala city festival
Kampala festival was launched in 2010 as a new tourism products aimed at diversifying tourism products in Uganda and promote domestic tourism. The festival brings together people from all tribes and cultures in Uganda, which also promote cultural tourism. People celebrate their cultures together with the country's independence. Also, the annual event attracts a high population of people from other countries who learn and celebrate Uganda's unique culture.
Benefits
There are many benefits that Ugandan enjoy from Kampala capital city festival. Business people are assured of ready market and good prices for different products, which help them, earn good income in the shortest time.
Reactions from sponsors and public
As expected, many stakeholders mainly sponsor and local people have reacted to these changes. Fortunately, most people who were asked about their opinions regarding KCCA's decision have a positive reaction. The chair of the Uganda breweries limited appreciated and backed KCCA for a wise decisions to use festival money in promoting and developing tangible projects other just fun and businesses. In the same manner, the manage of Coca cola franchise appreciates this decision to promote local schools and build a health center which will help to improve the health of pregnant mothers and newly born babies. The marketing manager of city tyres also seconded the decision assuring Uganda's that next year's festival will be more fun for Uganda women and their children who will have received good treatment and quality education. Some local people who hope for a better performance by children in schools to be renovated also supported the decision.
However, people have urged Kampala Capacity City Authority (KCCA) not to miss use festival money in doing un planned things. Despite changes this year, people are assured to the festival next year, which will be more fun.